I think the only thing better than roasted tomatoes are roasted tomatoes stuffed with my favourite things! This recipe takes some big juicy tomatoes and roasts them alongside cous cous, radish, feta cheese, olives and a few other tasty ingredients. What I like most about this recipe is the different textures – from the slightly crunchy roasted radishes to the soft, creamy feta, these stuffed tomatoes really create an explosion of tastes and textures after each bite.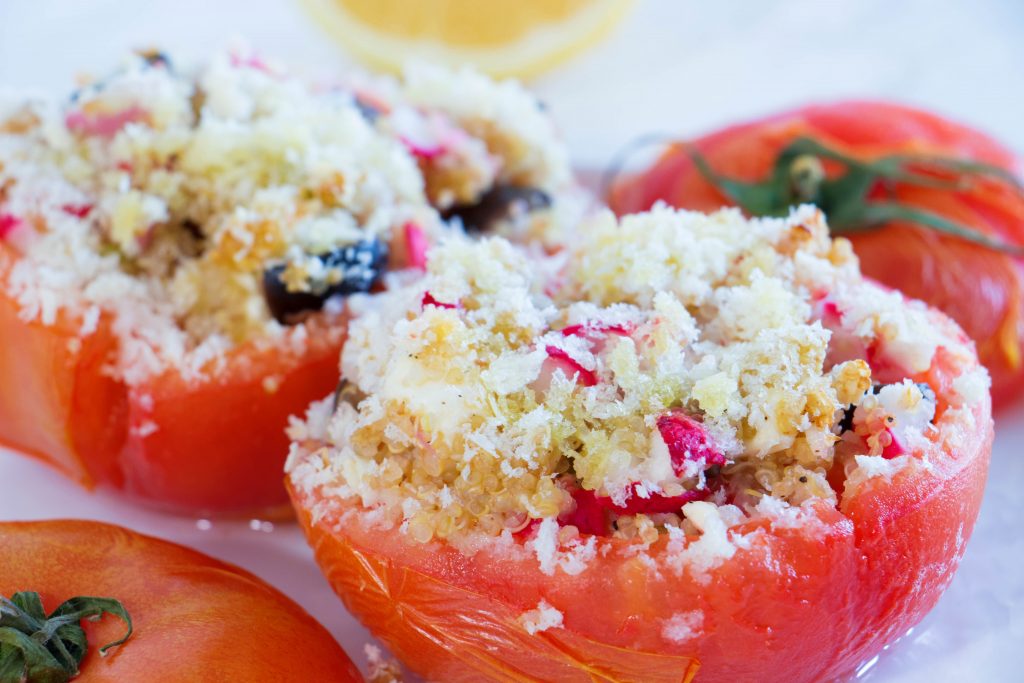 I like these stuffed tomatoes both hot and cold. I usually make a batch of 4 tomatoes, then save 2 four my lunch the following day – I just store them in an airtight container in the fridge. They're also a very pretty dish – the pink radishes, black olives and red tomatoes create a vibrant blend of colours that I love!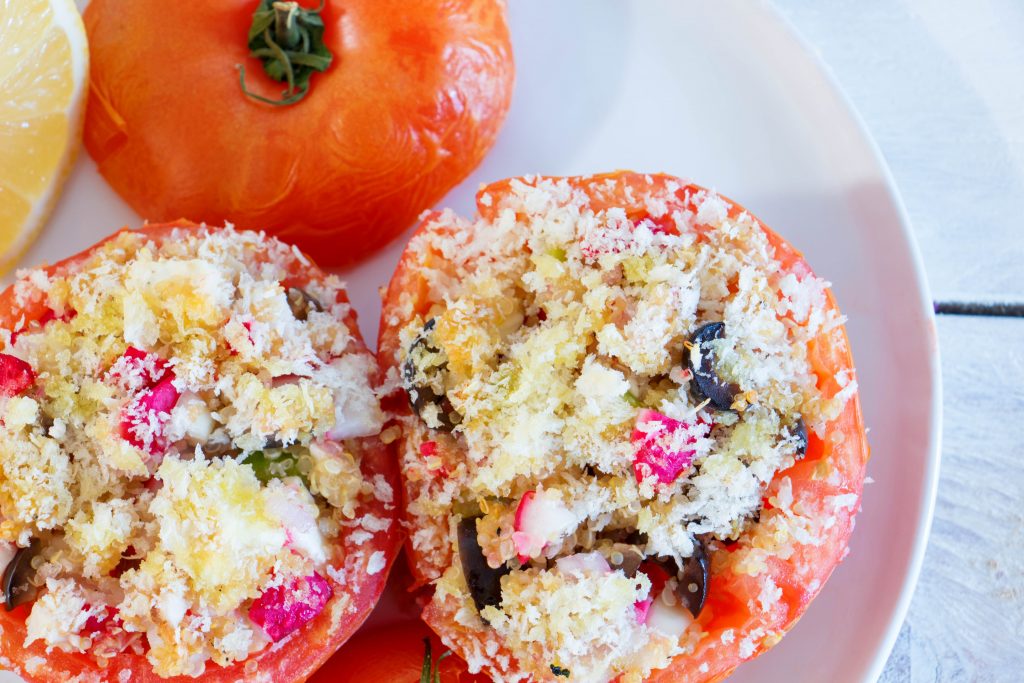 Cous Cous and Roasted Vegetable Stuffed Tomatoes
Ingredients
4 large tomatoes
1 cup of cous cous, cooked
10 radishes, quartered
2 cloves of garlic, finely chopped
2 oz feta, cut into small cubes
2 celery stalks, roughly chopped
1/4 cup diced red onion
15 black olives, quartered
3 tbsp lemon juice
1 tsp black pepper
1/2 cup bread crumbs
1 tbsp olive oil
Method
Begin by preheating the oven to 350 Fahrenheit / 180 Celsius.
Cut the tops of each of the tomatoes and remove the flesh from the insides, then set the tomatoes aside.
In a large bowl, mix together the cous cous, radishes, garlic, feta cheese, celery, red onion, olives, lemon juice and black pepper.
Spoon the contents of the bowl evenly into the tomatoes and top each with a sprinkle of breadcrumbs and a drizzle of olive oil.
Place the stuffed tomatoes on a baking try and roast in the oven for 15-18 minutes, until the breadcrumbs have browned slightly.
Carefully remove the tomatoes from the baking tray and serve!
https://pescetarian.kitchen/cous-cous-roasted-vegetable-stuffed-tomatoes/
Copyright Pescetarian.Kitchen