A few months ago, I made a sauteed calamari recipe that explained how to quickly and easily cook calamari as an appetizer. That recipe seemed pretty popular, so I decided to make this lovely calamari salad recipe that is perfect for either a healthy lunch option of as a side salad with your dinner.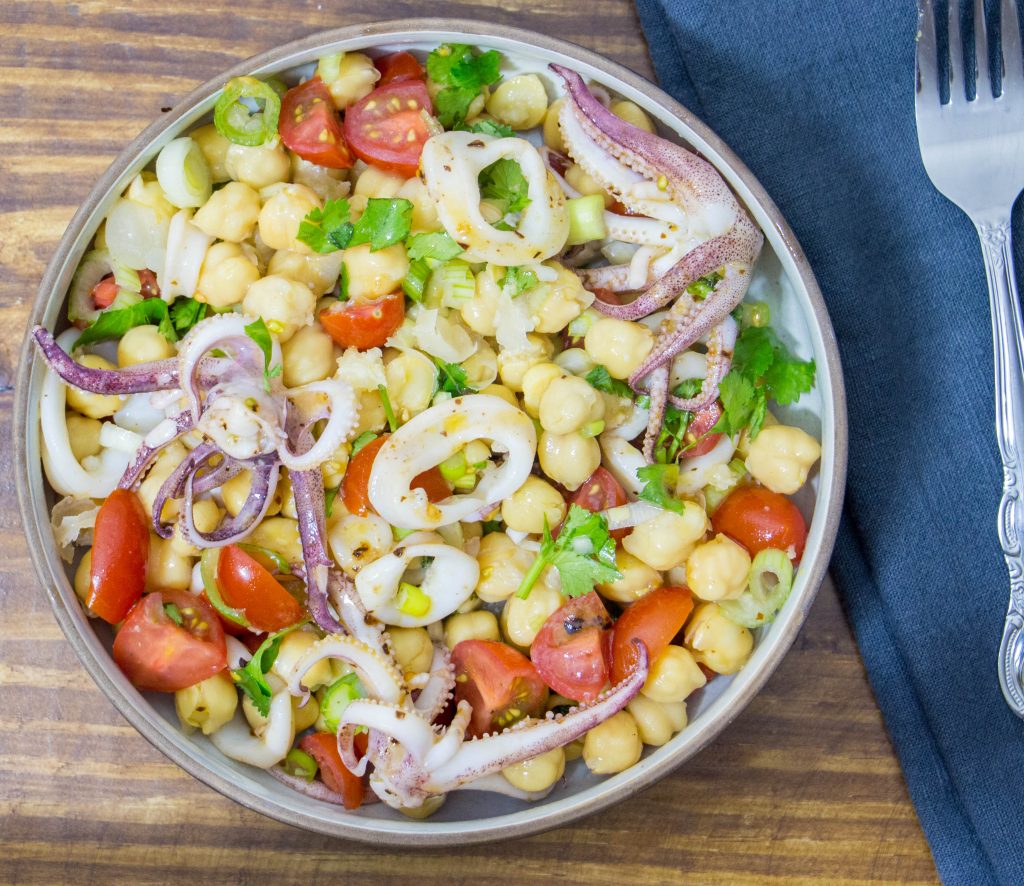 One of the best things about cooking calamari is that it literally takes only 2 minutes to saute. In fact, when cooked quickly on a high heat, calamari is at its most tender. It will only take on that rubbery texture if cooked for too long. Instead, this recipe will give you that soft and silky calamari that tastes so good!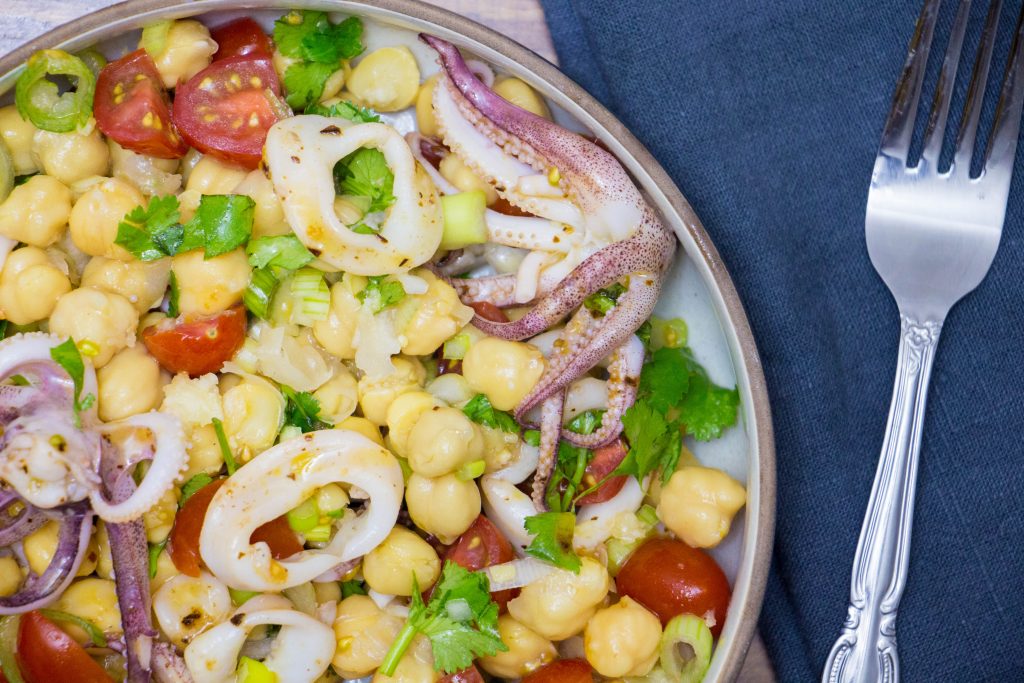 This recipe combines the vibrant sauteed calamari with buttery chickpeas and juicy grape tomatoes to make a mouthwatering and lively salad that can be whipped up in under 10 minutes.
Calamari and Chickpea Salad
Ingredients
1 can (15oz) chickpeas
5 oz grape tomatoes, quartered
2 tbsp fresh parsley, roughly chopped
3 scallions, diced
2 tbsp olive oil
1 tsp chilli flakes
Pinch of black pepper
8 oz calamari, tentacles and body (called the mantle), body cut into rings
1 wedge of lemon, juice only
Method
Drain the can of chickpeas and place in a large bowl, followed by the grape tomatoes, parsley and scallions.
Next, place a non-stick frying pan on a high heat and add in the olive oil. When the olive oil is very hot (almost smoking), add in the chilli flakes and black pepper, followed by the calamari, spread out evenly. Fry for around 2 minutes, until the calamari becomes a little firm and the rings become slightly opaque.
Remove the pan from the heat and add the calamari to the salad bowl. Drizzle the olive oil from the pan into the bowl, followed by a squeeze of lemon juice.
Give the salad a toss, then either serve up or store in an airtight container in the refrigerator for the following day!
https://pescetarian.kitchen/calamari-chickpea-salad/
Copyright Pescetarian.Kitchen