This is a seriously easy dish to make. Even if you've never baked a fish before or handled a whole fish, you'll be able to pull this one off.
The thing I love about baking fish whole is the fact that there is such little prep time involved in doing it. Not only that but the fish becomes so tender and just flakes apart when you run your fork through it.
The sticky coconut rice is another one of those side dishes that Laura and I throw together with a whole host of different meal (or just as a snack on it's own!).
I've cooked trevally which is widely available in supermarkets across the UK, but you could use any fish really. Another that we regularly bake is sea bass or sea bream, so feel free to experiment here.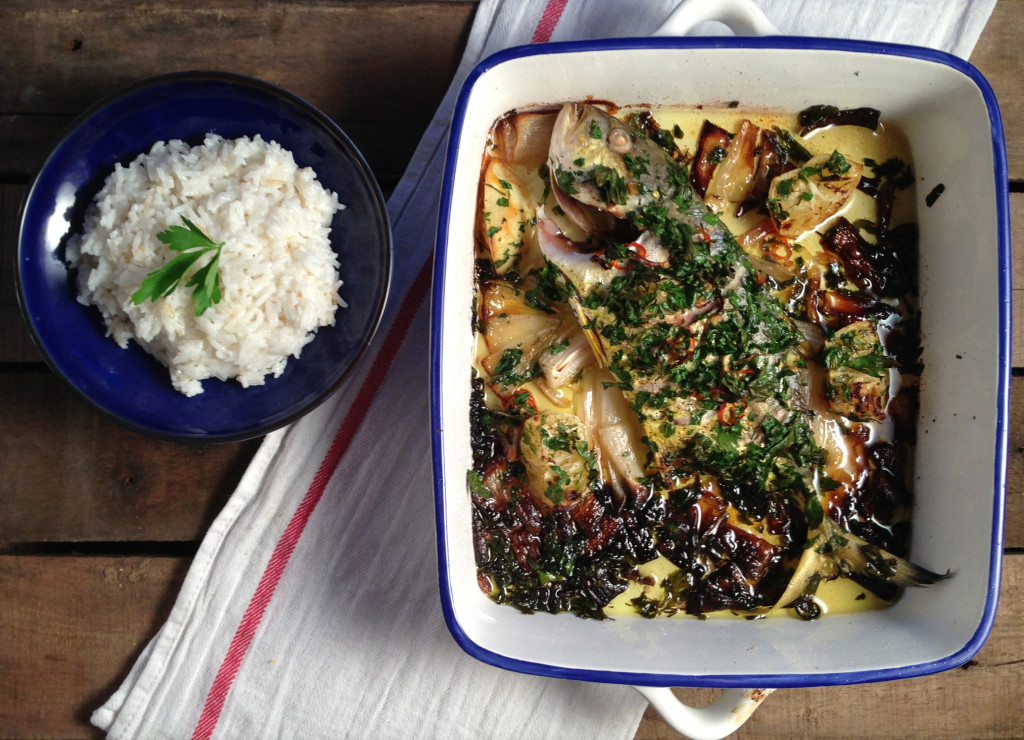 Baked Trevally with Sticky Coconut Rice
Ingredients
Fish

2 whole trevally
1 red chilli (finely chopped)
2cm cube of fresh ginger (finely sliced)
1 lemon
2 shallots
Handful of fresh parsley
200ml olive oil
Coarse sea salt
Cracked black pepper

Rice

120g long grain rice
Tin of coconut milk
1 cup of water
Pinch of table salt
Method
Preheat the oven at 200 degrees Celsius / 392 degrees Fahrenheit / Gas mark 5.
Drizzle a generous glug of olive oil into a deep ceramic oven dish (a lasagne dish is perfect) and add it to the oven for 2-3 minutes to let the oil heat up, then remove it from the oven.
Lay the whole fish into the dish, chop the shallots into quarters and throw them in, and then add the chilli, ginger, salt and pepper. Evenly zest the rind of your lemon across the fish and squeeze over the juice. Finally, drizzle the remaining olive oil all over the fish, making sure it is lightly covered and then heap over the roughly chopped parsley.
Place the dish in the oven for 25-30 minutes. You'll know the fish is done when the eye of the fish become opaque.
Meanwhile, heat a small saucepan on a medium heat and add 1 cup of water, plus the cream from one tin of coconut milk (i.e. the solid bit. Don't add in all of the contents of the tin) and a pinch of salt.
Once the water is boiling, reduce the heat down and add the rice. Cover the pan and leave it for 8-12 minutes (or until all the water is absorbed).
Serve up the rice in a separate bowl and garnish with a few parsley leaves.
https://pescetarian.kitchen/baked-trevally-coconut-rice/
Copyright Pescetarian.Kitchen