This shrimp linguine is a beautiful spring dish, perfect for some al-dente dining. The lemon and asparagus make this dish fresh and light and you can add as much chilli as you want, for a spice level that is perfect for you.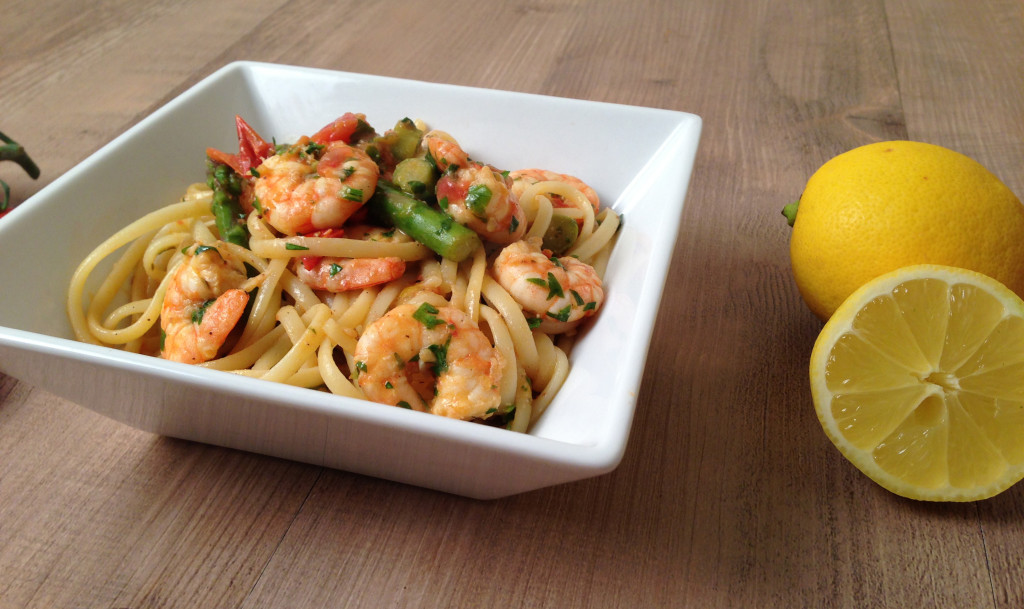 Shrimp Linguine with Tomatoes and Asparagus
Ingredients
4 sticks of asparagus – finely chopped
135g piccolo cherry tomatoes
2 cloves of garlic – finely chopped
Juice from half a lemon
1/2 glass of white wine
1-2 red chillies (to suit you) – finely chopped
200g king shrimp
150g dried linguine pasta
Glug of olive oil
Handful of fresh basil - chopped
Sprinkle of dried oregano
Pinch of salt and pepper
Method
Fill a saucepan with water and bring to the boil. Add in your pasta and cook for 10-12 minutes (see instructions.
Whilst you pasta is cooking, put a large frying pan on medium heat and add in your olive oil. Throw in your tomatoes and fry for 4 minutes. Then add in the garlic, chilli, asparagus and shrimp and cook for another 2 minutes.
Pour in the white wine and add the salt, pepper and oregano. Leave this to simmer for 3-5 minutes, until the sauce reduces and thickens.
Once cooked, drain the linguine and add to the sauce. Add the lemon juice and basil to your linguine and heat for 1 minute, before plating up!
https://pescetarian.kitchen/prawn-linguine-tomatoes-asparagus/
Copyright Pescetarian.Kitchen