Ray wings sound like a really exotic ingredient to have within a meal, but we were able to pick these up from the Morrisons' fish counter for under £3 a wing (which will easily serve one person). They're a really meaty fish and are incredibly easy to cook – not to mention the fact that they taste amazing!
To go alongside the ray wings, I knocked up some vegetable quinoa, which is a perfect fresh accompaniment. This dish is packed full of protein so it's ideal for any non-meat eaters.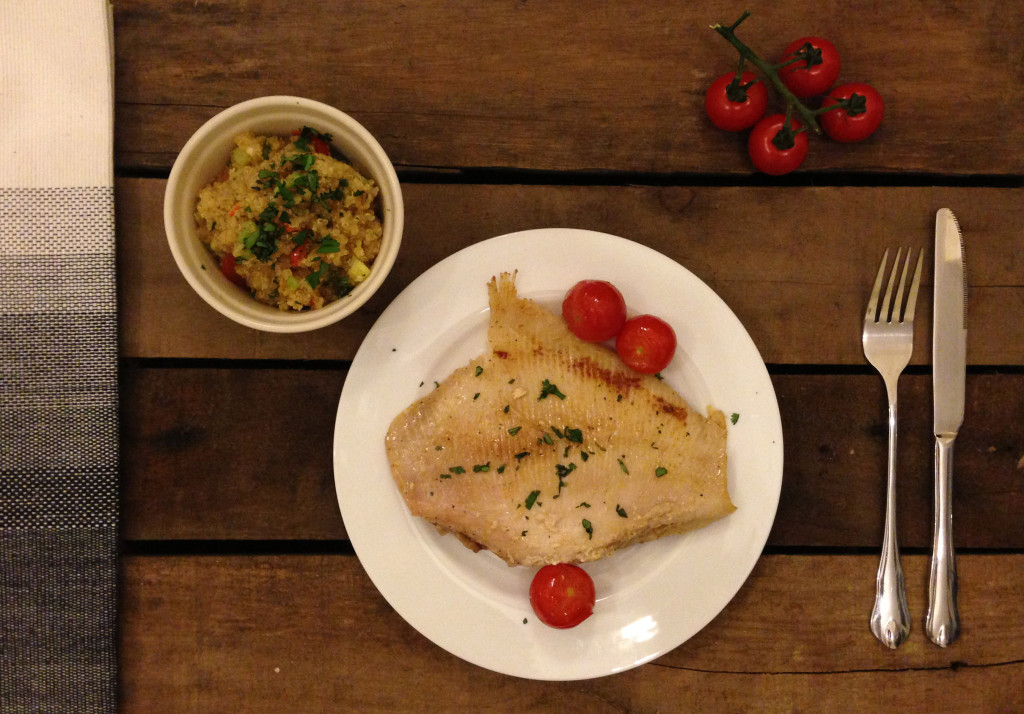 Pan-Fried Ray Wings With Vegetable Quinoa
Ingredients
Quinoa

120g dried quinoa
350ml vegetable stock
4x spring onions (finely chopped)
50g vine cherry tomatoes (chopped)
1/2 red chilli (finely chopped)
Handful of fresh coriander (chopped)
Glug of rapeseed oil

Ray Wings

300g ray wings (2 medium sized wings)
30g vine cherry tomatoes
20g salted butter
Method
Rinse the dried quinoa thoroughly in cold water and leave to drain in a sieve for around 5 minutes. This is just to clean the quinoa and remove any impurities before it's cooked.
Heat a glug of rapeseed oil in a deep pan on a medium heat and add the quinoa. I like to use rapeseed oil instead of olive oil because it has a subtle nutty flavour and is much lower in cholesterol than olive oil. Simmer the quinoa for around a minute until most of the moisture has dried out. Make sure you're stirring it regularly at this point and if it begins to stick, turn down the heat.
Add the vegetable stock (Laura and I like to use the Knorr stock pots) to the pan and leave it to simmer on a low-medium heat for around 15 minutes or until all the water is absorbed.
In a separate frying pan, heat a glug of rapeseed oil in with the butter. By adding the oil, it will stop the butter from burning in the pan (remember that tip!).
Add the two ray wings to the pan along with the cherry tomatoes. Season with salt and pepper then fry the wings for around 3-4 minutes on each side (max).
Once the quinoa is ready, mix in the spring onions, chopped cherry tomatoes, red chilli and coriander. Plate up the ray wings alongside the quinoa. I like to add the quinoa in a separate ramekin (just because it looks nice).
https://pescetarian.kitchen/pan-fried-ray-wings-vegetable-quinoa/
Copyright Pescetarian.Kitchen