I got really into lentil curries a few years back; I was lucky enough to be working with one of my best friends, who is Pakistani, and every now and then she would bring in her mum's  homemade dal. We would all sit around in the office heating up homemade roti in the microwave and scoffing down the best dal I think I've ever had.
So inevitably, I made it my mission to recreate those epic lentil recipes the best I could. I would quiz my friend endlessly about how her mum made it and when I started playing around with the ingredients, I realised that not only are lentil curries delicious…they're all pretty damn healthy! And even better, can be totally vegan friendly!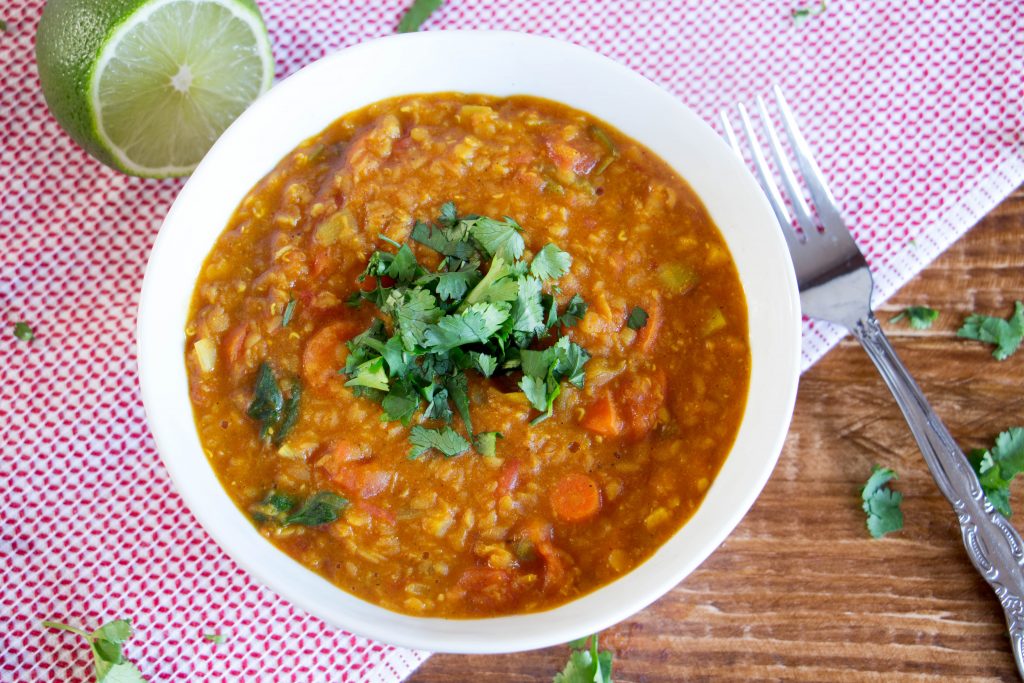 You can often use up any fresh veg you have in the house when making lentil curry. I used carrots and celery in this recipe but you could easily include tomatoes, potatoes or anything else that needs using up.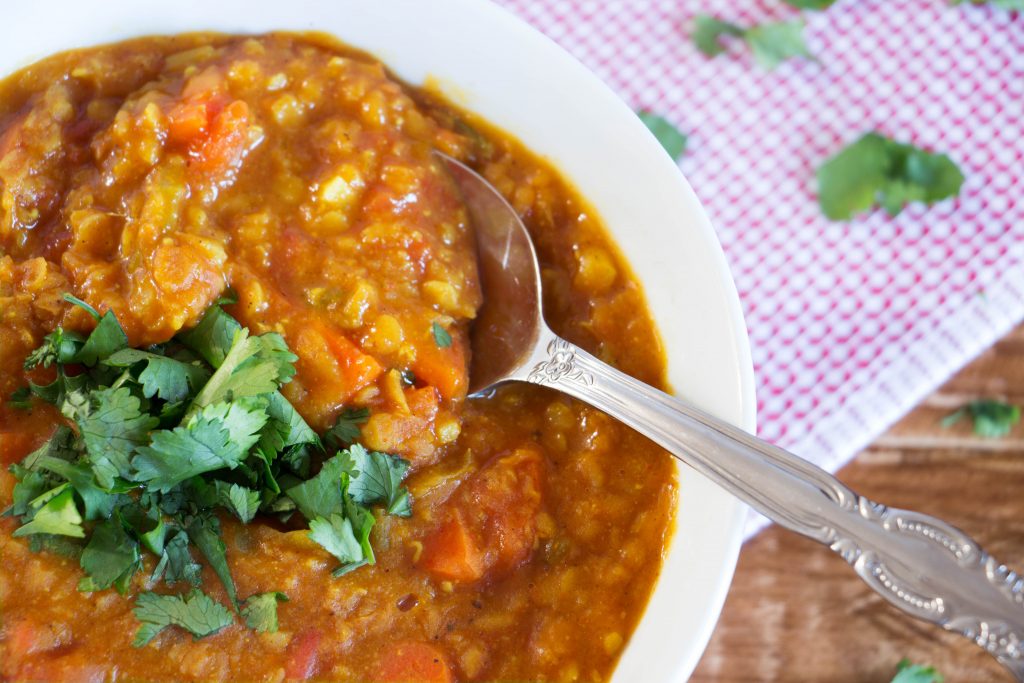 Ingredients
2 tbsp sesame oil
1 thumb of ginger, finely chopped
3 cloves of garlic, finely chopped
1/2 red chilli pepper, finely chopped
5 scallions, white finely chopped
1 celery stalk, roughly chopped
2 tbsp curry powder
1 tsp cumin
1 tsp chilli powder
1tbsp tomato paste
3 carrots, cut into discs
1 cup of red lentils
3 cups of vegetable stock
handful of spinach leaves
pinch of salt and pepper
juice of 1/4 lime
handful of cilantro, finely chopped
Method
Begin by placing a large saucepan on a medium heat and drizzle in the sesame oil. Then add in the ginger, garlic, scallions, chilli pepper and celery. Leave to fry for around 5 minutes, until the veg has softened slightly.
Next, add in the curry powder, cumin, chilli powder, carrots, lentils and tomato paste, and stir together until the vegetables are coated in the spices. Then pour into the vegetable stock, bring to the boil and turn the heat down and simmer for 15 minutes.
Finally, stir in the spinach leaves, squeeze in the lime juice and add any seasoning to taste. Top with a little chopped cilantro to garnish and you're done!
https://pescetarian.kitchen/vegan-red-lentil-curry/
Copyright Pescetarian.Kitchen