This little appetiser is one of my absolute favourites. Blinis are so dainty and therefore make perfect starters or finger food. And it's even more satisfying when you make the blinis yourself, especially because they're so easy to make. The ingredients for the blinis are all staple pantry items so they shouldn't require an extra shopping trip and this super speedy recipe for them make around 15-20 blinis so they'll be more than enough!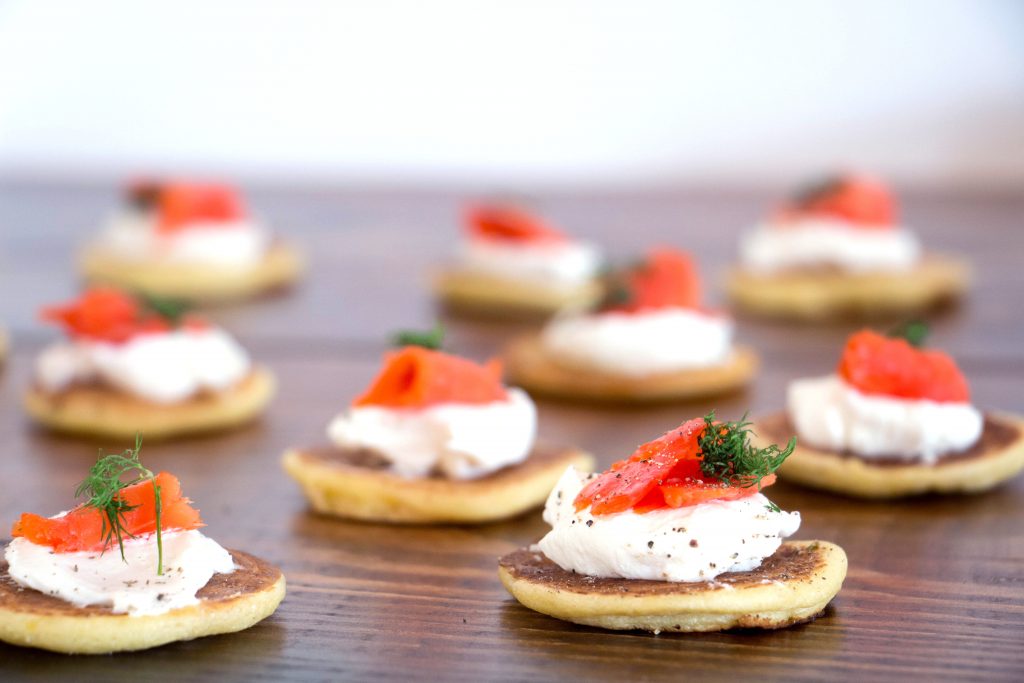 I've topped the blinis with one of the best (in my opinion) flavour combinations around – smoked salmon, cream cheese and a little dill. My family often go for smoked salmon and cream cheese dishes as a starter on Christmas day. They're always so simple to make and are light enough to not fill you up too much before a big meal. I like to serve them with a few wedges of  lemon and a little fresh dill over the top to garnish.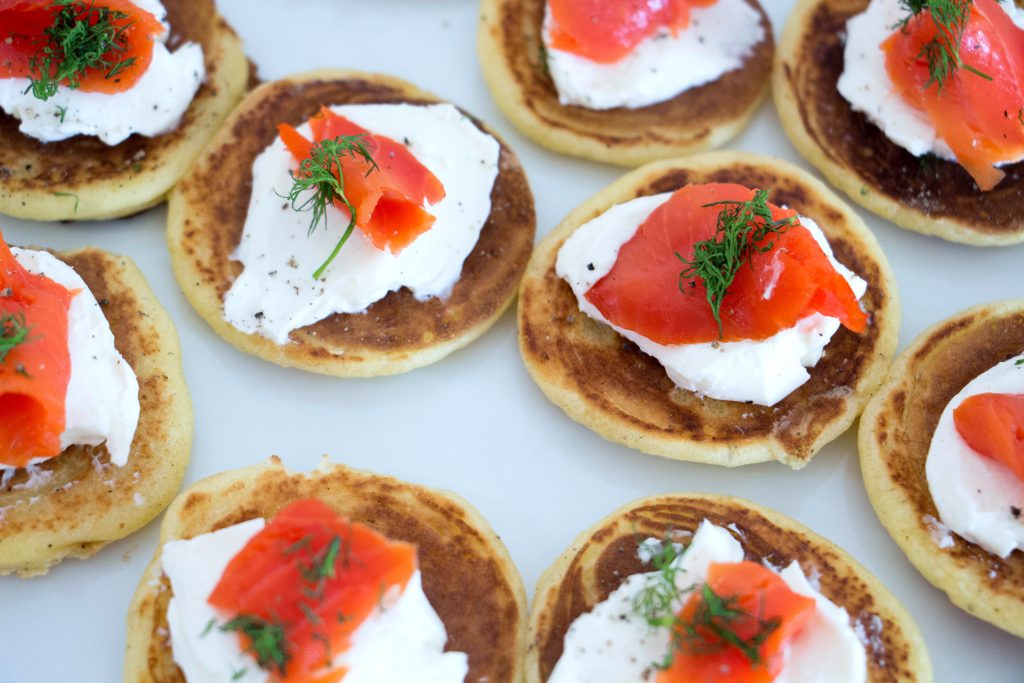 Homemade Blinis with smoked salmon
Ingredients
1 cup of all purpose / plain flour
1/2 tsp salt
1/2 tsp black pepper
1 large free range egg
1/2 cup milk
2 tbsp melted butter

For the topping

3 oz smoked salmon
3 oz low fat cream cheese
1 tsp black pepper
Method
Sieve the flour, salt and pepper into a larg mixing bowl and make a well in the middle.
Add in the egg and start to whisk, adding a little milk at a time until it is all incorporated.
Then add in the melted butter and give it one final whisk.
Place a large frying pan on a high heat and spray a little cooking oil. Each blini is a regular spoonful of batter, so pour around 5-6 blinis worth of batter into the pan at a time, leaving good space between each blini. They will take around 20 seconds on each side to cook. You will know they are done when each side is a golden brown colour.
Once the blinis are cooked leave the to the side to cool before adding the toppings.
Then, when the blinis are completely cool, add a dollop of cream cheese to each blini, followed by a wafer of smoked salmon. Once all the blinis have been made up, add a sprinkling of dill to each and a little cracked black pepper and serve!
https://pescetarian.kitchen/homemade-blinis-smoked-salmon/
Copyright Pescetarian.Kitchen