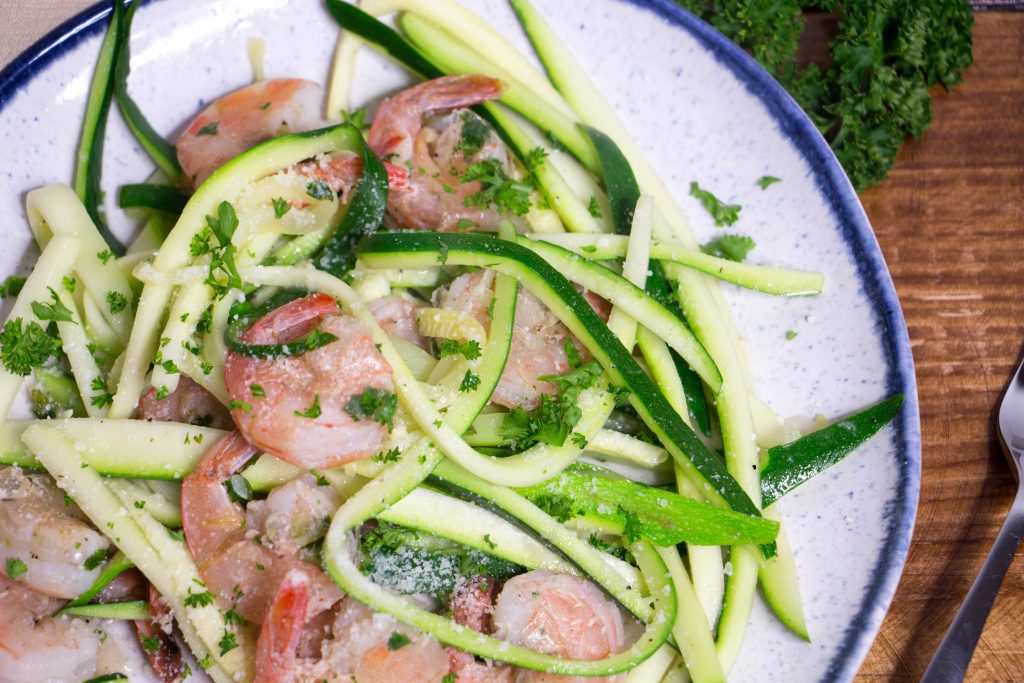 I've made this zucchini linguine recipe a few times a few times, as I'm trying to reduce the amount of carbs i'm taking in. You don't need a spiralizer to make the zucchini linguine – but cutting the zucchini in fine strips you can get the perfect width for the recipe.
You can throw this dish together in less than 20 minutes start-to-finish so it's perfect for when you're short on time. Unlike normal linguine, the zucchini strips take less than 5 minutes to cook!
Ingredients
1 large zucchini
2 teaspoons of butter
3 cloves of garlic, peeled and chopped
1/2 green chilli, deseeded and finely chopped
250g raw shrimp
Juice of 1/2 a lemon
1/4 cup of vegetable stock
10g parsley, finely chopped
1/4 tsp salt
1/4 tsp black pepper
2 tsp vegetarian Parmesan
Method
Cut the zucchini in half vertically and lay each half flat-side down on a chopping board. Now, cut the zucchini halves a further 3 times vertically to get it into thinner, long strips. Now all you need to do is cut these wide strips into thinner, linguine-like ones and they're all ready. Place these to one side.
Place a large skillet pan on medium-heat high and add the butter, garlic, chilli and shrimp. Mix everything together and fry for 1-2 minutes until the shrimp go pink.
Add the lemon juice, vegetable stock, parsley, zucchini, salt and pepper, then give it all a good stir. Cook everything for a further 3-4 minutes then remove from the heat.
Serve up the dish with a sprinkle of Parmesan and parsley.
https://pescetarian.kitchen/shrimp-zucchini-linguine/
Copyright Pescetarian.Kitchen