I could eat shrimp pretty much all day and shrimp salads can be so good… But when I see those awful store-bought ones with soggy little shrimp it really puts me off. There's often next to no flavor in them and it all blends into one awfully bland meal. Well, not this shrimp salad!
The shrimp in this salad are coated with a sweet and sticky honey and lemon dressing and broiled, so they get that smoky, sweet, irresistible flavor that really brings a salad to life. It goes perfectly with the spicy arugula leaves and broiled corn… My mouth is watering just thinking about this salad, and I only ate it yesterday!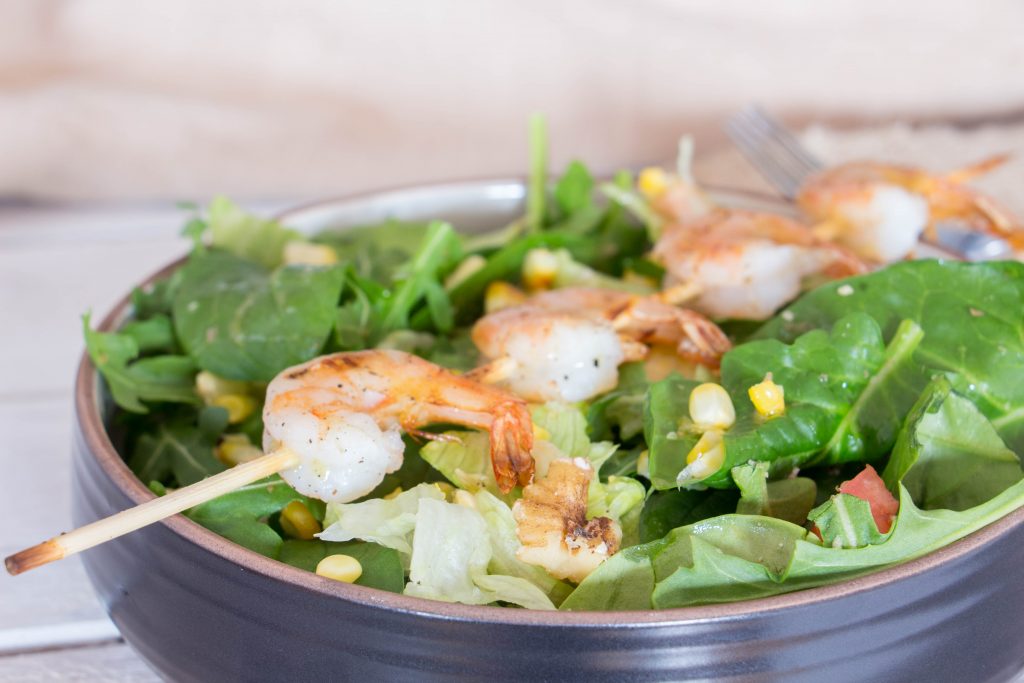 You only need about 18 minutes from start to finish to make this salad, so there's no excuse not to try it! If I'm too busy in the mornings, I'll make this up the night before and keep in the fridge overnight, though I have to be sure to make enough for 2 because Matt is never happy when I only make enough for myself. He doesn't even have to ask anymore – if I'm making it, I know he'll want some too!
Broiled Shrimp and Corn salad
Ingredients
3 tbsp olive oil
3 tbsp lemon juice
1.5 tsp honey
1.5 tsp Dijon mustard
1 tsp cracked black pepper
1 ear of corn
16 shrimp (shells removed if preferred), 4 on each skewer
3 oz lettuce leaves
2 oz spinach
2 oz arugula leaves
2 tomatoes, cut into bite size pieces
1 oz chopped walnuts
Method
Start off by heating your broiled on high.
In a small bowl, mix together the olive oil, lemon juice, honey, mustard and black pepper. This is going to be the salad dressing and also the marinade for the shrimp and corn.
Brush half of the dressing over the shrimp and corn, Then place the corn in the oven to broil for around 8 minutes, until it starts to char just a little.
The shrimp needs to cook for around 3-4 minutes, so place it in the oven 4 minutes after the corn goes in,
Whilst the corn and shrimp are cooking away, throw the lettuce leaves, spinach, arugula, tomatoes and walnuts into a salad bowl and toss.
When the corn is removed from the oven, cut the corn away from the ear and add to the salad bowl, followed by the shrimp.
Finally, drizzle the salad dressing over the salad and serve!
https://pescetarian.kitchen/shrimp-salad/
Copyright Pescetarian.Kitchen