Thai food has practically become comfort food for us at home. When we traveled around Thailand, Matt and I got really used to curry pretty much 3 times a day and absolutely love Thai food now – it's full of nostalgia for us, every mouthful makes me feel like I'm back on a beach with a Mai Thai and a curry watching the sunset… Exactly what I need when it's wet and windy back home!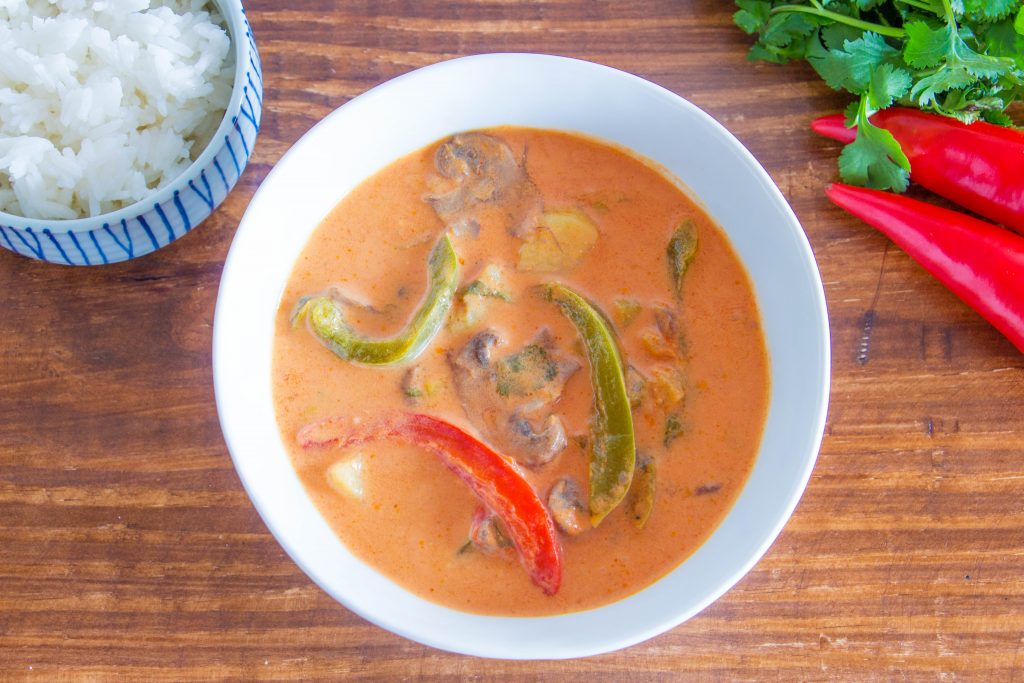 Unlike our massaman curry, this Thai red curry has a little more kick to it and makes use of more veggies than the massaman, which uses mainly potatoes.
I like that it can be made quickly and with little effort but is still full of fresh veggies. You can mix and match the vegetables you use depending on what's in your fridge – I used mushrooms, scallions, celery and potatoes in this recipe, with a tin of water chestnuts for added crunch!
One of the ingredients used in this recipe (and a lot of Thai cooking) is galangal. It's a root very similar to ginger so if you can't get hold of any, just use the same amount of ginger and a teaspoon of lime juice as a substitution.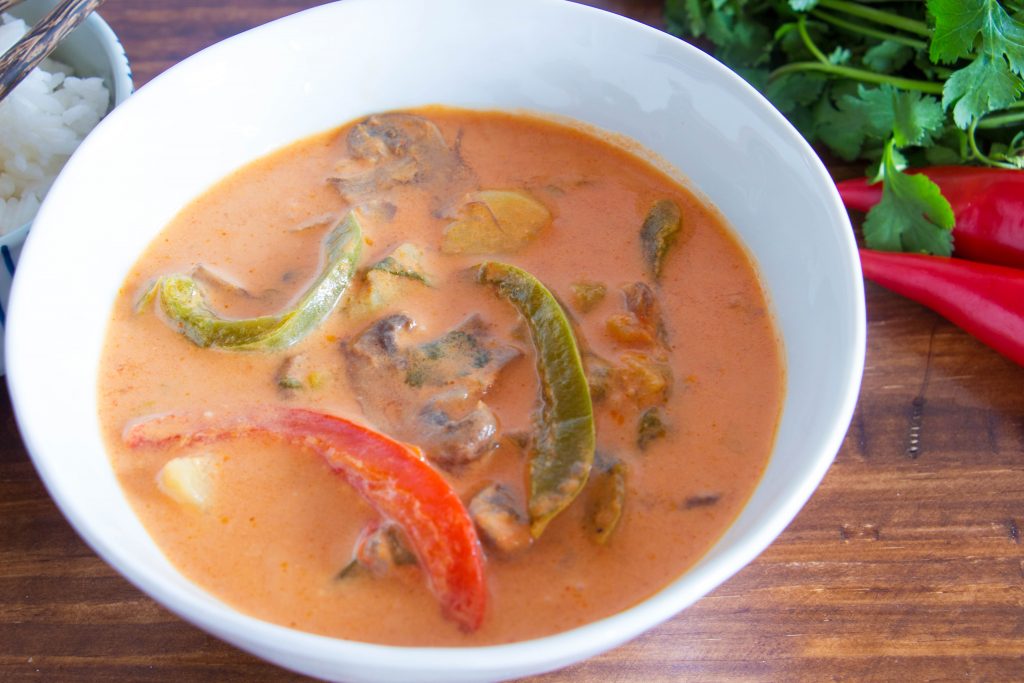 I made my own red curry paste for this recipe, but if you don't have the time or the ingredients you can use store-bought. Just be careful that the paste you choose is vegan (or meets your dietary preferences), as some do contain shrimp paste. The homemade curry paste is great because if you made a big batch, you can freeze it in little portions to use over the next month or so, meaning your weekly curries will taste fresh and take no time at all!
I like to serve this up with some white rice – usually, I'll save a little bit of coconut milk from the can I use in the curry and add it to the rice whilst it's cooking for some added flavor!
Ingredients
For the curry paste

1/2 tsp ground coriander
1/2 tsp cumin
1/2 tsp black pepper
2 garlic cloves, finely chopped
3 kaffir leaves
2 lemongrass stalks, roughly chopped
1 shallot, roughly chopped
2 tbsp cilantro stalks, roughly chopped
1 thumb of galangal, roughly chopped
4 Birdseye chilli pepper, roughly chopped
1 tbsp soy sauce

For the Curry

1 tbsp sesame oil
3 scallions, roughly chopped
2 cloves of garlic, finely chopped
1 tbsp galangal, finely chopped
1 red chilli pepper, finely chopped
6 oz mushrooms, sliced thinly
3 potatoes, peeled and cut into cubes
1/2 red bell pepper, cut into slices
1/2 green bell pepper, cut into slices
1/2 8 oz can of water chest nuts, finely sliced
2 tbsp thai red curry paste
2 cups of vegetable stock
1 15 oz can of coconut milk
1 handful of fresh cilantro, roughly chopped
Method
Curry Paste Method

To make the curry paste, a small saucepan on a medium heat and toast the cumin and coriander for 30 minutes, until they become fragrant, then leave to cool.
Next, place all of the paste ingredients, including the toasted spices, in a food processor. You may need to do this in 2-3 batches if you have a smallish processor. For each batch, add in a couple of tablespoons of water and whizz until the paste is smooth.

Curry Method

Begin by placing a large pan on a medium heat and adding in the sesame oil. When the oil is hot, place the scallions, garlic, galangal and chilli in the pan and fry for around 2 minutes.
Next, add in the bell peppers, mushrooms, potatoes and water chestnuts and fry for a further 5 minutes.
Then add in the curry paste, ensuring that all of the veg is coated in the paste, before adding in the stock and coconut milk and bringing the curry to the boil.
Simmer for around 20 minutes, with the lid partially on, until the potatoes are cooked through.
Serve up and sprinkle with fresh cilantro.
https://pescetarian.kitchen/vegan-thai-red-curry/
Copyright Pescetarian.Kitchen