If you're into seafood like me and Laura are, you'll be drooling over this dish. We both love paella and it's one of those meals that we will often look out for on the menu of restaurants, especially when we're abroad.
The strange thing is that up until a few weeks ago, I hadn't actually made a paella myself. I'd eaten tons of the stuff out at restaurants but never got round to treating Laura (and more importantly, myself!) to a homemade version.
Within most paella recipes there is chorizo, but because we don't eat meat we've omitted it from this recipe. To be honest, the flavour of chorizo is really easy to replicate with a combination of fresh chilli and smoked paprika. Then, with all the great textures coming from the seafood, any of your meat-eating friends won't be able to tell the difference. Perfect.
As for the seafood, I've used white crab claw meat, king scallops, king shrimp / prawns and mussels. This selection gives a really diverse set of tastes an textures, plus they're all my favourite types of seafood on one plate!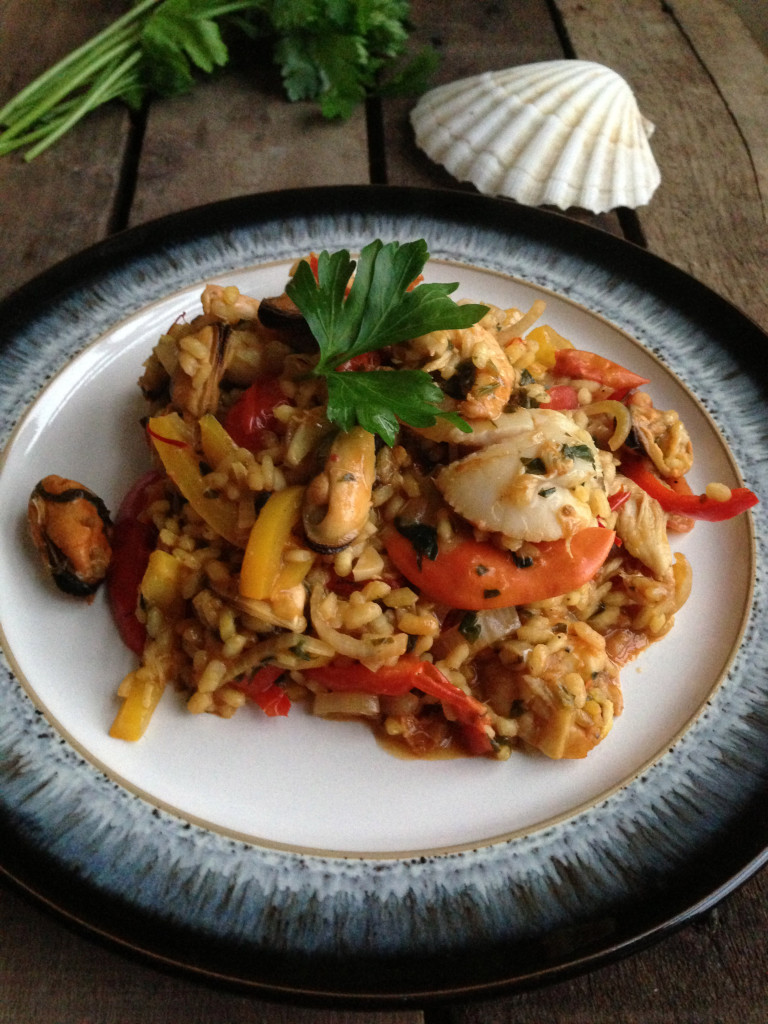 The Perfect Seafood Paella
Ingredients
2 cloves garlic (chopped)
50g chopped shallots
1 lemon
1/4 red chili
100g baby plum tomatoes
Handful of fresh parsley
100g fresh mussels
100g raw king shrimp/prawns
100g king scallops
50g white crab claw meat
Pinch of saffron
400ml fish stock
150g paella rice
1/2 red pepper
1/2 orange pepper
100ml white wine
1 tbsp olive oil
1 tbsp smoked paprika
1/2 tsp salt
1 tsp cracked black pepper
Method
Heat a large frying pan on a medium/high heat and add a tablespoon of olive oil. Once the oil has heated up, add the shallots, garlic and chilli, and fry them for around 4 minutes or until the shallots have softened and gone translucent.
Turn the hob down to a medium heat and add the rice, smoked paprika, peppers and half of the fresh parsley. Whilst continually mixing the pan, fry the contents for another 2 minutes. This will help the rice take on the sweet and smoky flavours of the shallots, garlic and paprika.
Add all of the wine and tomatoes to pan and simmer for a couple of minutes so that the wine reduces down slightly. Now add around 50ml of the stock along with the saffron. Fry the contents for another 5 minutes, topping up the pan with more stock when it begins to reduce down (don't let the pan get dry).
You should start to really smell the saffron in the mixture now - my kitchen was full of the most amazing scents at this stage! You'll now want to add the shrimp, mussels and the crab meat and simmer for another 5 minutes. Just be sure to keep mixing everything around (in the same way you would a risotto).
Add the salt and pepper, and season to taste. It's really important to keep tasting as you go so that the flavours are perfect. If you overdo it with the salt at any stage, you can always add a pinch of sugar to even the flavours out.
Add the scallops to the pan and cook them for a further 5 minutes - you should have used up all of the stock into the pan by now. If you haven't used all of the stock, don't feel like you need to - if you feel like it's at the right consistency then go with it.
Finally, squeeze over the juice of your lemon and mix everything together. A nice little touch for serving up is to bring some fresh bread to the table and use the shells from the scallops as little butter dishes, with individual blocks of butter in each one. Just make sure you clean them out first (they're fine to go in the dishwasher).
https://pescetarian.kitchen/perfect-seafood-paella/
Copyright Pescetarian.Kitchen