Although described as a loaf, this lovely creation is more of a cake than a bread. When choosing the bananas for this recipe, you want them to be as ripe (or overripe) as possible. This is for 2 reasons: Firstly, the riper the bananas are, the stronger the flavour of the loaf will be. Using unripe bananas will result in a bland tasting loaf. Secondly, overripe bananas are very easily mashed and will not leave those frustrating little lumps in the loaf.
The walnuts add a fantastic crunchy texture to this soft, moist loaf, as do the banana chips that you can use to decorate the banana loaf once it's out the oven.
When making a fruit loaf like this one, my top tip is to always line your tin with either greaseproof paper loaf tin liners, as this sticky mixture can be an absolute nightmare to get out otherwise. And the last thing you want after making a beautiful sweet treat is to pull it to pieces trying to get it out the tin!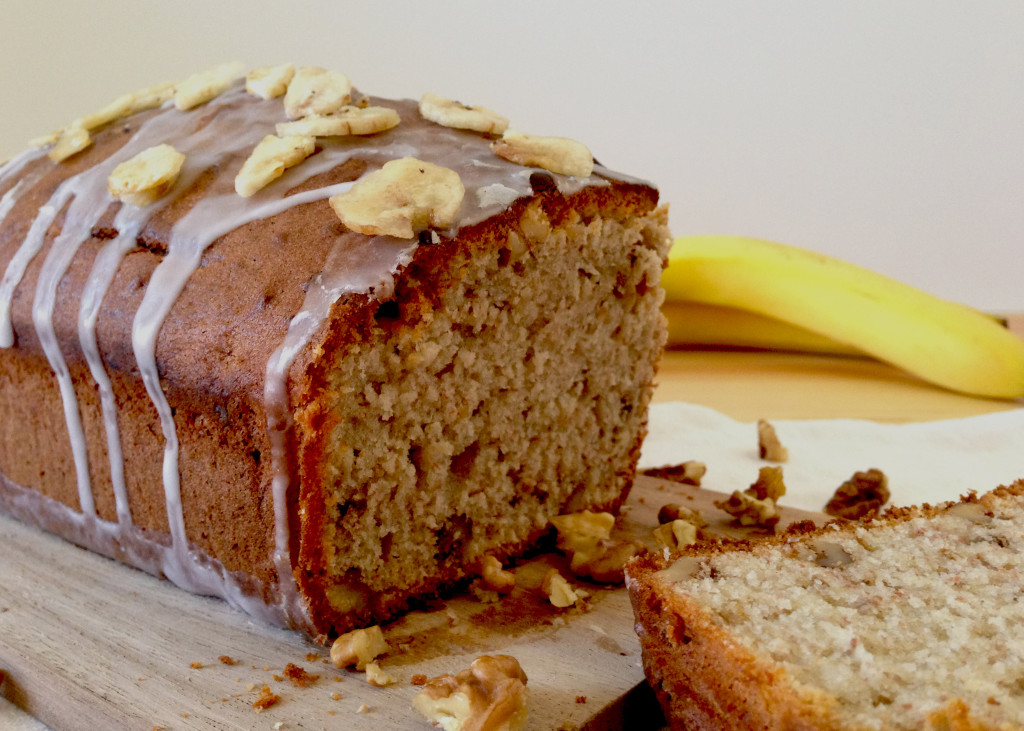 Sweet Banana and Walnut Loaf
Ingredients
3 ripe bananas
2 large free range eggs
100g softened butter
175g caster sugar
225g self-raising flour
1tsp baking powder
2 tsp whole milk
40g walnut pieces
50g icing sugar
20g banana chips
Method
Firstly, preheat your oven to 180 degrees Celsius / 350 degrees Fahrenheit / Gas mark 4.
In a large mixing bowl, mash together the banana and caster sugar. I like doing this with the back of a fork. If your banana is still a bit lumpy, don't worry, the electric whisk will take care if it in the next step.
Add the free range eggs and use an electric whisk to combine the mixture. Then add the softened butter and whisk again. Your mixture should be smooth and combined as this stage.
Sieve the flour and baking powder into the mixture and gentle fold until all the flour has disappeared. Then pour in the milk, followed by the walnut pieces and fold into the mixture.
Line your loaf tin with greaseproof paper of a loaf liner and pour in your mixture. Add to the oven and cook for around an hour, or until the loaf is a golden brown colour and a skewer inserted into the centre of the loaf comes out clean.
Cool in the tin for around 10 minutes, then move to a wire rack.
When the loaf has cooled completely, mix the icing sugar with 2-3 tsp of water, mix together and drizzle over the loaf. Decorate with banana chips.
https://pescetarian.kitchen/banana-and-walnut-loaf/
Copyright Pescetarian.Kitchen