This is such a simple meal to make but it always looks beautiful when it's plated up. It's really high in protein and low in fat and carbohydrates (perfect if you're watching your figure).
As always, you can get all of the ingredients within our recipe from the supermarket. The brown shrimp can be a little expensive sometimes but you don't need to use a whole pack within one meal – half a pack (45g) will easily be enough. Alternatively, you could fry down some shallots with the potato if you'd prefer to leave out the shrimp altogether.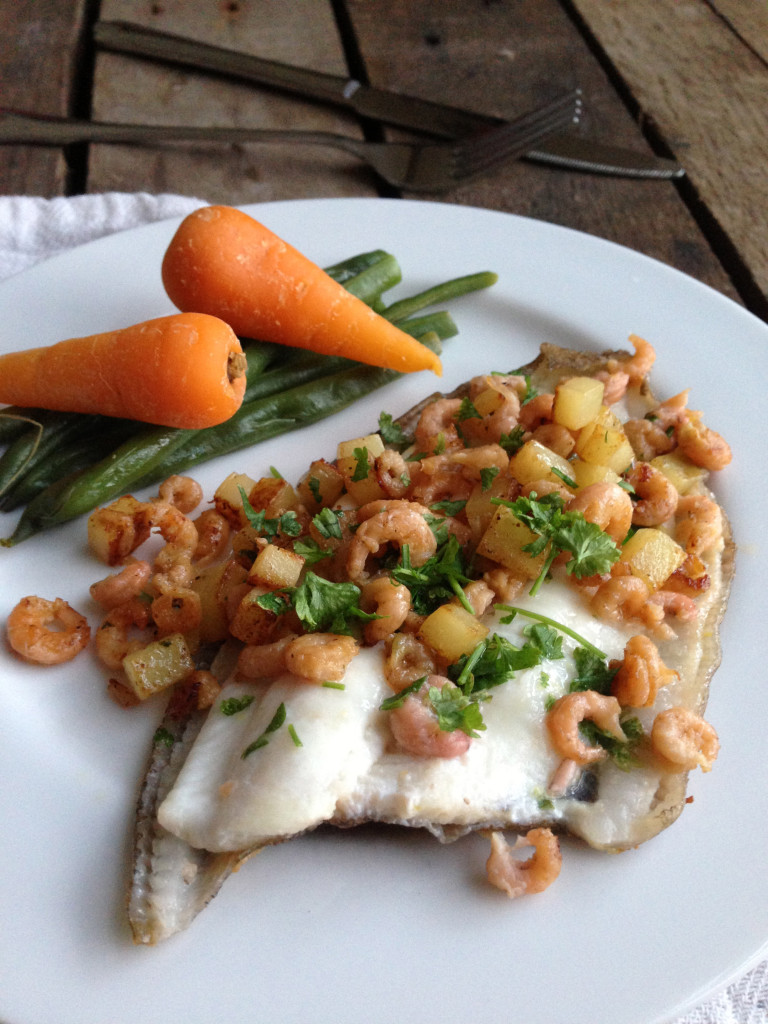 Pan Fried Lemon Sole with Brown Shrimp
Ingredients
250g lemon sole fillets
90g brown shrimp
1 white potato
80g baby carrots
80g green beans
1 lemon
30g fresh parsley (chopped)
1 tbsp salted butter
Pinch salt/pepper
Method
Place the carrots and beans in a steamer and steam them for 10-12 minutes. If you don't have a steamer then you can half-fill a saucepan with boiling water, place a metal sieve over the top with the vegetables inside it and then cover it with the saucepan lid (this is how I usually steam vegetables).
Meanwhile, peel a potato and chop it into 1cm cubes. Next, heat a saucepan over a high heat and add the knob of butter. Once the butter has melted, add the cubes of potato and fry them for 2-3 minutes, stirring regularly.
Add the lemon sole fillets to the pan (skin-side down) along with the shrimp, half the parsley, the salt and pepper (a pinch of each). Fry for 6-8 minutes.
Plate up the fish, scattering over the diced potato, brown shrimp and the remainder of the parsley. Add the steamed vegetables to the plate and enjoy!
https://pescetarian.kitchen/pan-fried-lemon-sole-brown-shrimp/
Copyright Pescetarian.Kitchen