This beautiful seafood dish is light, fresh and a perfect summer staple. The seafood used can also be switched around depending on your favourites; I tend to head down to our local fish market and pick up whatever tickles my fancy. If you're not keen on the hassle of eating crab legs, you could easily use crab meat or scallops instead.
If you do have a local fish market nearby you should definitely check it out. I find that they always have really fresh, responsibly sourced fish and usually at prices much cheaper than the supermarkets!
I usually choose to make my own spaghetti for this recipe, as I really making enjoy making homemade pasta. If you don't have the time or the inclination to make your own pasta, a bag of fresh spaghetti from the supermarket will do just as well.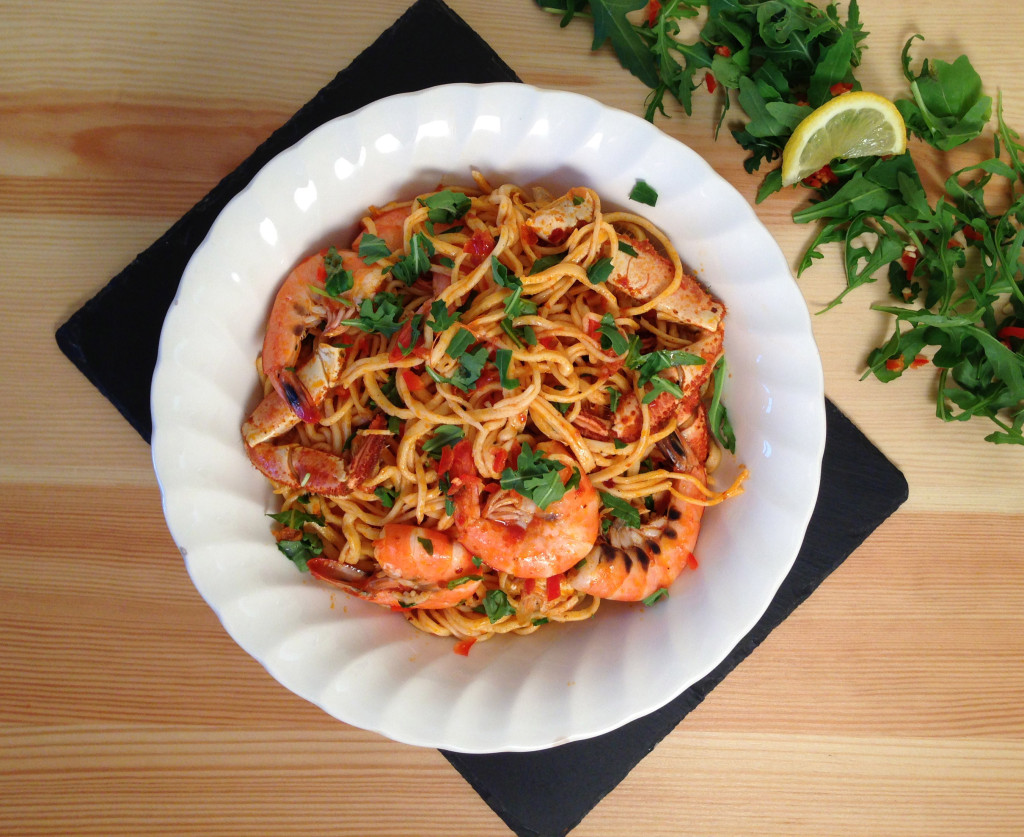 King Shrimpand Crab Spaghetti
Ingredients
Spaghetti (if you're making your own)

300g type '00' flour
3 large free range eggs

Sauce

8 large king Shrimp
6 crab legs
2 cloves garlic - chopped
¼ red chilli – chopped
Handful of rocket – chopped
2 tbsp sundried tomato paste
½ lemon (juice)
½ a glass of white wine
Pinch of salt and pepper
1 tbsp olive oil
Method
Start off by boiling your spaghetti in a large saucepan of salted boiling water. If you are using fresh or homemade spaghetti it should only take 3-5 minutes.
Heat a large frying pan on medium heat and pour in a few good lugs of olive oil. Add in your chilli and garlic and when the garlic begins to brown, add in the Shrimp and crab legs and sauté for 1 minute.
Then pour in your white wine and tomato purée, stir and simmer for 3 minutes.
When your spaghetti is ready, drain in a colander, toss in some some salt and olive oil and add the spaghetti to your frying pan, mixing with the seafood sauce. Add the lemon juice, the chopped rocket (save a little for garnish) and heat for a further 1 minute. Serve, and add a little rocket to garnish.
https://pescetarian.kitchen/king-prawn-crab-spaghetti/
Copyright Pescetarian.Kitchen