If you love a bit of comfort food then this pasta bake will be perfect. Whenever Laura and I have had a tough week of work we always cook up a pasta bake and then binge on some TV. Not the most healthy of nights but it's a great way to relax!
The other great thing about this recipe is that it's incredibly cheap to make and it will last a few days after you've cooked it (in the fridge) so you can have it for a snack in the office during the week.
I like to use fusilli pasta within this pasta bake but you can really use whatever you like. Both penne and conchiglioni are good substitutes.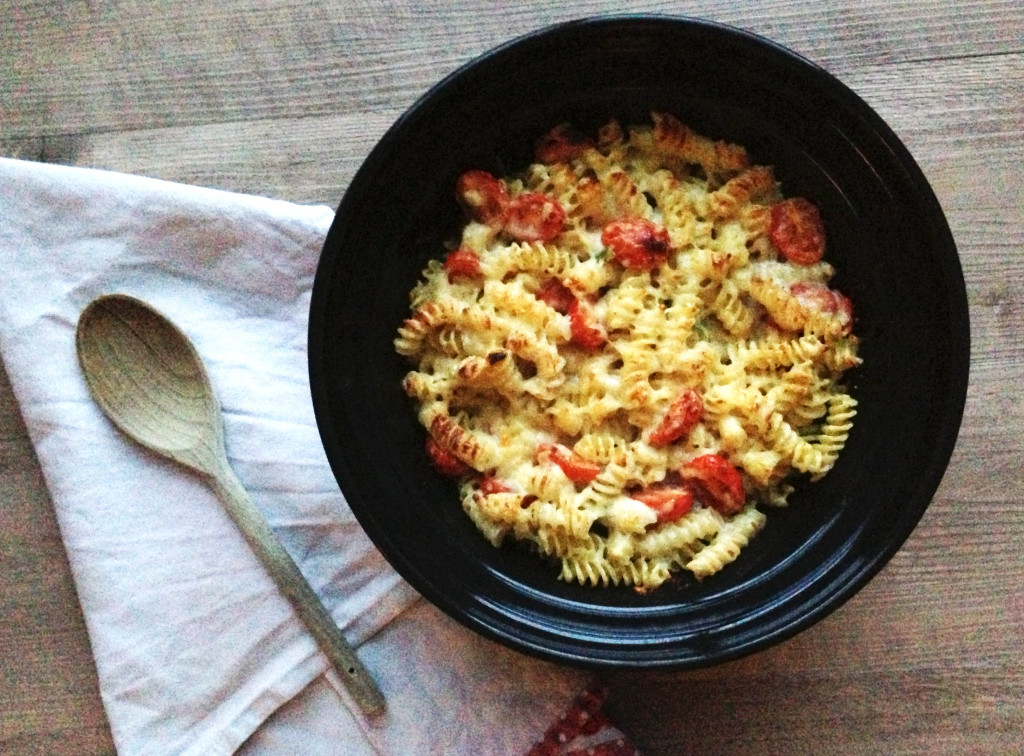 Cheese, Garlic & Tomato Pasta Bake
Ingredients
150g vegetarian mature cheddar (grated)
150g fusilli pasta
2 cloves of garlic (finely chopped)
1 tbsp dried oregano
1/2 green chilli (finely chopped)
100g vine cherry tomatoes (halved)
300ml skimmed milk
1 tbsp plain flour
10g salted butter
Method
Fill a large saucepan with water and a pinch of salt and bring it to the boil. Once boiling, add the fusilli pasta and cook them for 10-15 minutes (or as per the instructions on the back of the packet).
Whilst the pasta is cooking, take a separate smaller saucepan and heat the butter on a medium heat until it has melted. Add the garlic and mix for around 10 seconds. Once you start to smell the garlic, add the plain flour and mix it all into a pasta - just make sure the heat isn't too high here.
Once you've got a wet paste in the saucepan, add a tablespoon of the milk and mix well with a whisk (over the heat). Once the milk has absorbed, add another tablespoon and mix well, ensuring there's no lumps within the mixture. Repeat this process until the milk has gone and you have a smooth white sauce (after the first few tablespoons of milk, you can add the rest more liberally).
Add half of the grated cheese to your sauce and milk it well until it all melts in. Once it's mixed together, bring the sauce to a boil and then take it off the heat.
Drain the pasta and rinse well with cold water. At this point you'll want to heat up your oven to 180 degrees Celsius / 350 degrees Fahrenheit / Gas mark 4.
Add the pasta, tomatoes, oregano, chilli and sauce to a deep baking tin and mix everything together. Scatter the rest of the cheddar over the top and place in the oven for 15 minutes, or until the top goes golden.
https://pescetarian.kitchen/cheese-pasta-bake/
Copyright Pescetarian.Kitchen