Tilapia was a fish that I discovered in the U.S. It's is a fairly lean and firm fish which has a great earthy taste, making it perfect for people who don't like their fish too "fishy" tasting. Tilapia fillets are usually very large and quite inexpensive so they're great when you don't want to spend a fortune on seafood. When I cook tilapia for myself, I tend to eat half a fillet, whereas Matt will eat a whole one, so you'll know exactly how much you'll need depending on your usual appetite.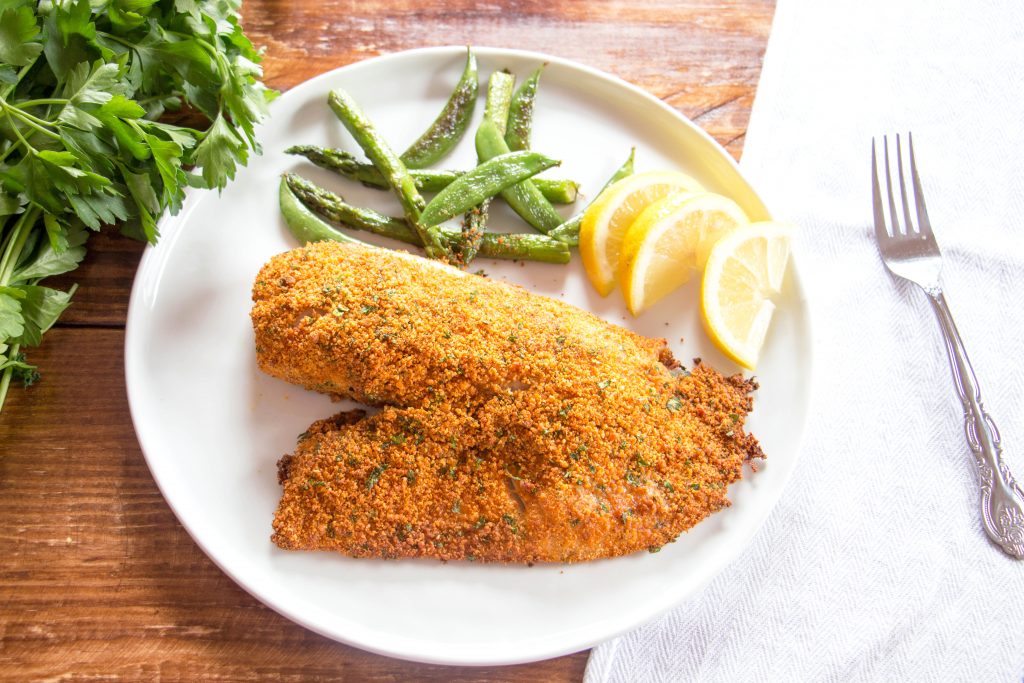 This recipe came from my growing love for vegetarian Parmesan and how great it can taste in fish dishes. Baking the Parmesan as a crust really gives it a great, crunchy texture and the taste is mild enough that it doesn't overpower the flavour of the fish. I use a mix of olive oil and lemon juice to prep the fish before dipping it in the Parmesan mixture. This allows the tilapia to soak in some of the zesty lemon flavour beneath the crust.
Even better, this recipe is great for those looking to up their intake of protein in a healthy way – each fillet contains over 90% of your daily recommended protein, as well as over half of your daily calcium and a third of your daily vitamin C. Hurray!
Ingredients
2 tilapia fillets
100g vegetarian Parmesan, finely grated
40g breadcrumbs
1 handful parsley, finely chopped
1.5 tsp paprika
1/2 tsp black pepper
3 tbsp olive oil
1 lemon, cute into wedges
Method
Begin by preheating the oven to 400 Fahrenheit / 200 Celsius.
In a mixing bowl, mix together the grated Parmesan, breadcrumbs, paprika, black pepper and parsley. Spread the mixture onto a large, flat baking tray and leave to one side.
In a small jug, mix together the lemon and olive oil, Take just under half of the olive oil mixture and rub over both sides of 1 tilapia fillet, then dip into the Parmesan mixture, covering the whole fillet. Then repeat the process with the second fillet, leaving a little leftover oil.
Once both tilapia fillets have been covered, check for any spots where the crust may not be sticking and dab a little extra oil onto it, followed by a sprinkling of the Parmesan mix.
Place both of the tilapia fillets in the oven and leave to cook for around 20 minutes. You will know the tilapia us done when the crust turns a golden brown colour and the tilapia fresh is white and flaky.
https://pescetarian.kitchen/baked-tilapia-parmesan-crust/
Copyright Pescetarian.Kitchen