Canned tuna is a great ingredient, both because of its health benefits and also because it's a relatively cheap fish that you can buy easily at the supermarket. Canned tuna gives you a good dose of protein, as well as omega-3 fatty acids (which are great for your heart) and they are low in fat, making them a great choice for a healthy salad. Even better, this salad is packed with fibre and protein!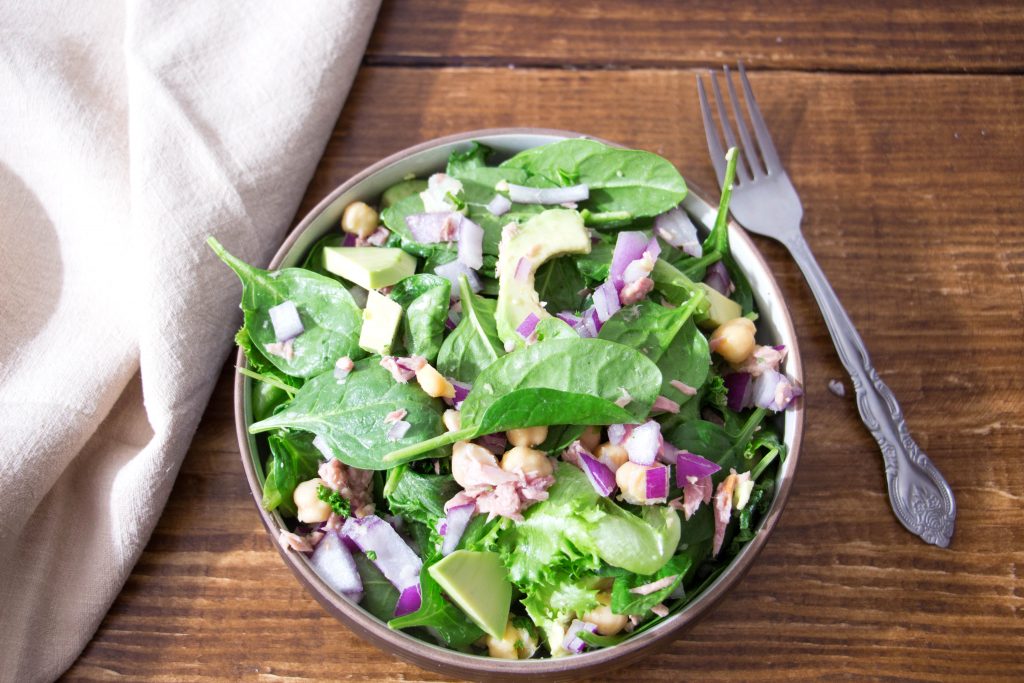 A lot of tuna salads are made with mayonnaise and while they taste great, adding mayonnaise really adds a lot of fat to the salad, making it a lot less healthy. But canned tuna is so tasty as an independent ingredient, I decided to make a healthy and filling tuna salad that doesn't use mayo. This salad also has some great textures going on – the red onion and spinach add a little crunch which contrasts nicely with the creamy avocado and buttery chickpeas.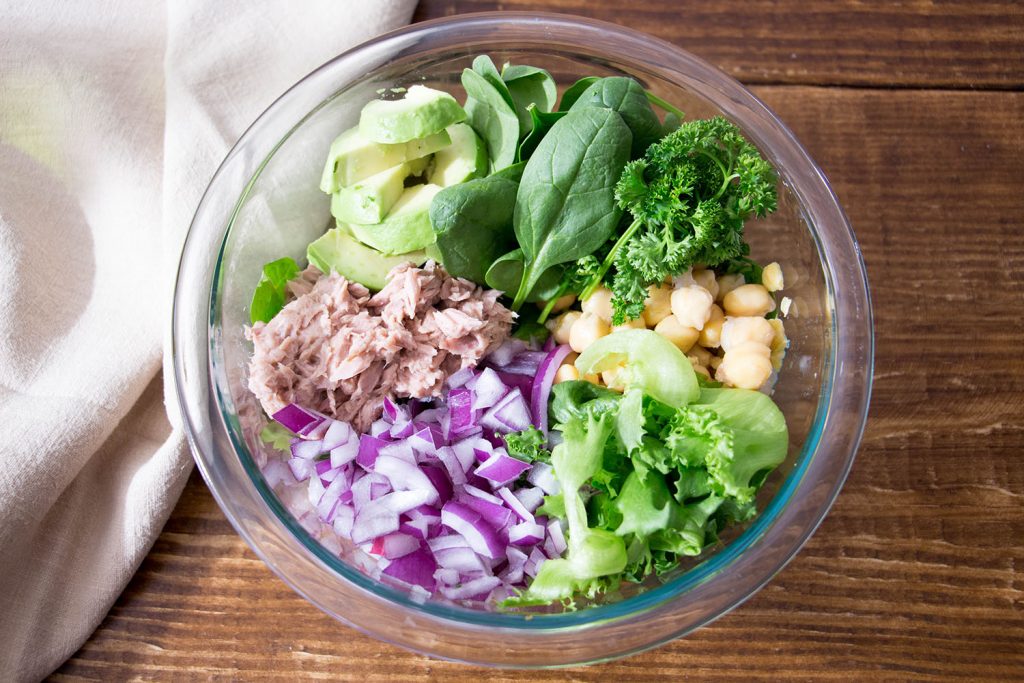 One of the best things about this salad is that it takes only 10 minutes to throw together. So sometimes I'll just quickly whip it up on the morning before work, or alternatively, I'll separate it into Tupperware containers for the next few days and grab one from the fridge each morning before I leave. This is definitely the salad for people with a busy life who are trying to eat healthy!
Ingredients
1 red onion, finely chopped
1 can of tuna
2 avocadoes, peeled and cut into bitesize pieces
1 can of chickpeas
60g spinach
70g mixed salad leaves
1 handful of parsley, finely chopped
2 tablespoons of olive oil
Juice of 1/2 a lemon
1 tsp black pepper
Method
This recipe couldn't be any more simple. Start by mixing the lemon juice, olive oil and black pepper together in a small jug. This is your dressing.
Throw all of the remaining ingredients into a bowl and toss. If you're serving the same day, place in a large salad bowl and drizzle some of your salad dressing over it. If you're making this up for a later day, store in Tupperware containers and add the salad dressing when you're ready to eat!
https://pescetarian.kitchen/tuna-avocado-salad/
Copyright Pescetarian.Kitchen