Matt and I have never taken Valentine's Day too seriously. We don't do a big night or presents, but usually we use it as a good excuse to cook up a tasty (and usually calorie-filled) meal and share a nice bottle of wine. Inevitably, because of my out-of-control sweet tooth, dessert is always the most important course for me.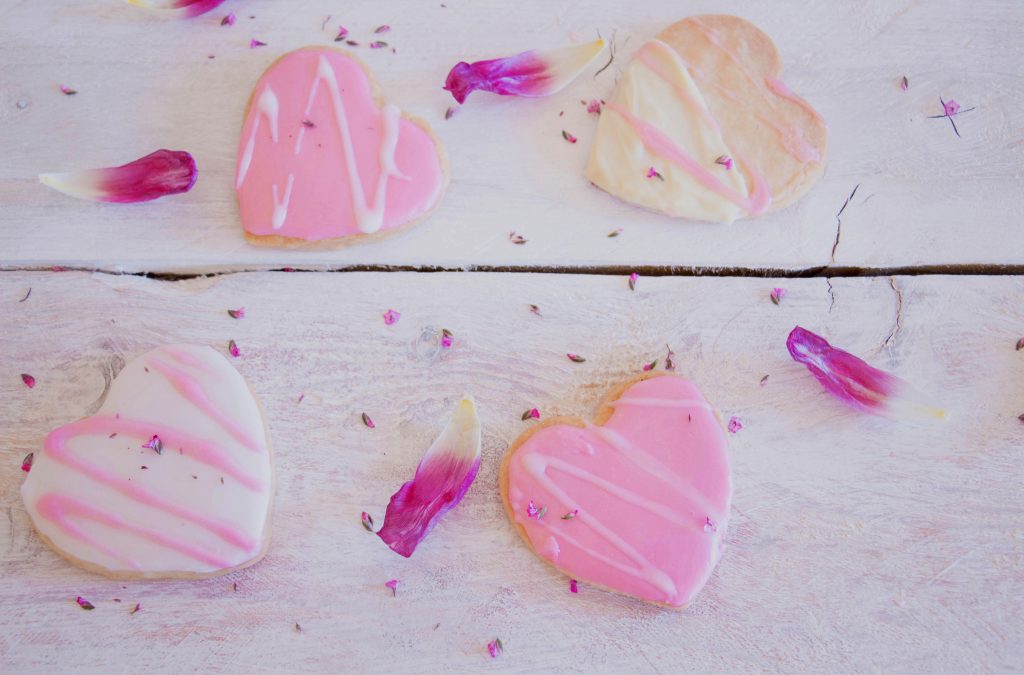 I like making these shortbread cookies because they only use pantry items that everyone will usually find around the house, so you don't have to get tons of expensive ingredients in to make them. They're also pretty quick and super easy to get right – exactly what you want from a stress-free Valentine's Day meal!
I got my heart shaped cookie cutters from amazon – they were around 6 dollars, which was an absolute bargain but if you've got a steadier hand than I do then you can shape them with a sharp knife instead.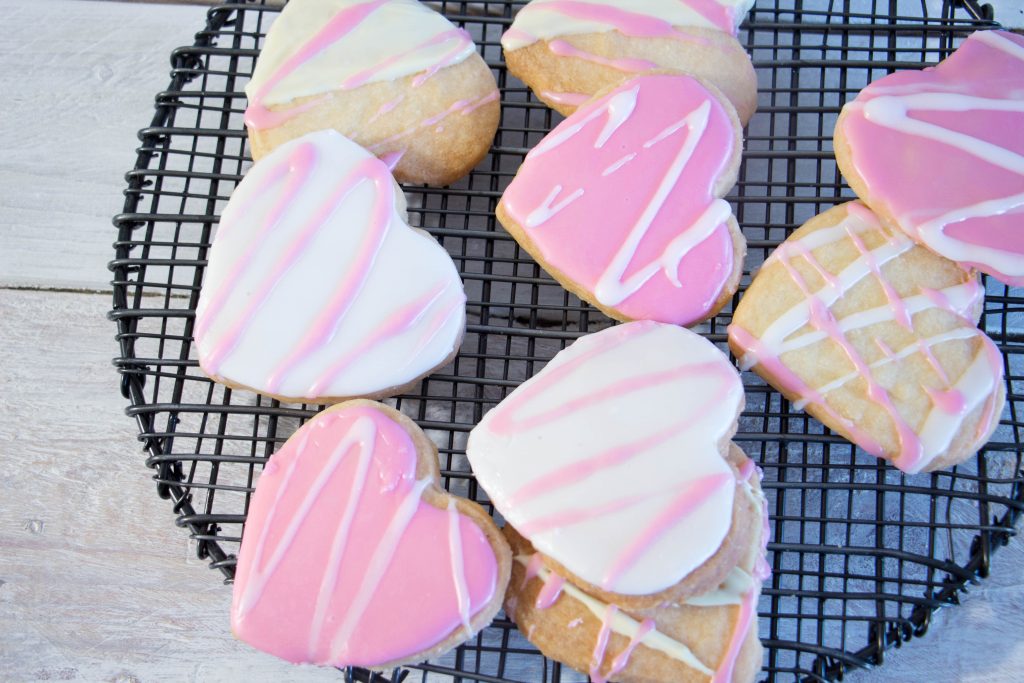 My icing skills aren't amazing – I think i'm a little too impatient. But what I like about these cookies is they can be as simple of as complicated as you like. I mostly settled for a base colour of icing that covers the cookies, then a few drizzles of a different colour to create contrast. You can also use melted chocolate if you like . I made a few that were dipped in melted white chocolate then given an extra flourish of pink icing over the top. Just stick to whatever you're conformable with doing! This recipe makes you a good 15 cookies, so I usually pick the least attractive couple of cookies and use them to practice on.
Valentine's Shortbread Cookies
Ingredients
5oz butter
2oz caster sugar
7oz all purpose /plain flour
pinch of salt

For decorating the cookies

3.5oz icing/confectioners sugar
2 drops of red food colouring
2oz white chocolate, melted
Method
In a large bowl, beat together the sugar and butter until smooth. You can do this with an electric mixer to save your arms if you want!
Sieve around 3/4 of the flour into the mixture and combine. Then take the mixture and place on a cold surface and lightly kneed, incorporating the rest of your flour as you do.
Place the dough between 2 sheets of baking paper, to stop it sticking to your surface or rolling pin, and gentles roll out until it is approximately 1/2 inch thick.
Next, using your cookie cutter or your knife, cut the mixture into heart shapes and place on a baking tray covered with baking paper. You will likely need to reroll your dough a couple of times to make all of your heart shapes, so try to do this touching the dough as little as possible, to stop ot getting warm and greasy.
Once all of the heart cookies have been placed on the baking try, place in the fridge for an hour. This will stiffen the dough up nicely before they go into the oven. At this point, preheat the oven to 325 Fahrenheit / 170 Celsius.
Remove the cookies from the fridge and place into the oven. Cook for 15-20 minutes. Then will depend on the size of your cookies, but they should be removed from the edges of the cookies have browned slightly.
Place the shortbread cookies on a cooling rack to cool completely before decorating.

To decorate

Sieve the icing sugar into a bowl and add a little cold water at a time, until the icing is a thick liquid consistency.
Split the icing into 2 bowl and place a couple of drops of red food colouring into one of the bowls and stir, to turn the mixture pink.
Using a mixture of the 2 icing colours and the melted white chocolate, decorate the cookies however you like and then leave to set in the fridge for 20 minutes.
https://pescetarian.kitchen/valentines-shortbread-cookies/
Copyright Pescetarian.Kitchen