When it gets to the end of the week and there's no a lot of food in my refrigerator, I like to make potato wedges because they only really require 2 fresh ingredients – potatoes and Parmesan. Then I just add in a little garlic powder, dried herbs and olive oil and I'm done. It doesn't get much simpler than that!
And the result of those few simple ingredients are light, fluffy potato wedges with crisp, golden and cheesy skins! They're heavenly in both taste and texture – definitely a well deserve treat at the end of a busy day!
I like to buy yukon gold potatoes when I'm making potato wedges; as you'd expect from their name, they go a gorgeous golden brown colour and crisp up wonderfully in the oven. However, I've made potato wedges with pretty much all large potatoes and they all work, so don't worry about using something different. The best part about this recipe is that you get to use up those potatoes sitting in your cupboard, knowing they only have a few more days left in them, and make something delicious and simple with them.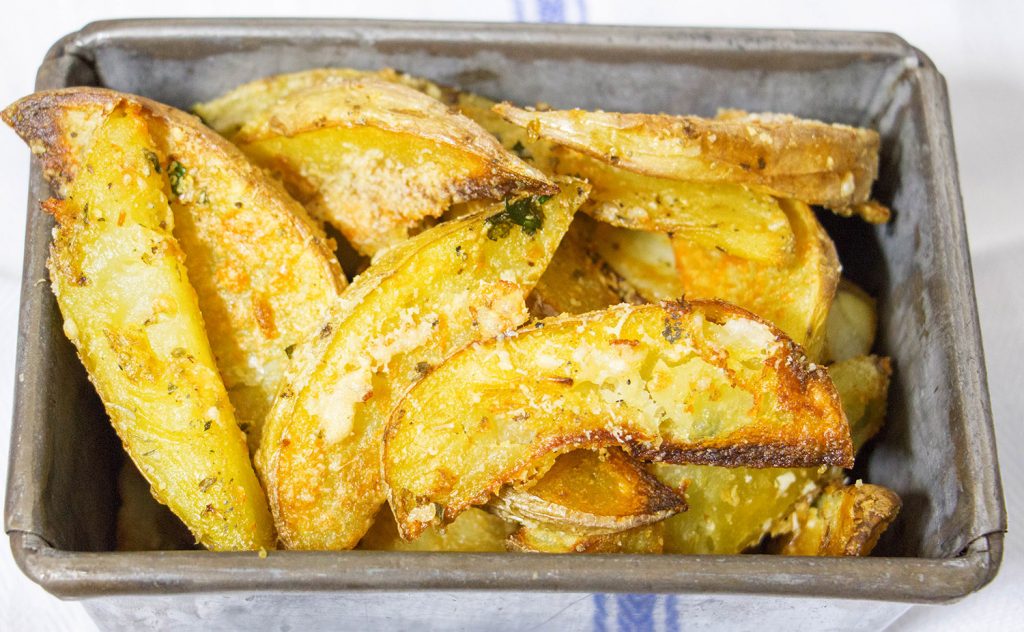 You can either make these wedges for a snack or to go with a main. Matt and I like to have them in very buttery freshly baked rolls – there's nothing better than a good chip butty and it makes me think of cold days in England and unbeatable British pub food. This recipe makes enough for 2 people but you can easily double up the recipe for more. Just remember to have 2 baking trays at the ready, so all of your wedges can cook evenly.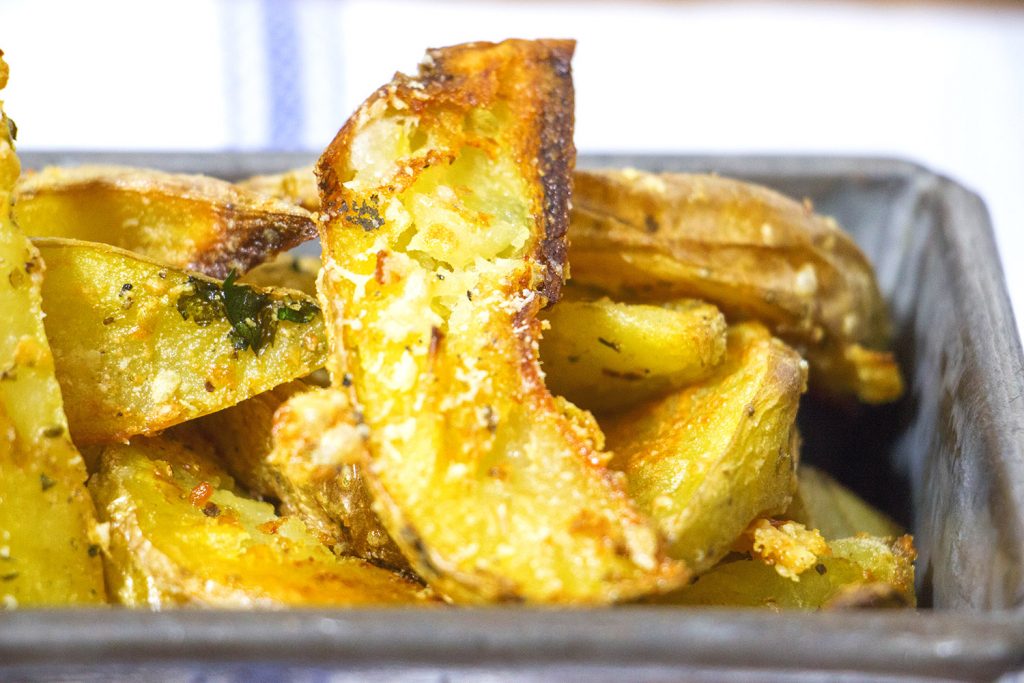 Garlic and Parmesan Potato Wedges
Ingredients
2 large potatoes, washed cut into wedges
3 tbsp olive oil
2 tsp garlic powder
1 tsp dried oregano
1 tsp dried basil
Pinch of salt and black pepper
5 tbsp grated vegetarian Parmesan
Method
Preheat the oven to 400 Fahrenheit / 200 Celsius.
Place the potato wedges onto a baking tray and drizzle over the olive oil, turning the wedges do that they get a good coating of olive oil.
Then sprinkle over the garlic powder, oregano, basil, salt, pepper and Parmesan, tossing them as you do so they are well coated.
Place in the oven and cook for 30-35 minutes , giving them a good shake every 10 minutes, so they do not stick to the baking tray. You will know that the wedges are done when they are a crispy on the outside and golden in colour. And there's no harm in try one, just to be sure!
https://pescetarian.kitchen/garlic-parmesan-potato-wedges/
Copyright Pescetarian.Kitchen