A few months ago I made a smoked salmon egg muffin recipe when I was trying to find a quick and healthy breakfast option that was also gluten free. They went down a hit in our house and Matt absolutely devours them, so I decided to try out a different flavour combination to mix things up a little.
This recipe is a little sweeter and spicier than the earthy flavours of the smoked salmon and mushroom combo I did previously. This recipe uses green and red peppers, tomatoes and a dash of paprika to give it that bold and bright Spanish flavour and the colours really make them pop. For the tomatoes, I'd recommend using a small, sweet variety like cherry or plum tomatoes.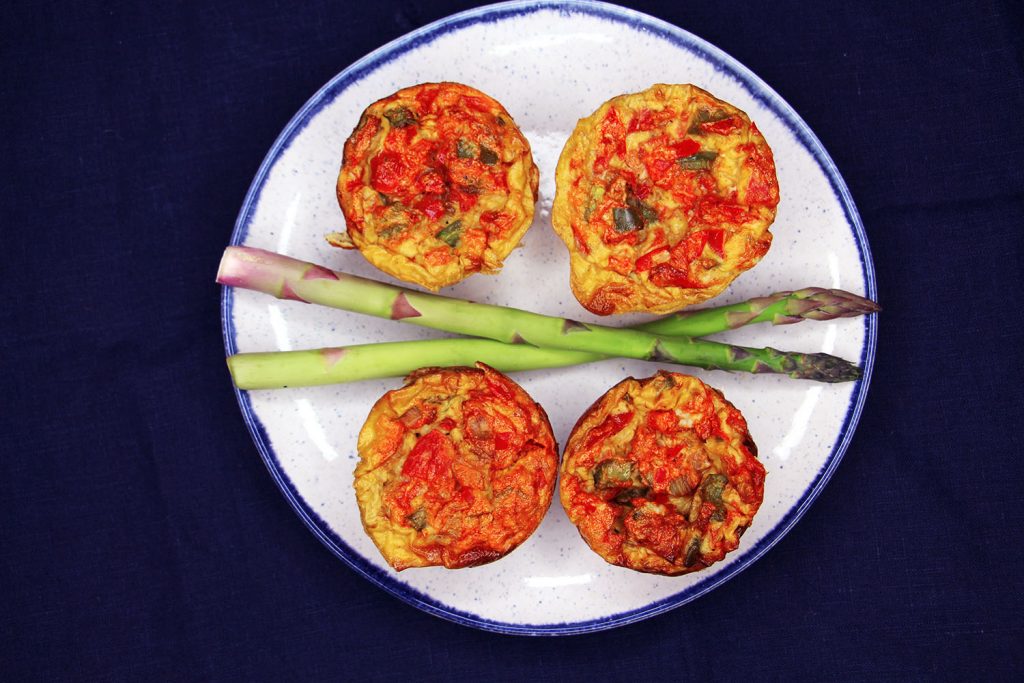 These egg muffins will last in the fridge for around 3-4 days. You can just pull a couple out each morning and give them a short blast in the microwave. You can also freeze them, so if you wanted to make a really big batch and pull a few out each week, that's another good option!
Spanish Style Egg Muffins
Ingredients
Glug of olive oil
1 shallot, finely chopped
1 cloves of garlic, finely chopped
¼ red pepper, finely chopped
¼ green pepper, finely chopped
60g tomatoes
½ tsp paprika
6 large eggs
Method
Preheat the oven to 200 Celsius/390 Fahrenheit.
Place a small frying pan on a medium heat and pour in the olive oil.
When the oil is hot, add in the shallot and leave to sweat with the lid on for 3 minutes.
Then add in your garlic, peppers, tomatoes and paprika and sweat for another 5 minutes, stirring occasionally to make sure they don't stick. Turn off the heat and leave the pan to cool on the side.
In a large jug or bowl, beat 6 eggs. Add the contents of your frying pan and season with salt and pepper.
Spoon the ingredients evening into your muffin tray and place in the oven for around 15 minutes, until the muffins and fluffy and springy, then remove from the oven and you're done!
https://pescetarian.kitchen/spanish-style-egg-muffins/
Copyright Pescetarian.Kitchen