There is nothing better than making your own marinara with fresh tomatoes. The richness that comes with cooking them down yourself is no comparison to the somewhat tart-tasting tinned versions. Homemade marinara also allows you to control things like the level of spice with ease. My family can always tell the difference when I've made my own marinara versus shop bought and they particularly love it when made with fresh tomatoes.
This marinara works perfectly for both pizzas and pasta. I usually make a large batch when I plan to make pizzas, then freeze the rest in a couple of containers and use it as a pasta sauce for Matt and I when we're feeling pretty lazy. And although this recipe takes a couple of hours to make, there is actually very little to do. The most important thing is giving your marinara long enough simmering away to ensure it develops the rich, almost smokey taste you're aiming for.
It's important to uses fairly large varieties of tomatoes for this recipe – you want all of the tomato juices so small tomatoes don't work as well, and can be a little too sweet.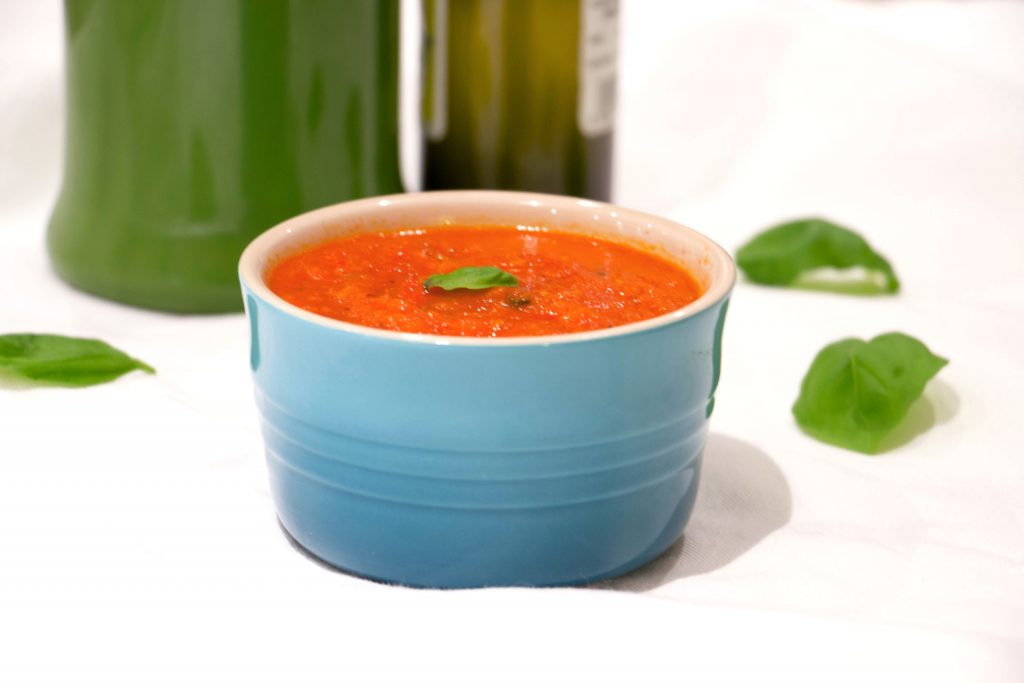 Fresh Tomato Italian Marinara
Ingredients
A couple of big glugs of olive oil
1 onion, roughly chopped
5 garlic cloves, peeled and roughly chopped
1/2 red chilli, roughly chopped
1/2 cup red wine
1kg large tomatoes
1 tsp dried oregano
Handfiul of basil leaves
Salt and Pepper to taste
1/2 red chilli, roughly chopped
Method
Place your tomatoes in a large bowl and using a potato masher, slightly crush the tomatoes, so that the skins are broken and the juices start to leak out. The picture below shows how they should look.
Placing a large pan on a medium heat, add in the olive oil and when it is hot, add in the onions and leave to cook for 6 minutes, stirring occasionally.
Next, add in the garlic and chilli and cook for another 2 minutes. Follow this with the red wine and simmer for 1 minute more, then turn down the heat of the pan to low.
Add in the tomatoes and all of their juices, along with a teaspoon of salt and pepper and the oregano. Put the lid on the pan and leave for 20 minutes. Then remove the lid and leave to cook for another hour.
When your hour is up, add in the basil leaves, grab your blender and get blending, until the sauce is looking thick and delicious! Then leave for another 30 minutes, season to taste and you're done!, or you can freeze it to use at a later date.
https://pescetarian.kitchen/fresh-tomato-italian-marinara/
Copyright Pescetarian.Kitchen