I really enjoy making flatbread because it is so versatile – like pizzas you can really use any combination of flavours and ingredients. This seafood flatbread is my mum's favourite as she's absolutely obsessed with anchovies and loves seafood pizzas and flatbreads. You can up the ingredients depending on who you're cooking for, for example the quantity of anchovies I've used here is for a normal person. I'd probably double it if I were making the flatbread for my mum.
I like to make 2 or 3 different flatbread up when we have guests over, as their great sharing food when cut into slices and with different flavour combinations you can keep everyone happy.
For the dough, you can either use shop bought or if you have a little more time, try out our pizza dough recipe for the perfect crispy dough base. I've chosen to use mozorella and cheddar for the cheeses, but you could easily substitute one for a vegetarian Parmesan or any other cheese if you preferred.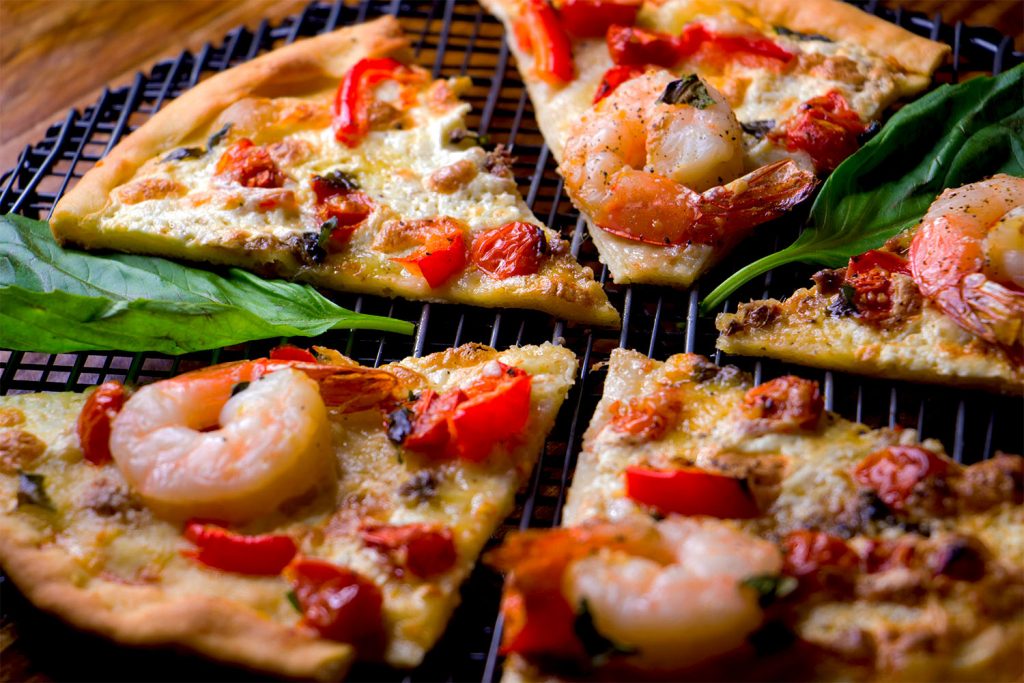 Ingredients
200g pizza dough
3 tbsp olive oil
2 cloves of garlic, finely chopped
60g grape or piccolo tomatoes, quartered
1/4 red pepper, roughly sliced
15-20g anchovies
8-10 large prawns
4 basil leaves, torn
40g mozzarella
20g cheddar cheese
pinch of black pepper
2 tbsp lemon juice
Method
Preheat the oven to 220 Celsius / 430 Fahrenheit.
Grease 2 pizza tins. If you don't have circular pizza tins, just use any old tins and roll your dough into the corresponding shape.
Separate your dough into 2 balls and place onto a well floured surface. Roll out until around 1/4 inch thick. Place each flatbread base into its tin.
In a little bowl, add in the olive oil and finely chopped garlic and mix together. Grab a pastry brush and brush the garlic olive oil onto the flatbread bases.
Next, add on all of your ingredients, leaving the cheeses for last. Place the tins in the oven and leave for 15-20 minutes, until the cheese is melted and the crust is golden and crispy.
Drizzle a little extra olive oil and some fresh basil leaves over the flatbreads and serve!
https://pescetarian.kitchen/seafood-flatbread/
Copyright Pescetarian.Kitchen