As a child, I was a pretty fussy eater, but one of the few things I would always eat was tomato soup. This worked out pretty well because I think every pub and restaurant in the 90's had tomato soup on their menu! So in the last couple of decades I think I've probably had every variation of tomato soup that's out there – both good and bad. The most important thing for me is getting the perfect balance of saltiness and sweetness.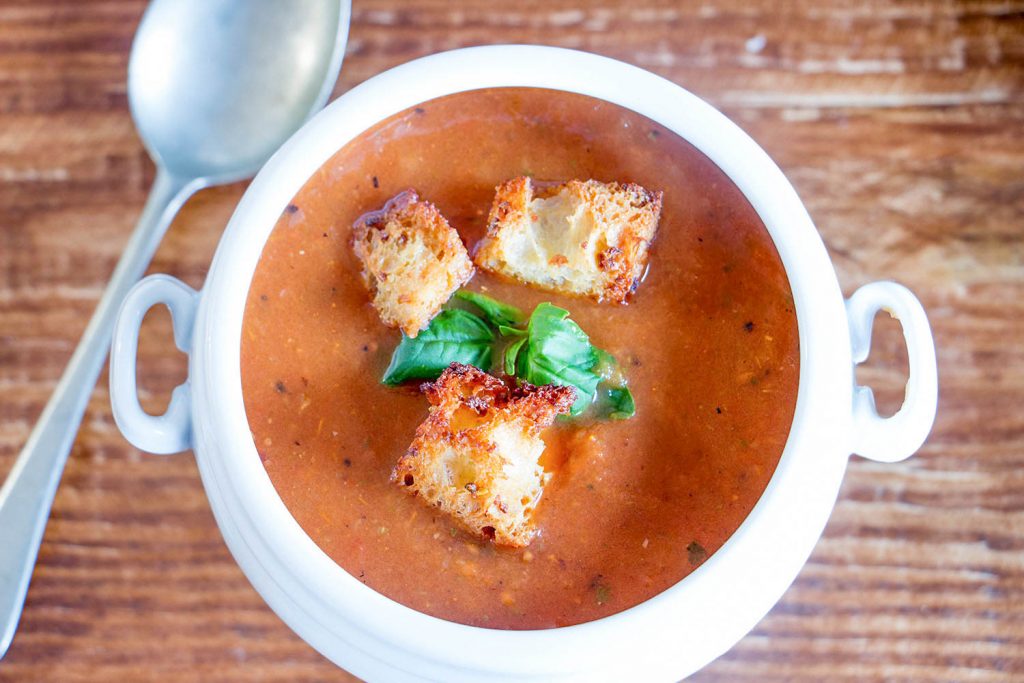 When a tomato soup relies too heavily on purees and canned tomatoes, often there needs to be heaps of sugar to combat the tartness – and I'd much rather waste my sugars on desserts than appetisers! By roasting fresh tomatoes, you also get the benefit of that smoky, rich taste that just can't be replicated with the diced stuff. I'd recommend using over ripe tomatoes, as they're must better for that sticky, charred texture you get from roasting them.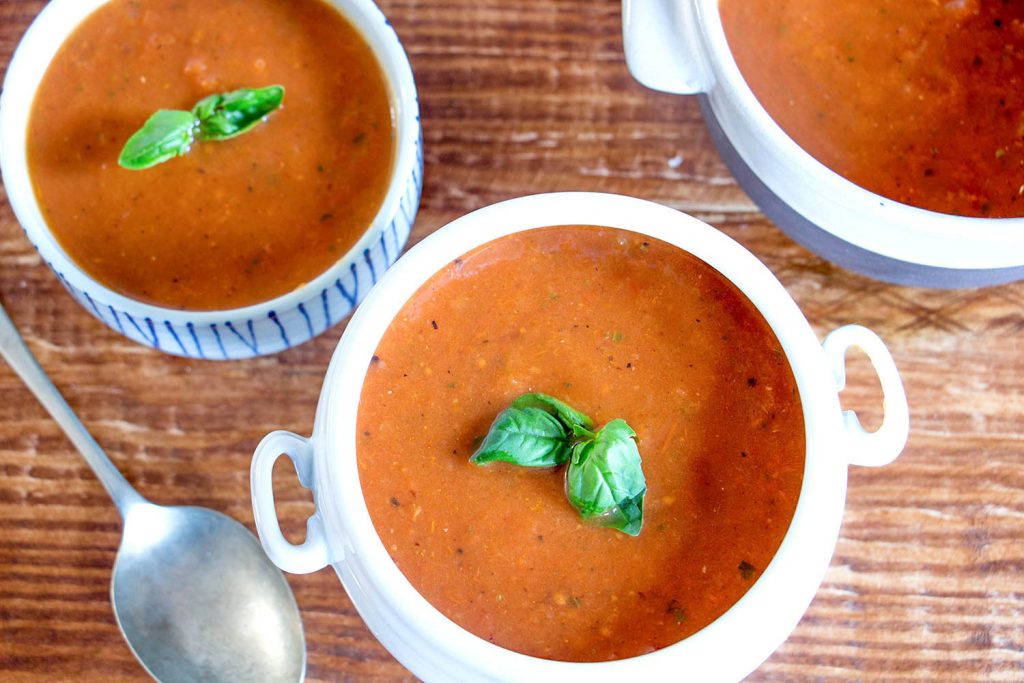 I added some garlic croutons to this soup because…well, because I'm clearly a vampire hunter and I love garlic more than pretty much anything! And they go perfectly with the tomato soup.
So here you go, my perfect tomato soup recipe!
Roast Tomato Soup with Garlic Croutons
Ingredients
3.5 lb overripe tomatoes, cut into quarters
4 cloves of garlic, peeled
1 large onion, roughly chopped
1 tbsp olive oil
1 tsp oregano
1tsp cracked black pepper
2.5 cups of vegetable stock
5 basil leaves
2 tbsp red wine vinegar

For the croutons

2 slices of stale bread, cut into cubes
3 cloves of garlic, minced
1 oz unsalted butter
Method
Begin by preheating the oven to 375 Fahrenheit.
Get a large baking try and add the tomatoes (placed skin down), the onions and garlic. Drizzle with olive oil and sprinkle over the oregano and black pepper. Place the baking tray in the oven and roast for an hour.
When the roasting is all done, place a large saucepan on a medium heat and throw in all of the roasted veg, followed by the vegetable stock and basil leaves.
Bring the soup to the boil and then add in the red wine vinegar and reduce the heat to simmer for around 5 minutes.
Next, blend away until you have a smooth consistency. Give your soup a try and adjust the seasoning a little if you need to!

To make the croutons

Place a small saucepan on a medium heat and melt the butter. Then add in the minced garlic and fry for 2 minutes.
Throw the bread into the saucepan and coat it in the garlic butter.
Pour the croutons on to a baking tray with a sheet of baking paper on it and bake in the oven for 10-12 minutes, until golden an crisp.
https://pescetarian.kitchen/roast-tomato-soup-garlic-croutons/
Copyright Pescetarian.Kitchen