I love the crisp, peppery flavour of radishes and I think they're really under used in day-to-day cooking. My Mum always used to put radishes in salads when we were little and I was obsessed with the strong flavour and awesome texture they added. I used to pick handfuls out when everyone had finished eating and keep crunching on them long after dinner was finished!
This recipe makes radishes the star of the show. It combines them with juicy tomatoes and the sharp, nutty taste of Parmesan (veggie, of course) to create a crunchy, fresh and flavoursome salad that will really fill you up.
The salad only takes 10 minutes to throw together and is low in fat, making it a great healthy lunch option.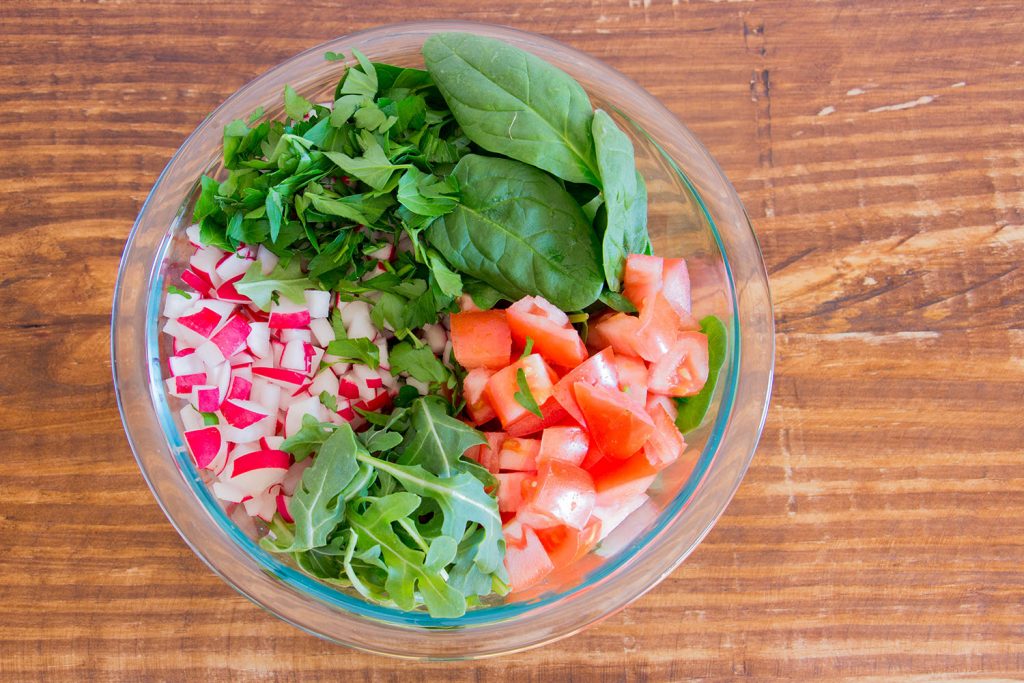 Ingredients
10 oz radishes, cleaned, topped and tailed and cut into small cubes
1 oz arugula leaves
1 oz spinach leaves
6 oz tomatoes, cut into bite size pieces
1 tbsp parsley, roughly chopped
1 tbsp Parmesan
1 tbsp olive oil
2 tbsp lemon juice
1 tbsp red wine vinegar
1 tbsp honey
1 tsp cracked black pepper
Method
Start off my chopping up the radishes and tomatoes.
Place the radish, arugula, spinach, tomatoes, parsley and Parmesan in a large bowl and toss.
Then, in a jug, mix together the olive oil, lemon juice, red wine vinegar, honey and black pepper and drizzle over the salad.
https://pescetarian.kitchen/radish-salad/
Copyright Pescetarian.Kitchen