There's nothing better than a great naan bread. For me, it completes a curry because one should not exist without the other. No matter what type of curry you're eating (creamy, spicy, lentil-based, tomato-based) there's a naan to go with it.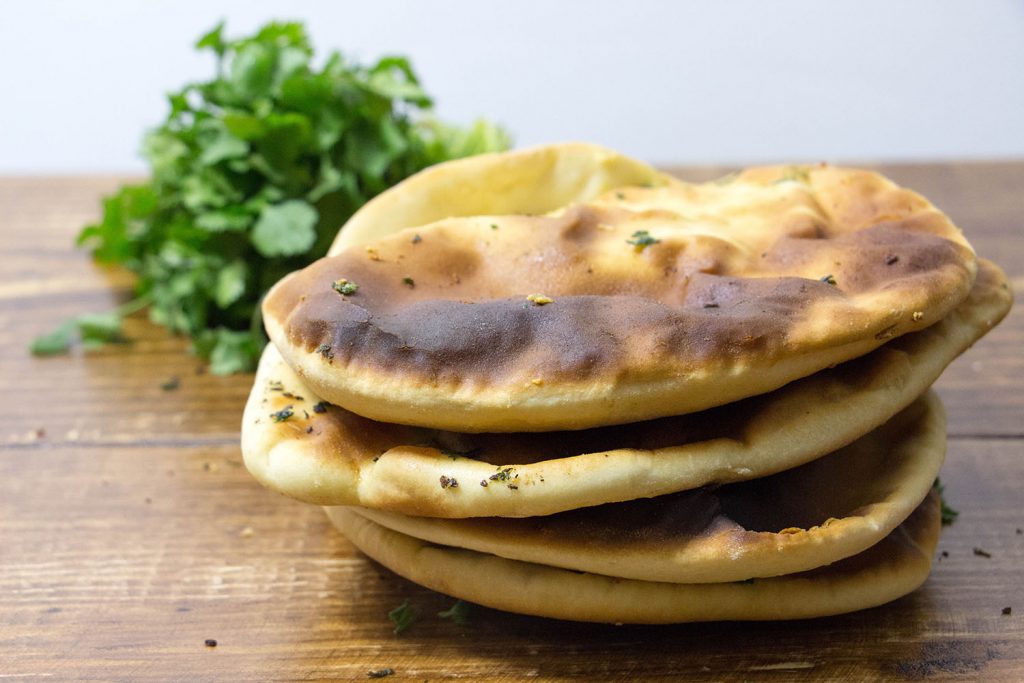 When done properly, a good naan should be slightly charred on the outside and soft and fluffy inside. Unfortunately, shop bought naans are often a little floppy and bland. And because the shop-bought stuff needs a long shelf life, they're full of preservatives. Not good. And not as tasty.
Making your own naan bread is surprisingly easy. If you can make pizza dough or pita bread, you can definitely make a good naan bread. And there's nothing better than a homemade naan that's fresh out of the oven. I broil my naan breads on a high heat, to allow the outside of the naan to char a little without drying out the fluffy insides.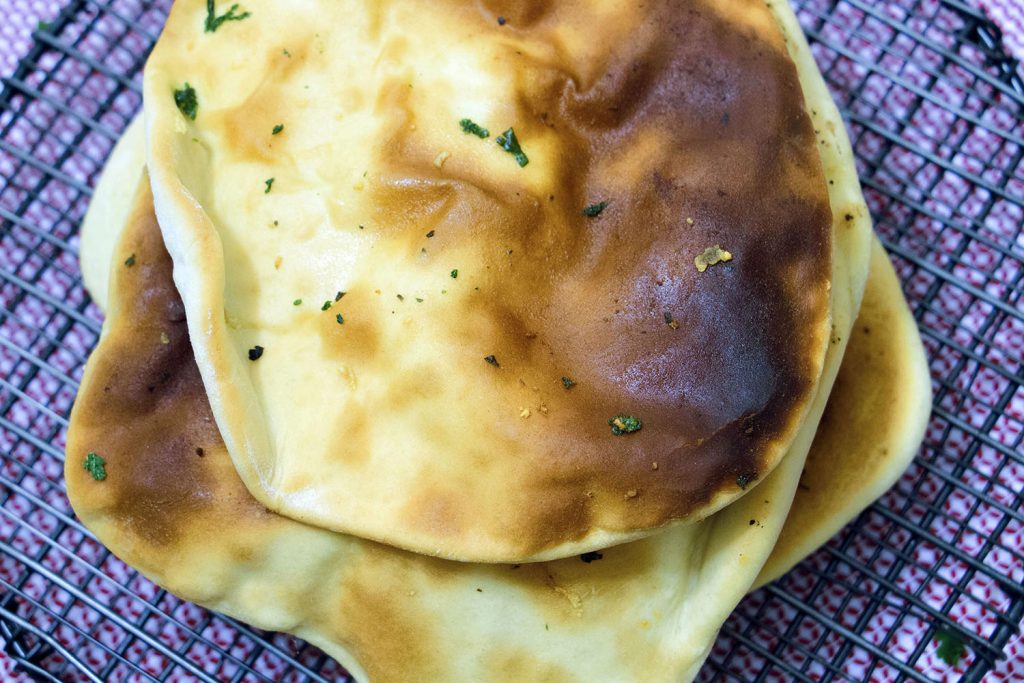 Garlic and Coriander Naan Bread
Ingredients
2 cups of all purpose flour
1 tsp sugar
1 tsp yeast
5 1/2 fl oz warm water
1 tbsp butter

For the garlic cilantro butter

4 tablespoons melted butter, unsalted
2 cloves of garlic, minced
Handful of cilantro, finely chopped
Method
In a jug, pour in the warm water, yeast and sugar and give it all a good stir, then leave to the side for a couple of minutes.
Meanwhile, in a large bowl, sieve in the flour and salt and make a well in the middle, then pour in the yeast mixture and the 1 tablespoon of butter and start stirring it all together with a wooden spoon. Once the dough has combined, place it on a lightly floured surface and give it a good knead for around 5 minutes, until the dough becomes smooth and slightly elastic. If the dough is sticking to your hands or the work surface, just add a little more flour and keep kneading.
Place the dough in a warm place in your house, covered with a kitchen towel and leave to rise for an hour.
About 10 minutes before the dough is ready, preheat the broiler to a high heat.
Place a small saucepan on a medium heat and melt the 2 tablespoons of butter, then throw in the minced garlic and cilantro, frying for around 2 minutes, then take the saucepan off the heat and leave to the side.
Place the dough on a lightly floured work surface and cut into 4 pieces. Each piece needs to be rolls out into a circle of approximately 1 inch thick and placed on a greased oven tray. I usually cook two at a time as I don't have a lot of oven space!
Place the naans in the oven. They take approximately 8 minutes to cook and during this time they should be turned 3-4 times. This stops the bottom of the naan becoming hard and flat. Each time you turn the naan, brush it with the garlic butter mixture from your saucepan.
Once the naans are cooked, plate them up and leave them to cool slightly, as they will be very hot!
Serve with a delicious curry and enjoy!
https://pescetarian.kitchen/garlic-coriander-naan-bread/
Copyright Pescetarian.Kitchen