I have to admit, before we moved to the US, I'd never tried fish tacos before. There just wasn't the same abundance of good Mexican restaurants back home and there were few chains that I'd trust to make me fish. But once I had tried them, I was HOOKED. I loved the spicy, smoky flavours and once I realised how easy they were to make at home, they became a regular meal in our house.
I also like to make this for friends who don't usually eat a lot of fish – it's the flavours from the spices and sauces that take centre stage here – meaning the fish isn't too overpowering. So I'd definitely recommend it to anyone who's trying to introduce their family, friends or themselves, to a more seafood-rich diet.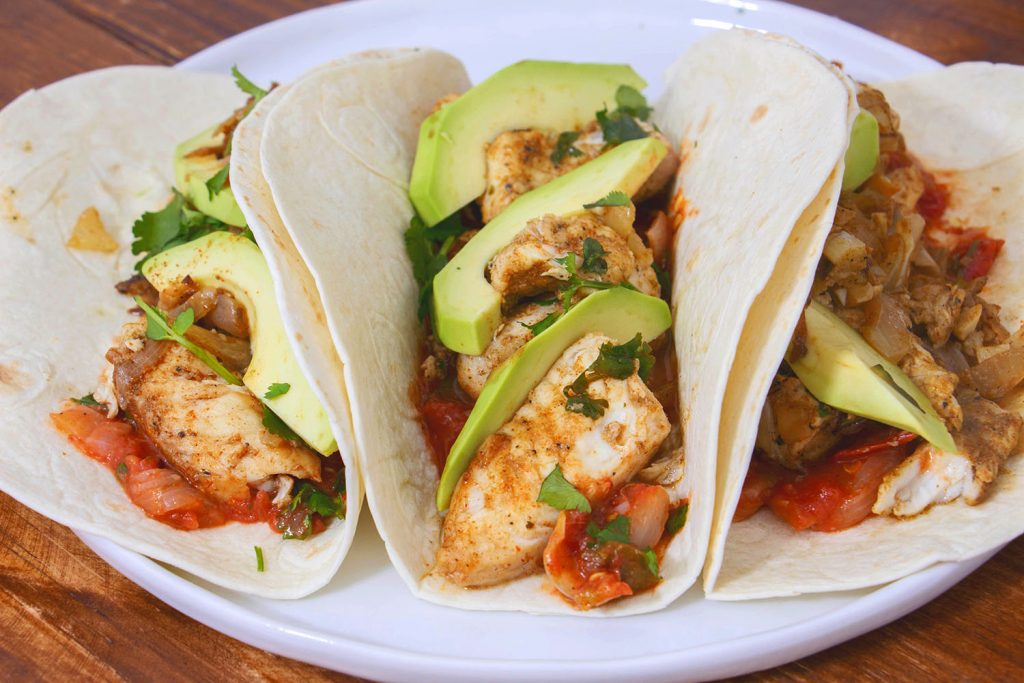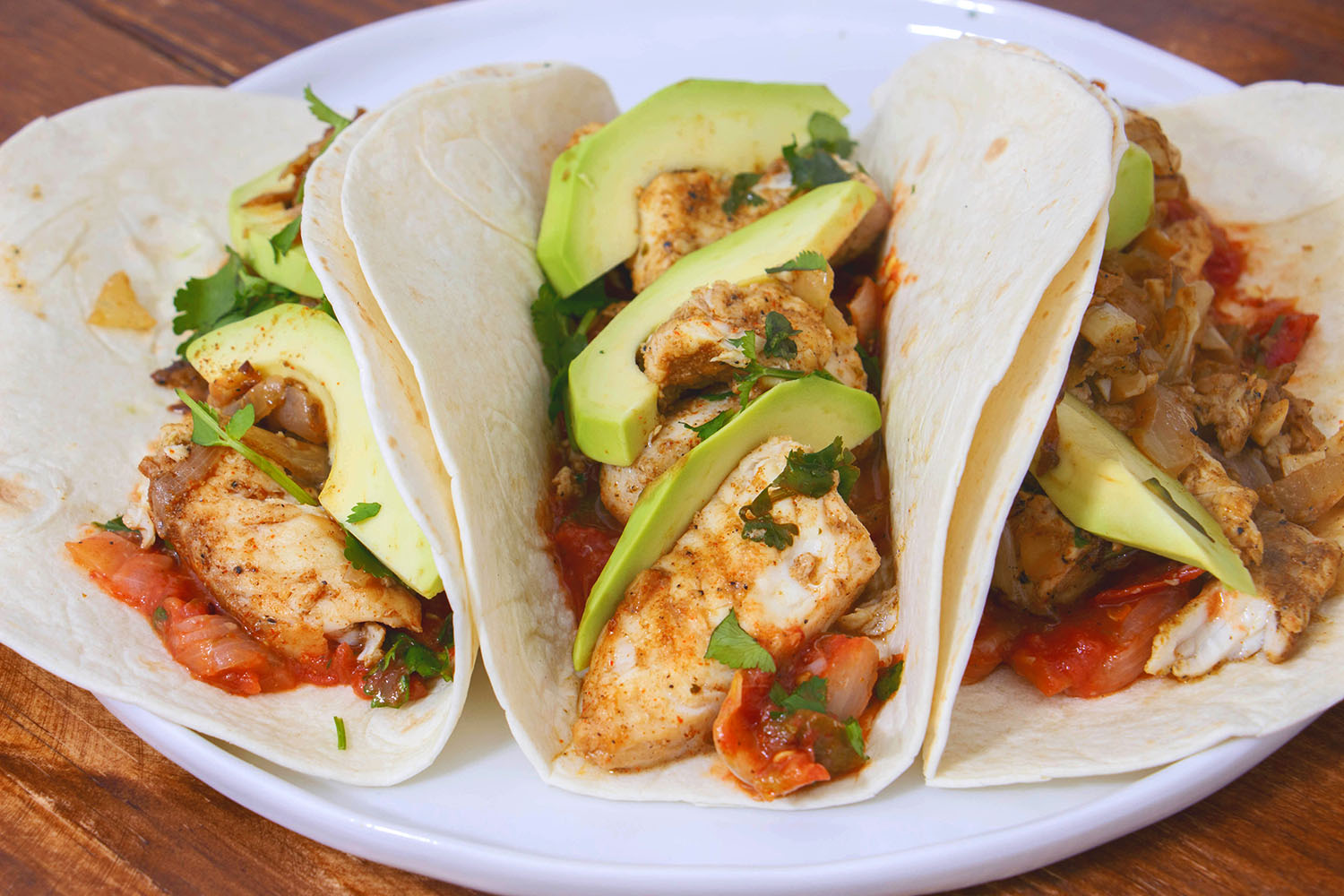 Fish tacos are one of those meals that taste like they should be really unhealthy because they're just. that. good. But incredibly, each taco has half of your daily protein and less than 20% of your daily fat. So this is my go to recipe for when I want to feel like I'm eating something tasty and bad for me without being full of regrets in the morning!
The slightly spicy skillet fried tilapia is heavenly and goes so well with smoky salsa and avocado. I made these tacos with my homemade roasted salsa recipe, but you can use store bought it you prefer. I usually use tilapia for fish tacos because, frankly, it's a really inexpensive white fish that really lends itself to tacos. But you can use any firm, white fish for this recipe (cod or haddock work well), it really doesn't matter.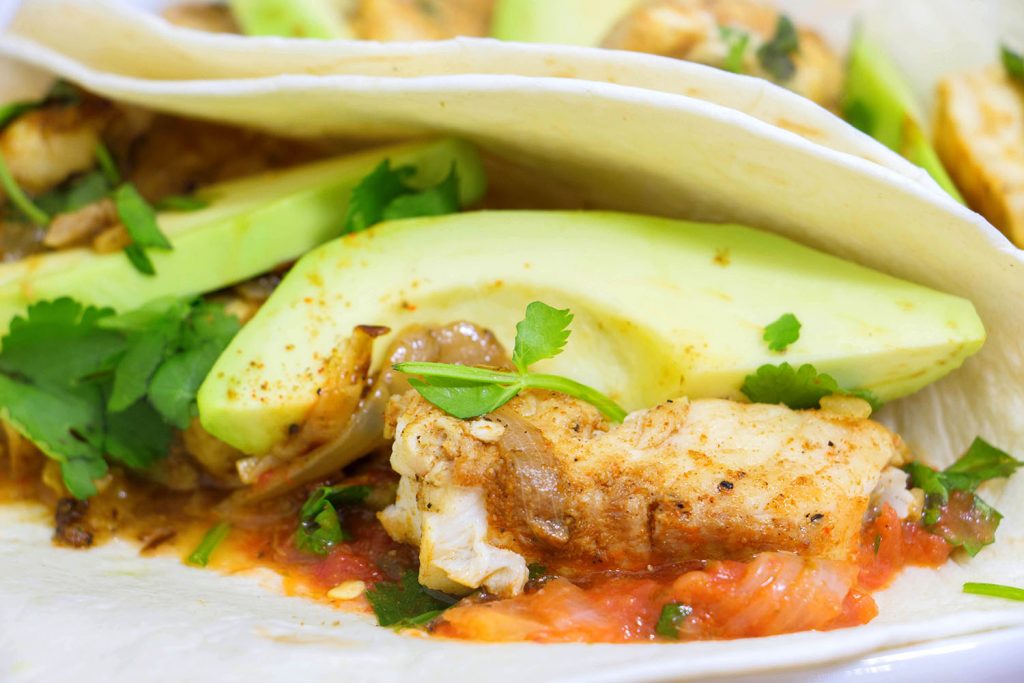 Ingredients
1 tbsp chilli powder
1 tbsp cumin
1/2 tsp salt
1 tsp cracked black pepper
1 lb tilapia
1 large onion, roughly chopped
2 cloves of garlic, finely chopped
1 tbsp olive oil
Juice of 1/2 a lime
4 tbsp salsa
handful of cilantro, finely chopped
1 avocado, peeled and cut into slices
Method
Mix together the chilli powder, cumin, salt and pepper and rub 3/4 of it into the tilapia.
Then use the final 1/4 of the spice to sprinkle over the onion and garlic.
Place a large saucepan on a medium heat and pour in the olive oil. Add the onions and garlic to the pan and fry for 2 minutes. Then add in the tilapia and fry for 6 minutes, turning the strips of fish whilst they fry to make sure they are cooked evenly. Squeeze the lime juice over the fish and remove it from the heat.
Warm the tortillas in the microwave, then add a tablespoon of salsa to each, followed by a 1/4 of the fish and onions. Top with the sliced avocado and a sprinkling of cilantro.
https://pescetarian.kitchen/tilapia-fish-tacos/
Copyright Pescetarian.Kitchen