Butterfish is another fish I really enjoyed while in the US. And it's perfectly named, as it has a soft, buttery taste and flaky texture that I really enjoy – it almost melts on the tongue and needs only a few completing flavours to make a perfectly formed dish.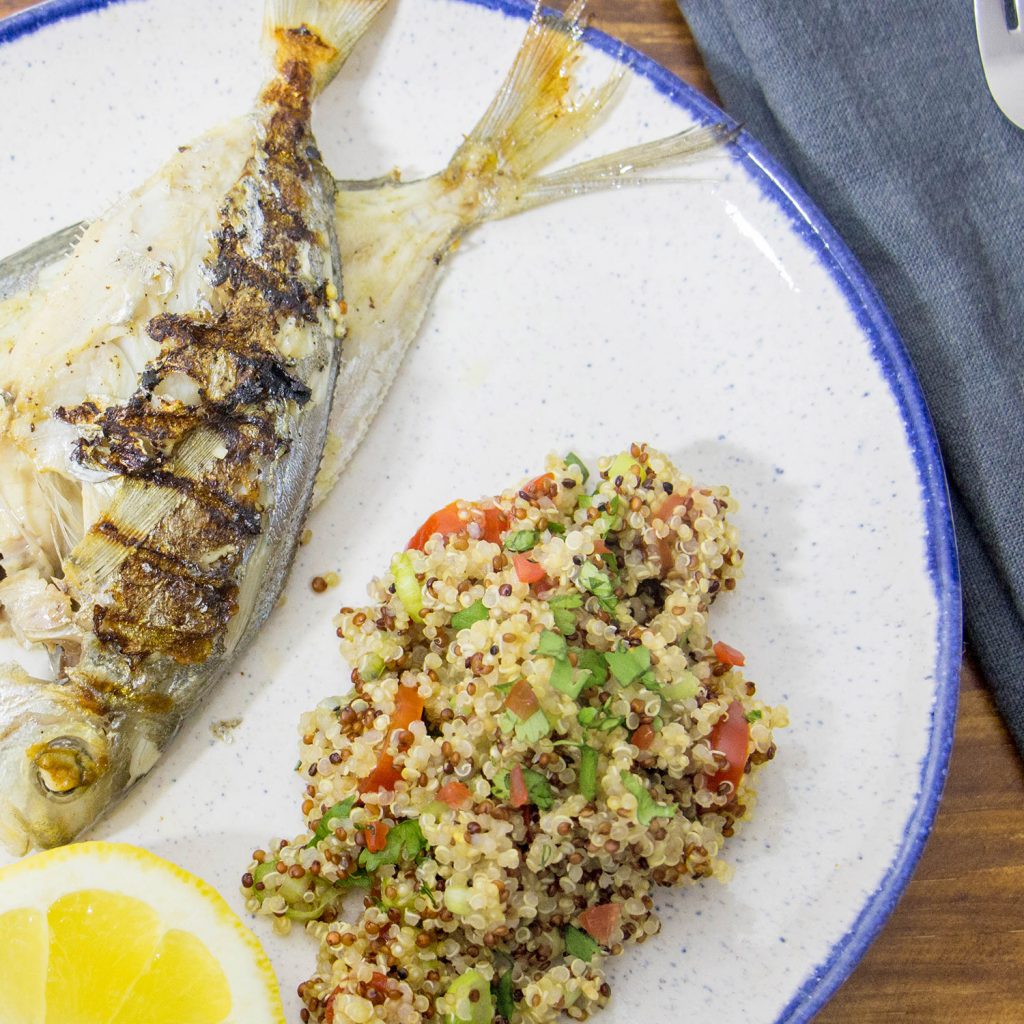 Another thing I'm liking about butterfish is how inexpensive it is to buy.This is often the case with small fish because they can be more difficult to prepare and eat but butterfish is surprisingly easy to eat as a whole fish and isn't too bony. And because it's pretty cheap, I got a lot more for my money, so Matt and I pigged out on 3 each!
I used a griddle pan to cook the butterfish, as it gives the fish an awesome crispy skin and almost smoky taste and is also a really quick method of cooking it; 2-3 minutes on each side is all it will take to give you the perfectly cooked butterfish.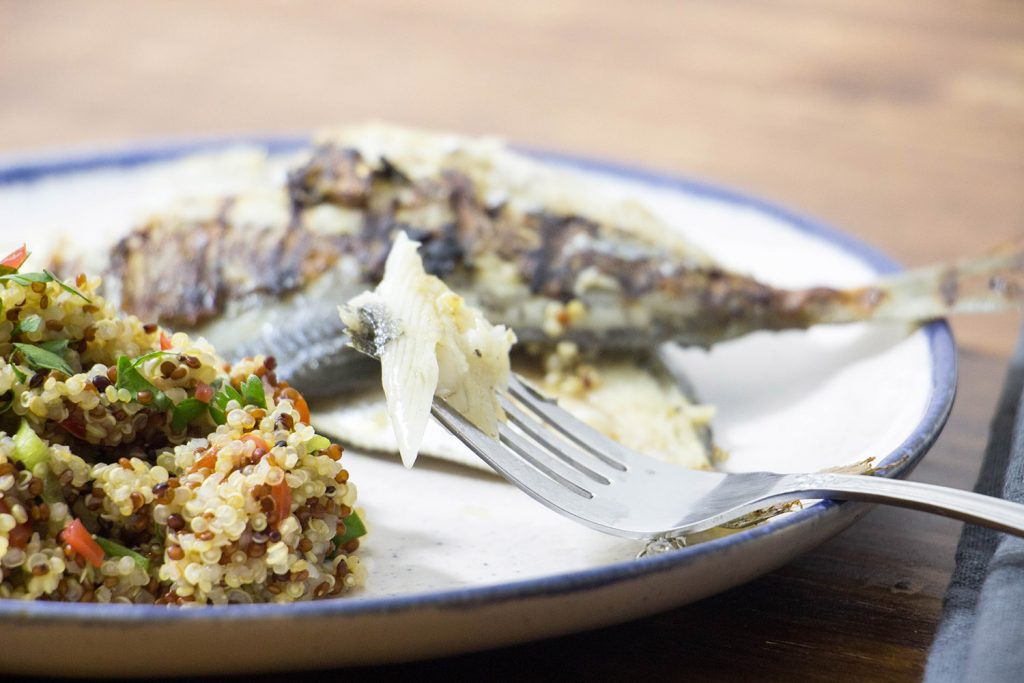 I made this fish dish with a little tri-colour quinoa. Its nutty taste goes wonderfully with the rich butterfish. I recommend cooking the quinoa before you start cooking the butterfish, as quinoa takes a little longer and the butterfish will cook whilst the quinoa is left to fluff up.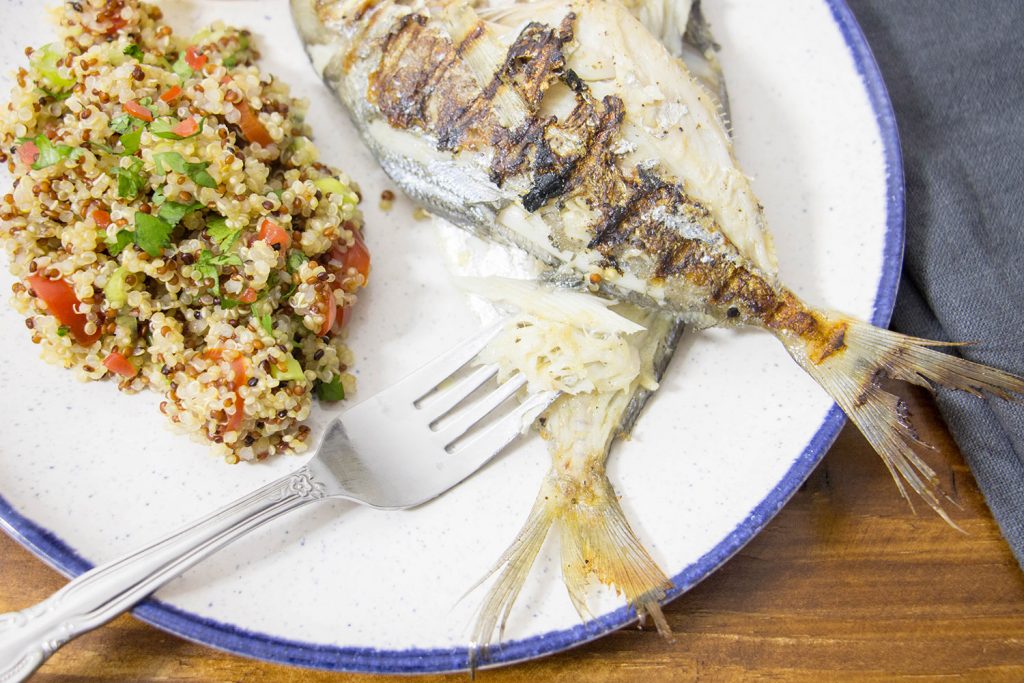 Grilled Butterfish with Tricolour Quinoa
Ingredients
Butterfish ingredients

6 whole butterfish, gutted and cleaned
2 tablespoons of olive oil
2 cloves of garlic, minced
2 tbsp lemon juice
1/2 tsp black pepper

Quinoa ingredients

0.5 cups of quinoa
1 cup water
6 grape tomatoes (finely chopped)
1 tbsp chopped cilantro
1/4 lemon (juice)
0.5 tsp salt
1 tsp black pepper
Method
To make the butterfish

Begin by mixing together the olive oil, lemon juice, black pepper and minced garlic in a small bowl.
Add the butterfish into the bowl, ensuring that they are coated in the marinade. Cover with clingfilm and place in the fridge for around an hour.
When you are ready to cook the butterfish, place a large griddle pan on a medium heat and place the butterfish in the griddlepan. Cook for 3 minutes on each side, until the flesh is flaky and opaque, then remove from the pan and serve up!

To make the quinoa

Add the water to a small saucepan with a pinch of salt and bring it to the boil.
Add the quinoa and leave to simmer (uncovered) on a low heat for 10 minutes, or until all of the water is absorbed.
Once the water is absorbed, put the lid on the saucepan and leave to sit for 5 minutes. This is what makes the quinoa nice a fluffy.
Take the lid off the pan and run a fork through the quinoa to get it nice and fluffy. Finally, add the lemon juice, cilantro, tomatoes, salt and pepper. It's now ready to be served.
https://pescetarian.kitchen/grilled-butterfish-with-quinoa/
Copyright Pescetarian.Kitchen