Whether you're cooking a Christmas dinner for someone that doesn't eat meat or you don't eat meat yourself, it's not always easy to figure out what's best to serve up on the day. This can get even more complicated if you're cooking meat for one half of the guests and not the other. If this is the case, you'll even need to pay close attention to how you're cooking the vegetables because if any of the animal fat touches the potatoes, you're going to some unhappy diners!
Laura and I have had this problem on a number of occasions, but we've figured out a perfect balance to keep everyone happy – even the most devout meat-lovers.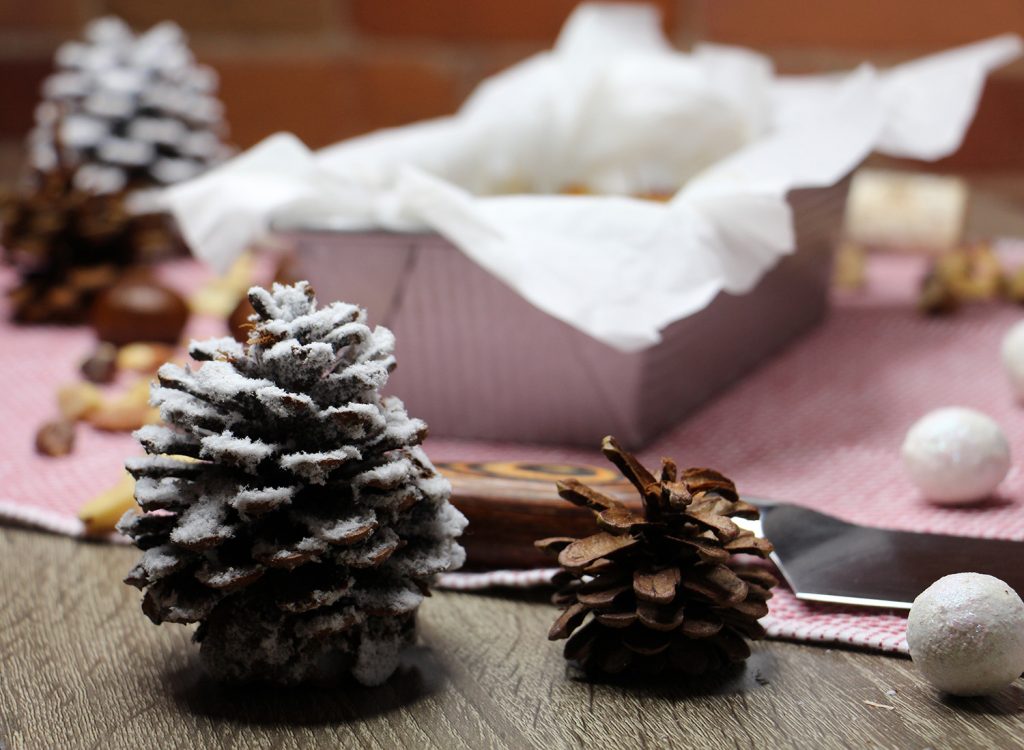 The first thing you're going to want to decide as part of your pescetarian Christmas is, what's going to be the star of the show?
For us it's going to be a nut roast. I'm a HUGE fan of the nut roast and it's nice and simple to create. Also, the roasted nut aromas that fill your kitchen will get everyone salivating.
Unlike with a meat-orientated Christmas dinner, there's no overnight preparations that need to be done – you'll just want to make sure you stock up on the right ingredients beforehand and then you'll be good to go on Christmas morning.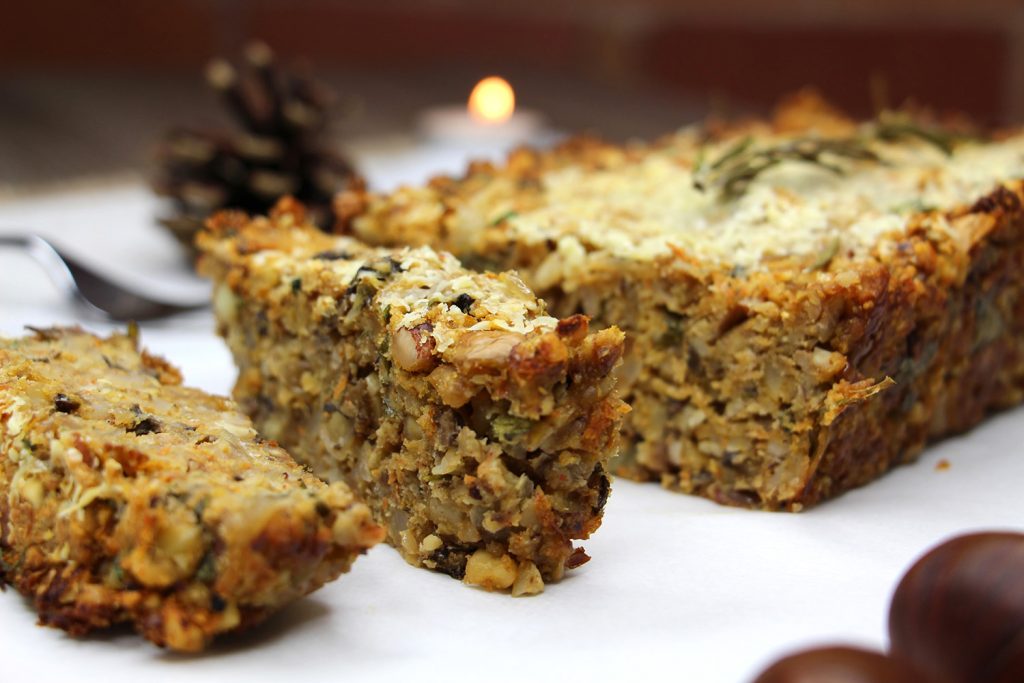 The dinner wouldn't be the same without an array of seasonal roast vegetables, including my personal favourite – brussel sprouts.
Brussel sprouts often get a bad rep purely because you usually either love or hate them. Many families are divided over this little vegetable – our family included! Laura doesn't like brussel sprouts and she would gag just at the smell of them; that's until I cooked her up my roast brussel sprout and chestnut recipe.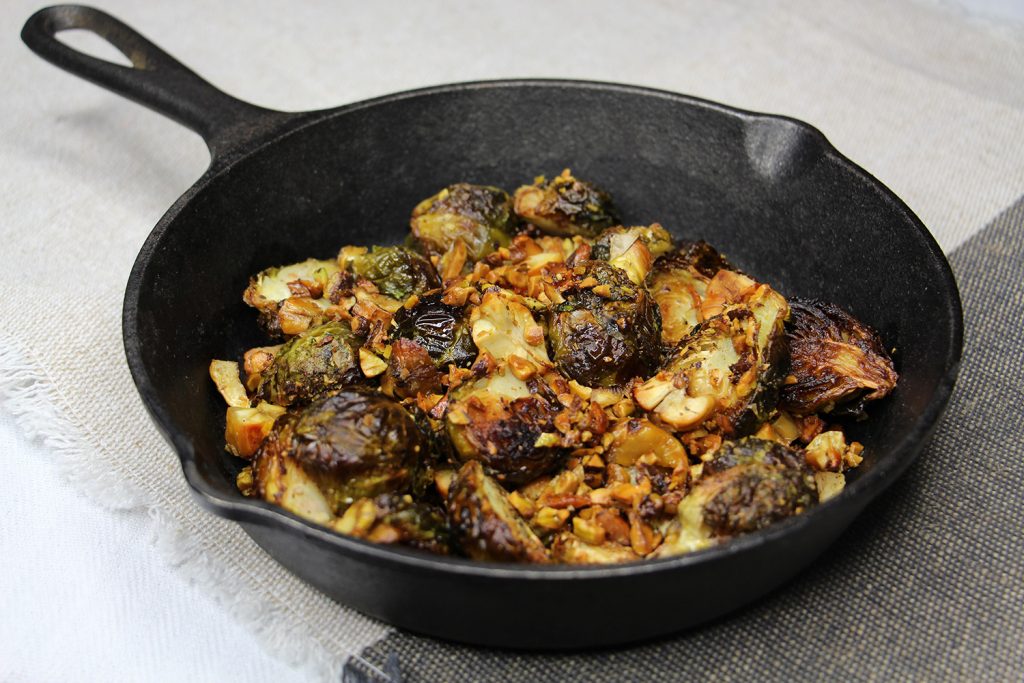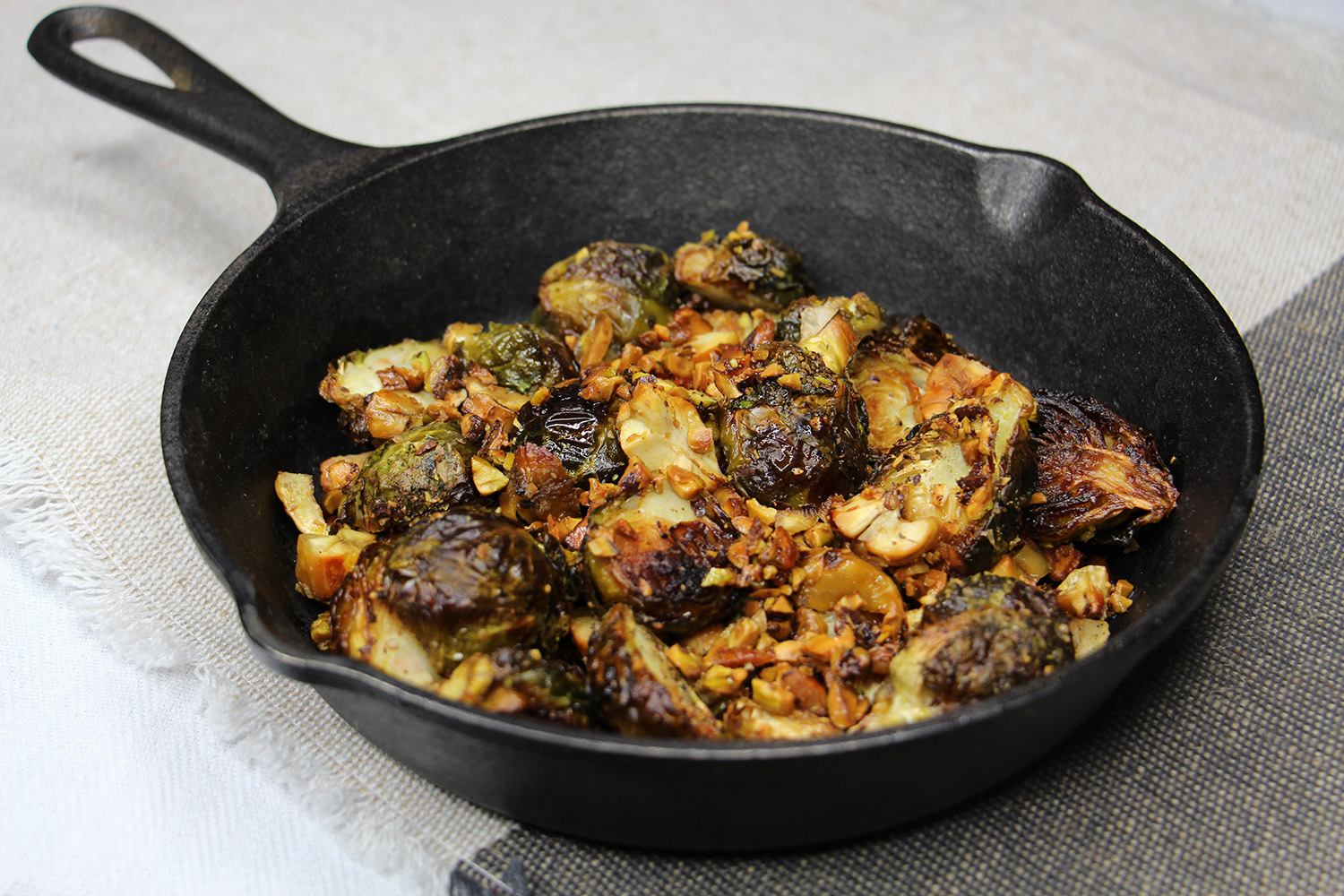 I've always preferred to roast brussel sprouts instead of boiling or steaming them. It adds a smokiness to their flavour, and when you roast them in with chestnuts and pistachios they take on a whole new flavour. Trust me, just try them.
Alongside this we'll be roasting some fluffy white potatoes, carrots and parsnips, which I'll inevitable eat too many of!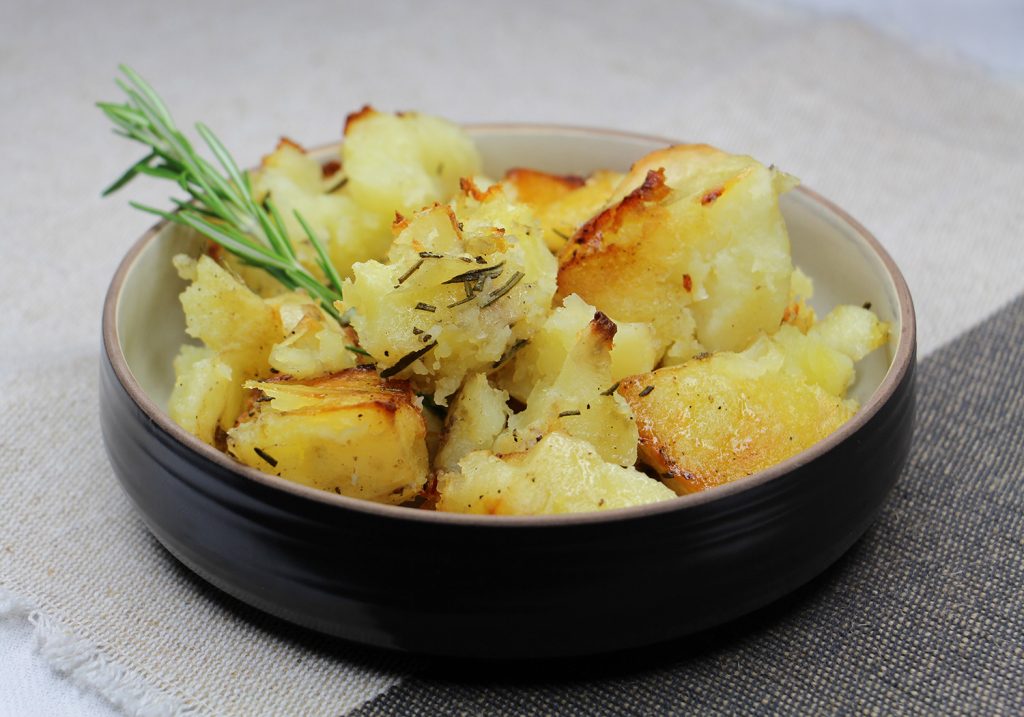 Last, but not least is Laura's infamous sage, onion and nut stuffing, all served up with lashings of onion gravy.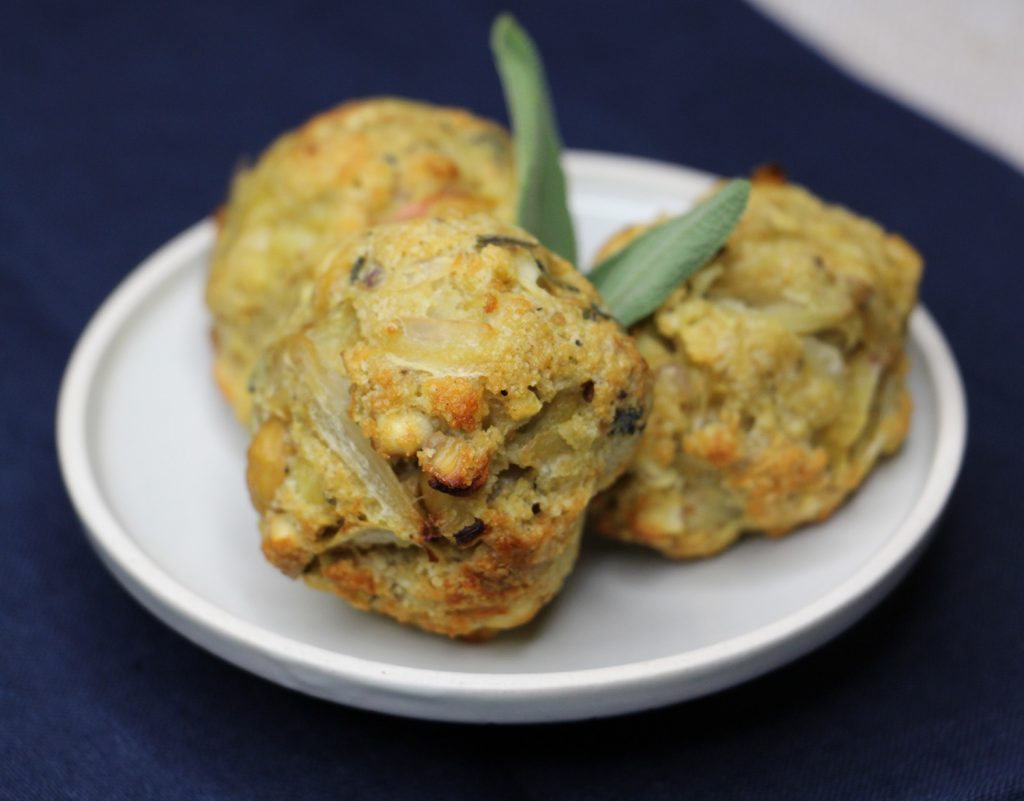 Let's get into how you can actually go about making all of this. First of all, here's the ingredients list that you'll need to make sure you have ahead of time.
Christmas Dinner Ingredients List
The following ingredients will serve a total of 6 people.
Nut Roast Ingredients
knob of butter
1 onion, finely chopped
2 sticks of celery, finely chopped
2 cloves of garlic, finely chopped
50g mushrooms, finely chopped (cremini or portobello mushrooms work best here)
1 spring of rosemary, removed from stem
2 sage leaves, torn
1 carrot, grated
1 tsp paprika
175g mixed unsalted nuts, roughly chopped
50g pistachio nuts, deshelled and roughly chopped
150g chestnuts, peeled and roughly chopped
handful of parsley, chopped
Juice and zest of 1/2 lemon
50g cheddar cheese, grated
Salt and pepper
80g breadcrumbs
2 eggs, whisked
Roast Brussel Sprouts Ingredients
550g brussel sprouts
220g whole chestnuts
60g pistachio nuts
40ml vegetable oil
Pinch of salt
Pinch of black pepper
Roast Potatoes Ingredients
1.3kg King Edward potatoes
2 sprigs of rosemary
60ml vegetable oil
Pinch of salt
Pinch of black pepper
Roast Carrots & Parsnips Ingredients
8-10 large carrots
6-8 large parsnips
40ml vegetable oil
3 tbsp of honey
Pinch of salt
Pinch of pepper
Stuffing Ingredients
200g chestnuts
Glug of vegetable oil
1 large onion, finely chopped
1 tbsp sage
½ tbsp rosemary
100g breadcrumbs
Salt and pepper
2 eggs, beaten
Onion Gravy Ingredients
3 shallots – roughly chopped
4 tablespoons of plain flour
400ml of vegetable stock
50ml port
Christmas Dinner Timings
Timing the cooking of each individual element of the Christmas dinner is essential to it being a success. Most people assume that it's the actual cooking that's the tough part, when in reality the thing that often spoils to meal is the fact that there's been a timing problem and you have half the dinner stone cold and the other half piping hot.
Don't worry though, we're here to help.
Before I go into the details of the recipe, I'm going to list out the timings so that you can plan around this. If there's one thing you want to get right it's this! I've planned the timings around eating the dinner at 3pm, but you can adjust to suit you:
12:40 – 13:20 Prepare the carrots, brussel sprouts, parsnips and stuffing.
13:20 – 13:50 Prepare the nut roast.
13:50 – 14:00 Prepare the roast potatoes.
14:00 – 15:00 Cook the roast potatoes.
14:10 – 15:00 Cook the nut roast.
14:30 – 15:00 Cook the stuffing, carrots, parsnips & brussels.
14:35 – 15:00 Cook the onion gravy.
15:00 Dish everything up and eat more than you should!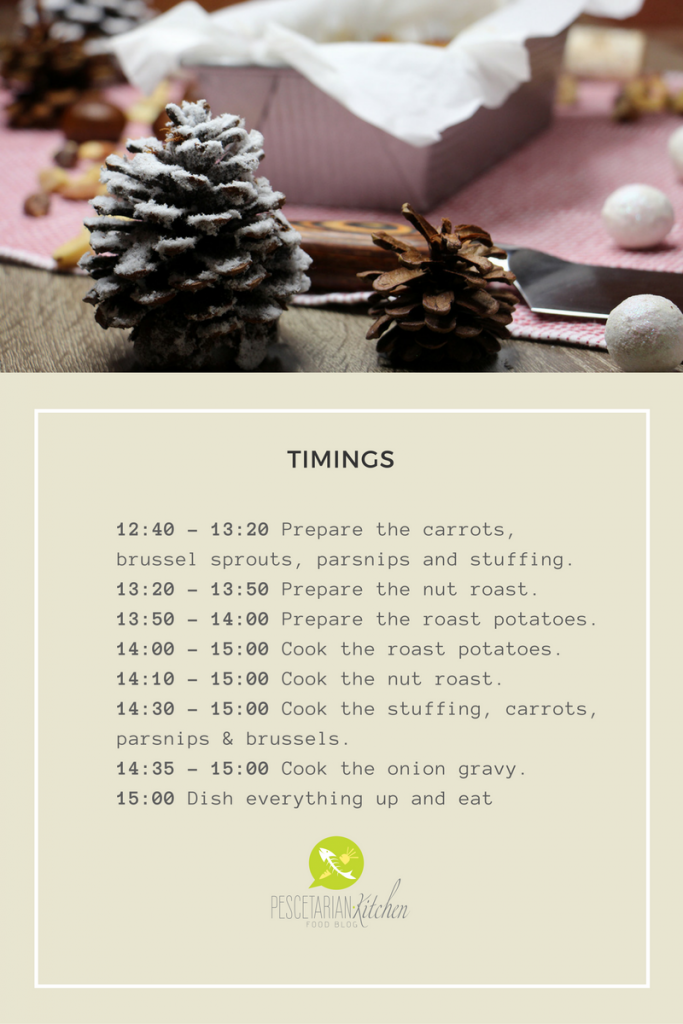 The Cooking
Now to the fun part – the cooking! Make sure you keep your timings handy as you'll want to use them as a guide along all of this.
Preparation: Carrot, Parsnips & Sprouts
Preheat the oven to 400 degrees Fahrenheit / 200 Celsius.
The first job is to prepare the chestnuts. To do this, you'll need to score a cross into the tops of each of the individual chestnuts with a sharp knife.
Add half a cup of water to a deep baking tray, along with the scored chestnuts and add them to the preheated oven for 10 minutes.
Once removed, peel back the now soft shells of the chestnuts and place the peeled chestnuts to one side. Just make sure that you don't let the chestnuts cool down before trying to peel them or it'll become incredibly difficult.
Now that you'll peeled the chestnuts, it's time to prepare the pistachios. If you've purchased them with their shells on then you'll want to go through them and remove them. Once you've done that, roughly crush them with a pestle and mortar (if you don't have one then you can use a rolling pin).
Cut each of the brussel sprouts in half and add them to a deep baking tray or skillet along with the pistachios and chestnuts – I like to roughly chop the chestnuts beforehand, but this is optional. Pour over the vegetable oil and just make sure everything in the pan is covered my mixing it around with your hands. Now sprinkle over the salt and pepper.
Put the pan to one side and peel each of your carrots and parsnips. Once they're peeled, cut them in half vertically and add them to a new, smaller baking tray.
Drizzle olive oil over them, ensuring they're coated lightly and then season with salt and pepper.
Now place this tray to one side.
Preparation: Stuffing
Score each of the chestnuts with a crossed and put onto a baking tray. Pour in 60ml water and put the tray in the oven. Leave the chestnuts for around 10 minutes, or until the shells of the chestnuts peel away.
Turn the oven down to 180 Celsius/350 Fahrenheit.
Whilst still warm, remove the chestnuts from their shells and finely chop.
Put a frying pan on a medium heat, add the vegetable oil to the pan, followed by the chopped onion. Sweat the onions for around 3 minutes, until they start to turn translucent.
Add in the Sage, rosemary chestnuts and fry for a further 1 minute.
Turn off the heat and transfer the contents of your pan into a large bowl and add in the breadcrumbs, salt and pepper stirring them into the mixture.
Next, add in the egg a little at a time, until your stuffing mixture has combined and can be easily shaped into balls. You don't have to use up all the egg for this – I usually find I need 3/4 of the eggs.
Shape your stuffing into balls and place onto a baking tray.
Cover the baking tray with cling-film and put it to one side.
Preparation: The Nut Roast
Begin by lining a loaf tin with parchment paper.
Place a large frying pan on medium heat and add the knob of butter, followed by the onions and celery. Stir fairly regularly to ensure the onions aren't burning or sticking to the pan.
After 5 minutes, add in the garlic, mushrooms, rosemary, sage and paprika and fry for another 5 minutes, still stirring regularly.
Next, add in the grated carrot and stir for 5 minutes more, then pour the contents of your frying pan into a large bowl and leave to cool.
Once the contents of your bowl has cooled, stir in the nuts, parsley, lemon juice and zest, 3/4 of the cheddar cheese, a pinch of salt and pepper, the breadcrumbs and finally, the eggs. The ingredients will start to combine when you add the eggs so make sure your ingredients are well mixed.
Spoon the contents of your bowl into the lined tin loaf. Once full, push down on the nut roast using the back of your spoon. It needs to be tightly packed in to ensure that it roasts as one and can be easily sliced without falling apart later.
Add the last sprinkle of the cheddar cheese to the top of the nut roast and if you like, a sprig of rosemary for decoration.
Wrap the tin in cling-film and place it in the fridge for now.
Preparation: Roast Potatoes
Peel the potatoes and cut them into rough 2-3 inch cubes. Add them into a large, deep baking tray.
Take one of the sprigs of rosemary and pull of the leaves. Using a sharp knife, finely chop the leaves and sprinkle them into the baking tray over the cut potatoes.
Add the salt, pepper and oil to the baking tray and mix everything together well using your hands. You'll want to make sure that all of the potatoes have a light coating of oil on them.
Distribute the potatoes evenly within the tray (try not to stack them on top of each other) and place the other sprig of rosemary into the tray.
Cook: Roast Potatoes
Add the tray of potatoes to the oven and leave for 25 minutes and then take them out. Once removed, lightly crush down the potatoes with a potato masher – this will make sure that all of the oil is absorbed into the potatoes. Now add the tray back into the oven for a further 25 minutes.
Once cooked, remove the tray from the oven and leave the potatoes to sit for 2 minutes before serving out.
Cook: The Nut Roast
Remove the nut roast from the fridge, cover the top of the tin loaf with tin foil and place it in the oven. Leave to bake for around 40 minutes, then remove the tin foil and give it another 10 minutes in the oven.
Remove the nut roast from the oven and leave to sit for around 5 minutes. Then, take out of the tin loaf and you're ready to serve.
Cook: Stuffing
Put in the oven for around 30-35 minutes, until the stuffing balls are golden brown and beautiful.
Cook: Carrot, Parsnips & Sprouts
Add the pan with your brussel sprouts, as well the baking tray with the carrots and parsnips to the preheated oven and leave to roast for 25 minutes. Once it's ready, leave to cool slightly for 1 minute before serving.
Cook: Onion Gravy
Put a saucepan on a medium heat and add in a glug of rapeseed oil. Add in the 2 shallots (finely chopped) and leave to cook for 10 minutes until they start to brown, making sure you are stirring regularly, so that they don't stick to the pan.
Once your shallots have browned, add in a tablespoon of plain flour and stir until your shallot mixture is very dry. Then add in your vegetable stock slowly, stirring regularly, followed by the port. Bring your gravy to the boil and leave for 10 minutes to thicken.
If you like your gravy extra-thick, you can remove half a glass of the gravy and 2 tablespoons of flour to it, mixing it well so that it doesn't become lumpy. Then add the half glass of gravy to the saucepan and leave for another 5 minutes, before taking it off the heat and pouring it carefully into a gravy boat.
Dish Everything Up and Enjoy!
Timing is key here, so follow the timings that I laid out above and try to stick as close to them as possible. If all else fails, you can always warm things back up in the oven, so don't worry.
We hope you have a lovely Christmas and a great meal 🙂