When you don't eat meat Christmas dinner can sometimes be a little difficult, especially if you're having dinner with those who do eat meat. My Mum does most of the Christmas dinner cooking and I have found in the past that making a very different dinner for myself and Matt on the day can be difficult, what with the crowded kitchen and sheet amount of food being made. So making a nut roast for Christmas dinner is a great idea for 2 reasons. Firstly, you can make it the day before, then just slip it in the oven an hour before everything else is done, meaning no fighting for space and utensils on Christmas day. Happy mum: check.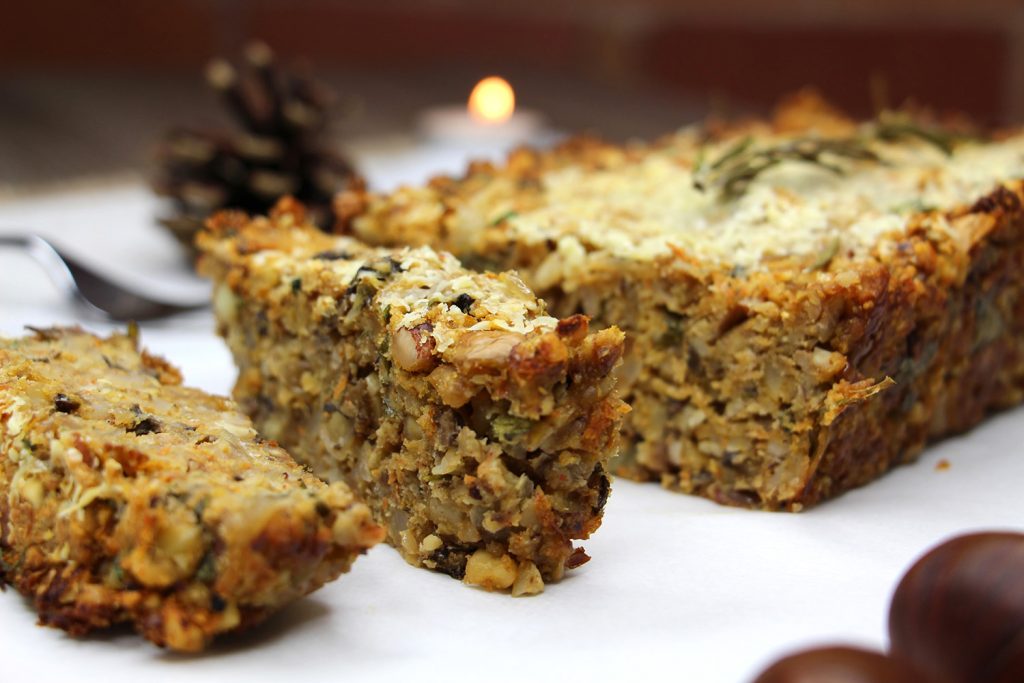 Secondly,  this nut roast recipes uses rich, earthy flavours, meaning it goes perfectly with all of the other trimmings your likely to find on the Christmas dinner table. Stuffing (like the Sage, onion and Chestnut one I made here), vegetarian gravy and roast veggies will all taste divine alongside this nut roast. So if you're looking for an easy tasty Christmas Day meal, look no further!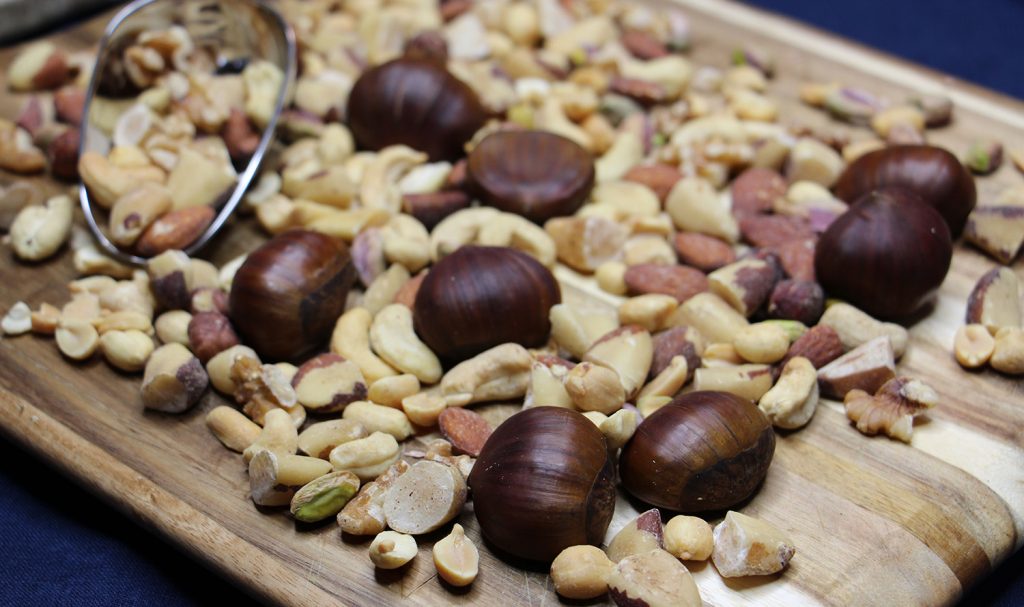 In my version of this recipes, I've used a really wide mixture of nuts, including roast chestnuts, pistachio nuts, walnuts, almonds and more! The easiest way to do this is to pick up a packet or punnet of unsalted mixed nuts from your supermarket, then add to it any of your real favourites, so that their flavours really come through. I also chose to buy whole chestnuts for this recipe, then roast and peel them myself. It's surprisingly easy to do and is explained really clearly in the instructions below, but you can always go with peeled chestnuts if you prefer.
Ingredients
knob of butter
1 onion, finely chopped
2 sticks of celery, finely chopped
2 cloves of garlic, finely chopped
50g mushrooms, finely chopped (cremini or portobello mushrooms work best here)
1 spring of rosemary, removed from stem
2 sage leaves, torn
1 carrot, grated
1 tsp paprika
175g mixed unsalted nuts, roughly chopped
50g pistachio nuts, deshelled and roughly chopped
150g chestnuts, peeled and roughly chopped
handful of parsley, chopped
Juice and zest of 1/2 lemon
50g cheddar cheese, grated
Salt and pepper
80g breadcrumbs
2 eggs, whisked
Method
Begin by lining a loaf tin with parchment paper and preheating the oven to 180 Celsius/ 350 Fahrenheit.
Place a large frying pan on medium heat and add the knob of butter, followed by the onions and celery. Stir fairly regularly to ensure the onions aren't burning or sticking to the pan.
After 5 minutes, add in the garlic, mushrooms, rosemary, sage and paprika and fry for another 5 minutes, still stirring regularly.
Next, add in the grated carrot and stir for 5 minutes more, then pour the contents of your frying pan into a large bowl and leave to cool.
Once the contents of your bowl has cooled, stir in the nuts, parsley, lemon juice and zest, 3/4 of the cheddar cheese, a pinch of salt and pepper, the breadcrumbs and finally, the eggs. The ingredients will start to combine when you add the eggs so make sure your ingredients are well mixed.
Spoon the contents of your bowl into the lined tin loaf. Once full, push down on the nut roast using the back of your spoon. It needs to be tightly packed in to ensure that it roasts as one and can be easily sliced without falling apart later.
Add the last sprinkle of the cheddar cheese to the top of the nut roast and if you like, a sprig of rosemary for decoration.
If you are baking the nut roast in the next couple of days, cover with clingfilm and refrigerate. If you are baking today, cover the top of the tin loaf with tin foil and put in the oven. Leave to bake for around 40 minutes, then remove the tin foil and give it another 10 minutes in the oven.
Remove the nut roast from the oven and leave to sit for around 5 minutes. Then, take out of the tin loaf and you're ready to serve!
https://pescetarian.kitchen/christmas-nut-roast-recipe/
Copyright Pescetarian.Kitchen