Brussel sprouts are quite possibly the most divisive vegetable that makes it to the dining table on Christmas Day. Personally, I'm a huge fan of sprouts and they're often one of the highlights of my Christmas dinner. Laura, on the other hand, think they're an abomination.
This is perfect for me because it means it's one less person to fight over them! That said, I thought I'd try and help Laura see the light and embrace the mighty brussel sprout. In order for her to even consider trying them, they had to be as far away from the traditional soggy, boiled slop that put her off in the first place.
This is where this recipe is perfect, and if you're someone who doesn't really enjoy brussel sprouts then I'd highly recommend you at least give this a try. First of all, roasting the sprouts as opposed to boiling them will really change their flavour and texture. On top of that, the addition of the roasted chestnuts and pistachio nuts gives them a distinctly nutty flavour that perfectly compliments the flavour of the sprouts.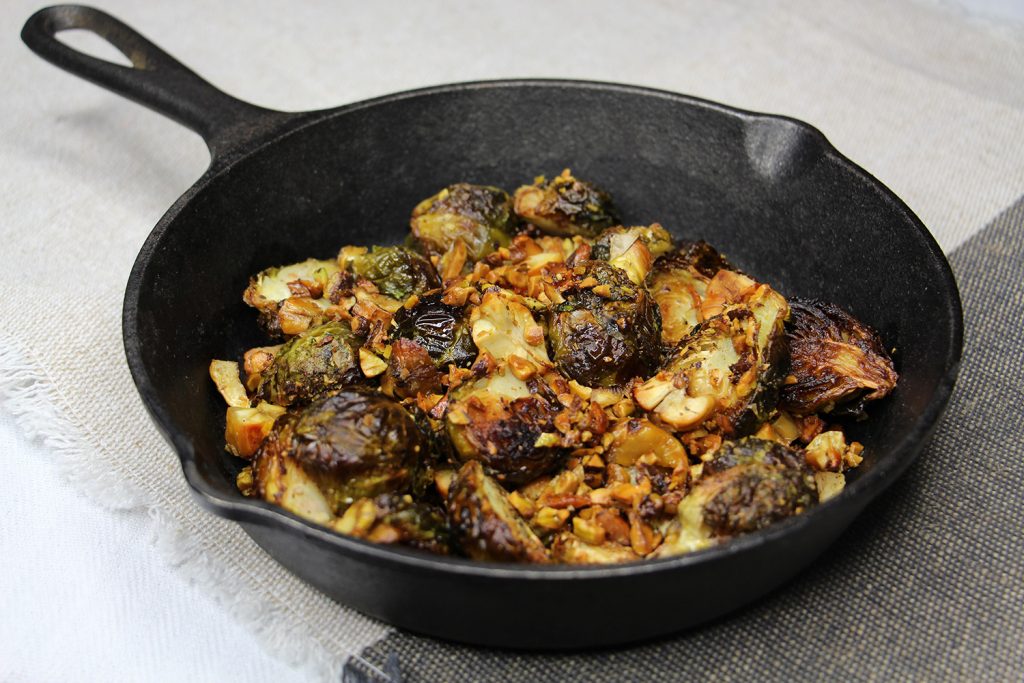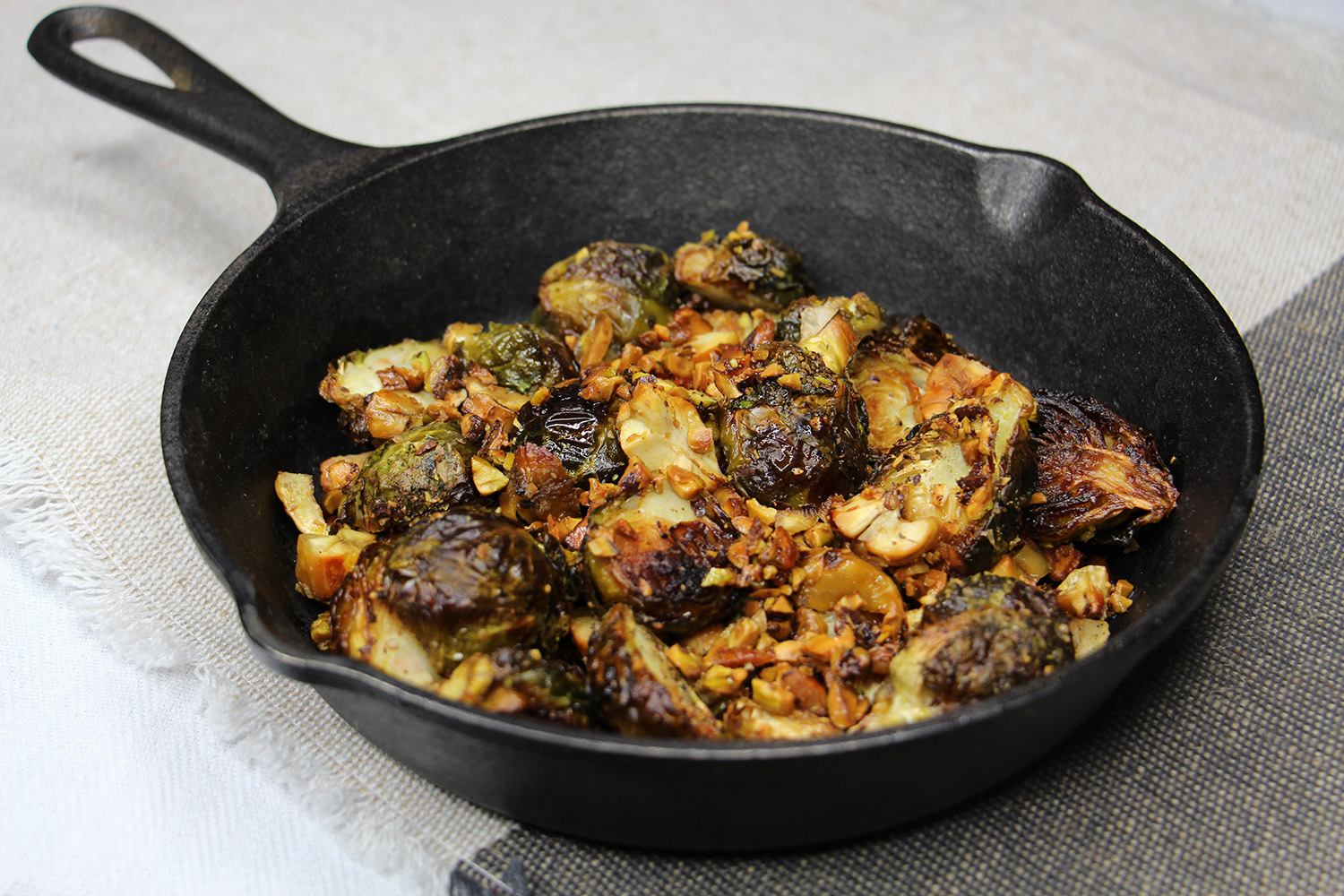 Take a leap of faith and embrace the brussel sprout! Even Laura manages to have a few spoonfuls of them now.
Before I get into the specifics of the recipe, I just want to give a little advice on how to prepare the chestnuts – this will be particularly useful if you've never cooked them before. Basically, you'll need to peel the hard outer shells, but this is practically impossible unless they're softened up. To soften them up you'll need to score a cross into the top of each one with a sharp knife (as shown below). Now preheat an oven to 400 degrees Fahrenheit / 200 Celsius and add the chestnuts to the oven in a pan with around half a cup of cold water for 10 minutes. When you get the chestnuts out, they'll have softened up and you can peel away the outer shells – just make sure you don't let them cool.
Roasted Brussel Sprouts with Chestnuts
Ingredients
450g Brussel sprouts
160g Whole chestnuts
40g Pistachio nuts
30ml Vegetable oil
Pinch of salt
Pinch of black pepper
Method
Preheat the oven to 400 degrees Fahrenheit / 200 Celsius.
The first job is to prepare the chestnuts. To do this, you'll need to score a cross into the tops of each of the individual chestnuts with a sharp knife.
Add half a cup of water to a deep baking tray, along with the scored chestnuts and add them to the preheated oven for 10 minutes.
Once removed, peel back the now soft shells of the chestnuts and place the peeled chestnuts to one side. Just make sure that you don't let the chestnuts cool down before trying to peel them or it'll become incredibly difficult.
Now that you'll peeled the chestnuts, it's time to prepare the pistachios. If you've purchased them with their shells on then you'll want to go through them and remove them. Once you've done that, roughly crush them with a pestle and mortar (if you don't have one then you can use a rolling pin).
Cut each of the brussel sprouts in half and add them to a deep baking tray or skillet along with the pistachios and chestnuts - I like to roughly chop the chestnuts beforehand, but this is optional. Pour over the vegetable oil and just make sure everything in the pan is covered my mixing it around with your hands. Now sprinkle over the salt and pepper.
Add the pan to the preheated oven and leave to roast for 25 minutes. Once it's ready, leave to cool slightly for 1 minute before serving.
https://pescetarian.kitchen/roasted-brussel-sprouts-recipe/
Copyright Pescetarian.Kitchen