I first made these stuffed potato skins on a Sunday afternoon when I was running a little low on ingredients (I usually do the grocery shop on Mondays!) and wanted something hot and tasty for lunch. I used Moroccan inspired spices like cumin, ground coriander and paprika to flavour the chickpeas and sweet potato and topped it off with some feta cheese. The result was even better than I expected and now Matt and I make them all the time.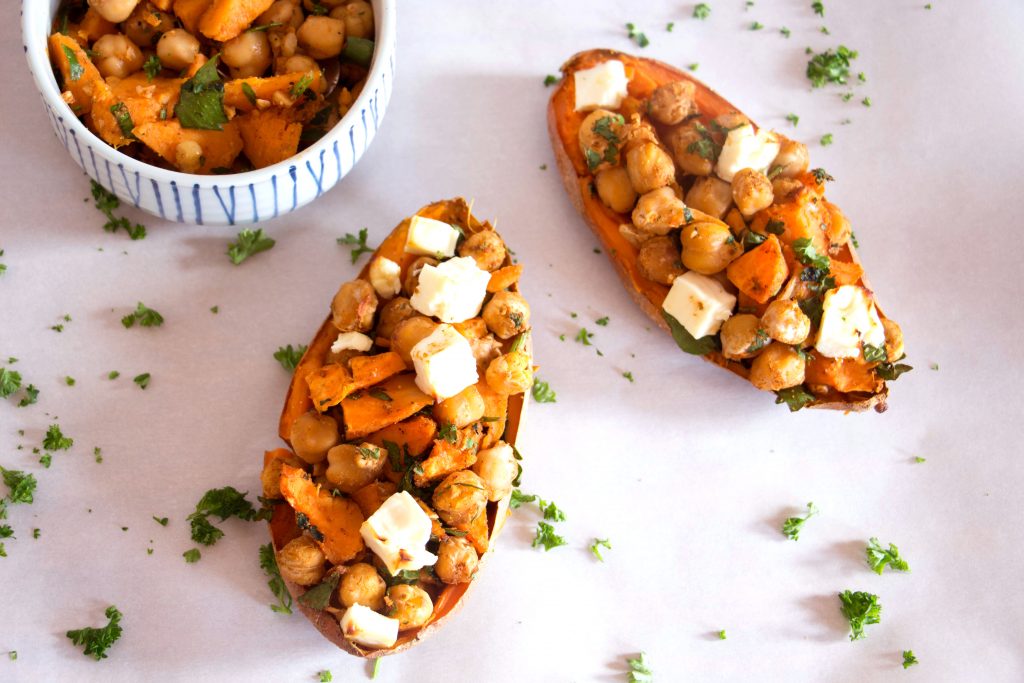 Sweet potatoes are one of my favourite lunch ingredients because they're so filling, without being bad for you. In fact, they contain loads of Vitamin A and Vitamin C so they're full of benefits. This recipe is packed with fibre and protein whilst still being super low in fat, so it's a great healthy lunch snack!
Moroccan stuffed Sweet Potato Skins
Ingredients
2 sweet potatoes
1 can of chickpeas, drained
2 cloves of garlic, finely chopped
2 tsp cumin
1 handful of parsley, finely chopped
1 tsp ground coriander
1 tsp paprika
1/2 tsp salt
1/2 tsp black pepper
40g feta cheese, cut into cubes
Method
Start off by preheating the oven to 370 fahrenheit / 180 Celsius.
Place the sweet potatoes on a baking tray, cut a few shallow slits into them with a knife and place into the oven to roast for around 40 minutes.
Whilst the sweet potatoes are roasting, get a large bowl and add in the chickpeas, garlic, parsley, cumin, coriander and paprika. mix them together well.
Remove the sweet potatoes from the oven and cut in half horizontally. Scoop out the sweet potato, leaving about 2cm of sweet potato attached to the skin.
Cut the sweet potato into bite size pieces and mix into the chickpeas so that they are covered with the spices.
Take the contents of the bowl and spoon back into the sweet potato skins. Add the cubes of feta and place back into the oven for 15 minutes. Then remove from the oven and serve hot!
https://pescetarian.kitchen/moroccan-stuffed-sweet-potato-skins/
Copyright Pescetarian.Kitchen