Now that we live near the coast, both Matt and I have been enjoying all the wonderful fresh seafood now available to us. In particular, we've been eating a ton of shrimp because there are just so many mouth-watering ways to eat it.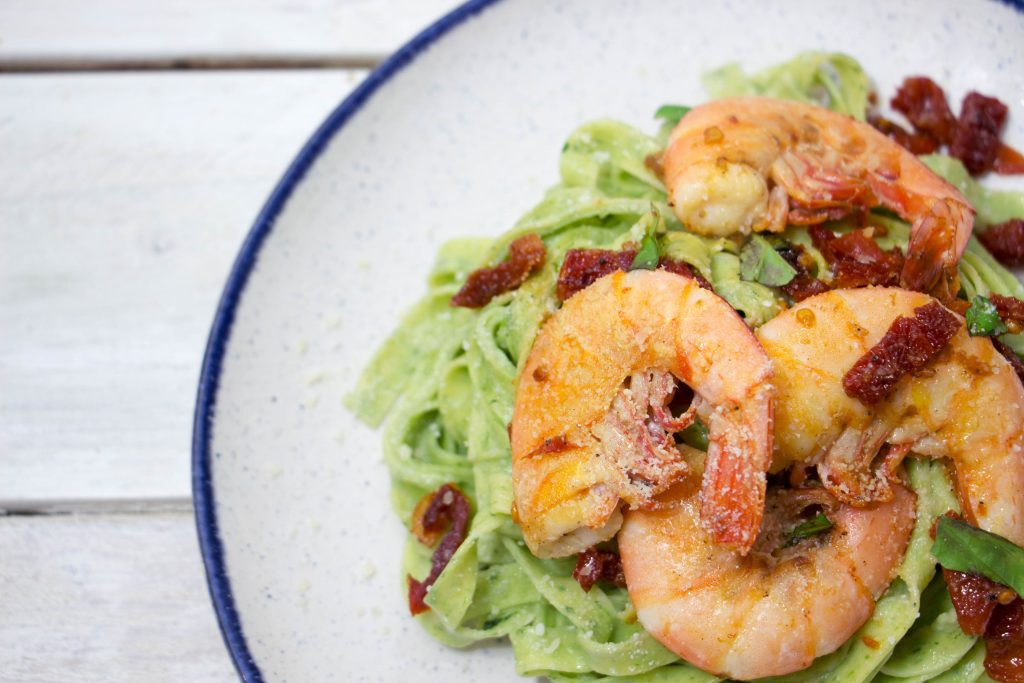 With this in mind, we've been testing out a bunch of different ways to cook with shrimp. If you're a regular follower of the blog then you'll notice that I'm creating a lot of shrimp recipes of late.
Another love of mine is pasta.
In all honesty, we try not to eat too much pasta because it often becomes our go-to meal choice when we're feeling lazy. The process of me opening a bag of dried fusilli has almost become synonymous with either me or Matt feeling tired! The proceeding mounds of cheese that get piled into it don't often help with our 'healthy eating' plans either.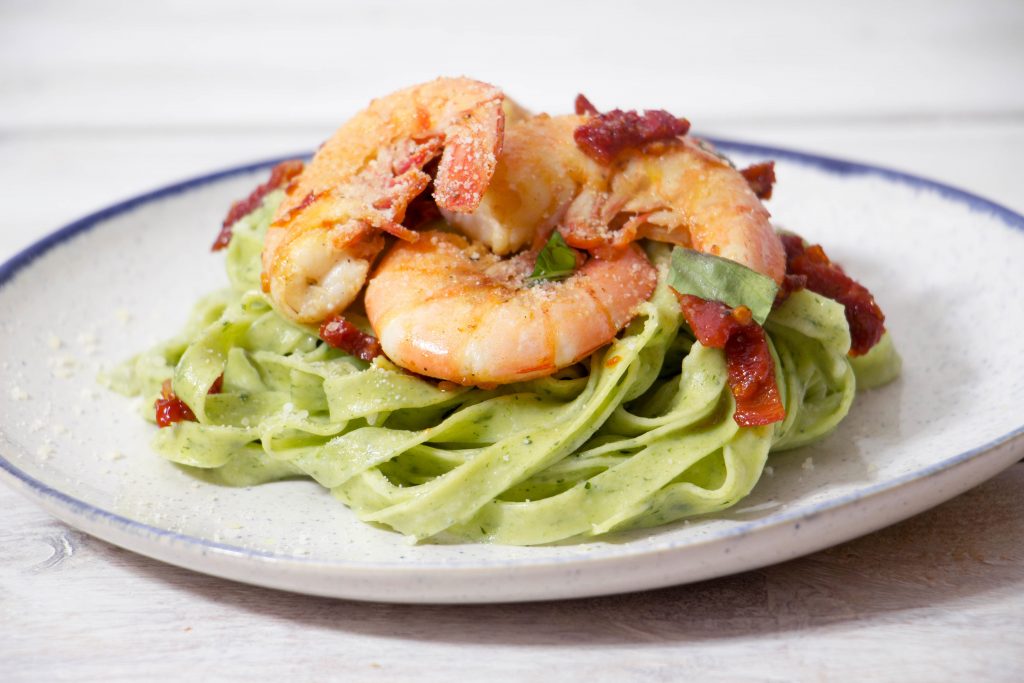 Considering this, I wanted to create a pasta dish that felt a lot lighter and was much healthier than our naughty mac n cheese recipe!
This is where the idea of a spinach tagliatelle came from. You can get this dried or fresh from a lot of supermarkets now, but if you're feeling adventurous then you can make your own pasta following our homemade pasta recipe – the only difference is that you blend up around 10oz of spinach and add it to the eggs.
That said, you don't need to make your own. For this recipe, I purchased some fresh pasta from our local grocery store.
Spinach Tagliatelle with Shrimp
Ingredients
250g uncooked shrimp (usually around 10 individual shrimp)
30g fresh basil (torn into small pieces)
100ml white wine
50ml olive oil
50g sun dried tomatoes (finely chopped)
1 clove garlic (finely chopped)
Juice of half a lemon
20g of vegetarian Parmesan (grated)
300g fresh spinach tagliatelle
Pinch of salt
Method
In a large saucepan, fill it halfway up with water, add a pinch of salt and bring it to the boil.
Add the spinach tagliatelle to the saucepan and boil for 5 minutes. Once it's ready, drain it in a colander and leave it to one side.
Whilst the pasta is cooking, heat a large skillet pan (or deep frying pan) over a medium-high heat and add the olive oil.
Throw the shrimp into the pan with the garlic, sun dried tomatoes, salt, lemon juice and white wine. Cook each of the shrimp for 2 minutes on each side until they're completely pink and the wine has reduced down.
Take the skillet pan off the heat and sprinkle over the fresh basil.
Plate up the tagliatelle and pour over the shrimp. Finish by sprinkling over the vegetarian Parmesan.
https://pescetarian.kitchen/spinach-tagliatelle-shrimp-recipe/
Copyright Pescetarian.Kitchen