Bread and butter pudding is one of those desserts that takes me right back to my childhood. It was really cheap and easy to make so my Mum would often let me take care of it from an early age – she wasn't see keen on the mess that followed!
As I grew older, I started playing around with my Mum's recipe and adding a few additions. Some worked and some definitely didn't, but I've now got it to the point where I'm happy with it. I pretty much lived off of this dessert when I was at university because it cost about £1 to make, would easily feed four people and it could be left in the fridge for a couple of days after (not that it ever happened when I was at university – too many kitchen vultures for that!).
When it comes to serving up bread and butter pudding, there's all sorts that you can have with it. Some prefer custard, some prefer cream, but I'm really sad and still have what I had as a kid and that's a small few drops of whole milk with it. It sounds strange and Laura often makes fun of me for it, but to be honest I'm not sure whether it's the nostalgia or it actually is good. Alternatively, you could have ice cream with it, or even something like brandy butter, depending on how rich you like your deserts.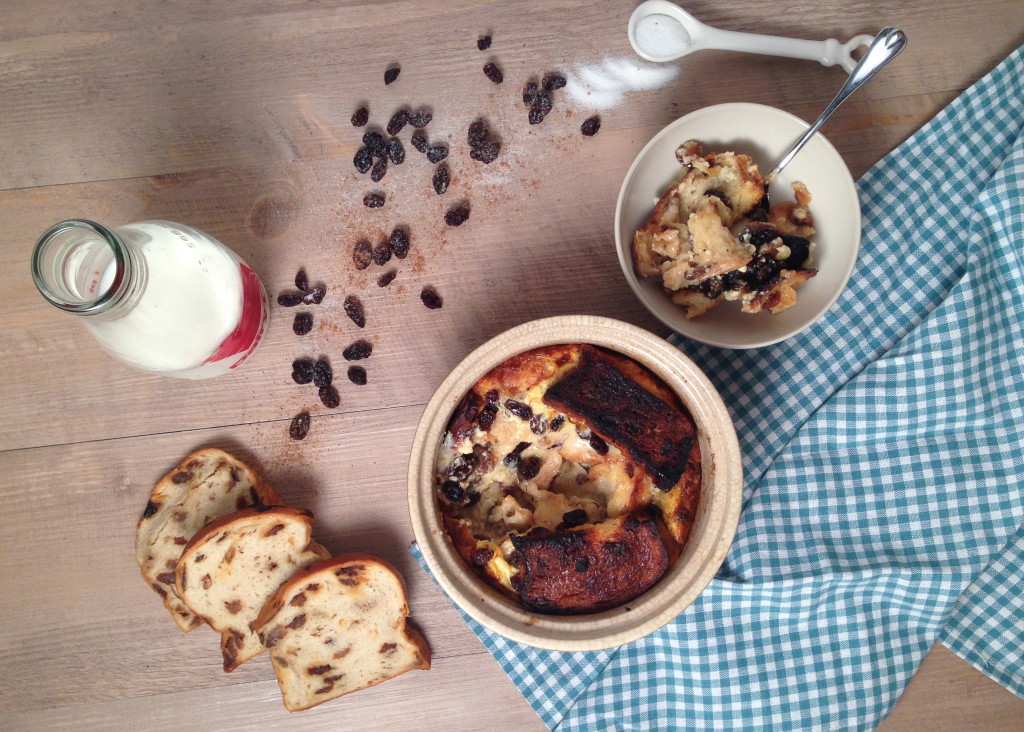 Matt's Bread and Butter Pudding
Ingredients
6 slices of fruit bread
50g salted butter
6 tbsp of caster sugar
40g seedless raisins
40g sultanas
3 large free-range eggs
250ml whole milk
1 tbsp marmalade
1 tsp ground nutmeg
Method
Preheat your oven to 180 degrees Celsius / 350 degrees Fahrenheit / Gas mark 4.
Butter each of the slices of fruit bread on both sides. Be liberal with the butter and make sure that you use the end pieces of the loaf - these are always the pieces that people will be fighting over. Once they're buttered, put them to one side.
Crack the eggs into a measuring jug and lightly beat them. Add in the milk and half of the caster sugar and mix everything together. Your mixture should come to around 500ml in total (don't worry if it's not bang-on, this is just a guide).
Using a deep, oven-proof dish (a small casserole dish will work well), layer in two slices of the buttered bread and then sprinkle a tablespoon of sugar and a few raisins/sultanas over the top. Repeat this process until all of the bread, fruit and sugar is gone - or until you reach the top of the dish. When you've added all of the layers, spread over the marmalade on the top.
Pour over the egg/milk mixture into the oven-proof dish until it reaches around 2cm before the top of the dish. Make sure that the top layer of bread is only half-submerged otherwise the mixture will pour over in the oven. It doesn't matter if you don't use all the mixture so don't feel compelled to use it.
Sprinkle the ground nutmeg over the top and add into the oven for 20 minutes. It shouldn't be milky when it's finished so just give it a little shake to see if it's firm.
https://pescetarian.kitchen/bread-butter-pudding/
Copyright Pescetarian.Kitchen