I love this cherry crumble recipe, because the mixture is made rich and sweet by cooking the fresh cherries down first and adding oats to the topping makes the dish lovely and crunchy. When making this dessert for friends I like to use individual ramekins – for that person touch, however if you are cooking and serving in one large dish just add a few minutes to the cooking time.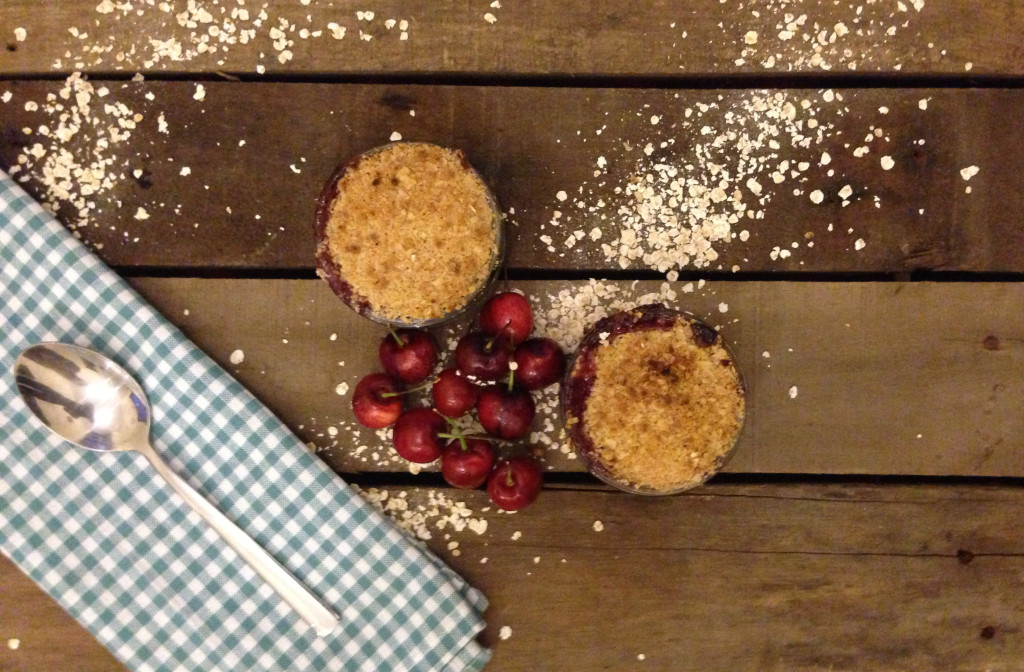 Ingredients
160g fresh cherries - pitted
3 tbsp caster sugar
10ml water
1tbsp corn flour
30g butter
30g demerara sugar
40g rolled oats
2 tsp cinnamon
Method
Preheat the oven to 200 degrees Celsius / gas mark 6 / 400 degrees Fahrenheit.
Add the pitted cherries and water to a saucepan on medium heat and for 5 minutes. Then add in the caster sugar and cook for a further 5 minutes, stirring regularly. Add in the corn flour, stir the mixture and leave for a further 2 minutes to thicken.
In a separate mixing bowl, add the butter, demerara sugar and flour. Rub the ingredients together until they make a coarse mixture (don't worry about making it too even.) Then stir in the rolled oats and cinnamon.
Add the cherry mixture to an oven proof dish (or ramekins if you are making individual dishes) and top with the crumble mixture, adding just enough to cover all of the cherry mixture.
Put in the oven and cook for 15-20 minutes, or until the crust is a light golden-brown.
https://pescetarian.kitchen/individual-oaty-cherry-crumbles/
Copyright Pescetarian.Kitchen