I've been making these delicious fruit scones with my mum since I was a little girl and they are so very simple to make. They are great warm or cold and can being served either with jam and clotted cream or smothered in butter.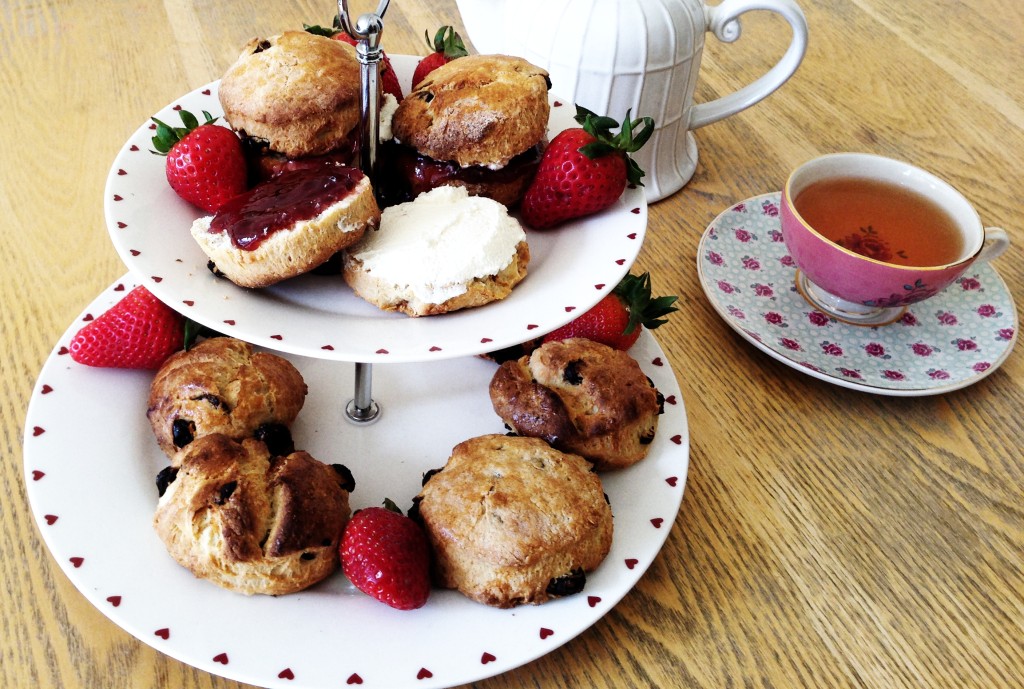 Laura's Lovely Fruit Scones
Ingredients
85g chilled butter - cubed
360g self-raising flour
2tsp baking powder
35g caster sugar
80g raisins and sultanas
150ml milk
2 large eggs (beaten)
Method
Preheat the oven to 220 degrees Celsius / gas mark 7 / 425 degrees Fahrenheit.
Add the butter, flour and baking powder to a chilled mixing bowl and using your hands rub the butter and the flour together, making a light, crumbly mixture. You want to keep all of these ingredients as cool as possible whilst doing this, then stir in the sugar and the and the dried fruit.
Add the milk and all but one tablespoon of the eggs into the flour mixture, until it makes a moist, soft dough.
Lightly flour your work surface and turn out the dough. Gather the dough into a ball, and then roll out until it is roughly three quarters of an inch thick. Cut out as many circles as you can (I normally get about 10) and add them to a lightly greased baking tray.
Brush all of the scones with the rest of the egg, then add to the oven and cook for 10-12 minutes, or until they have risen and turned a light golden-brown colour
Remove the scones and leave to cool on a wire rack.
https://pescetarian.kitchen/lauras-lovely-fruit-scones/
Copyright Pescetarian.Kitchen