Making your own teriyaki sauce is so simple! It only takes 10 minutes and you can store it in the fridge for weeks, so I usually make a big batch and then make one teriyaki recipe each week. It's also a really versatile sauce – it works excellently with fish (try out our teriyaki glazed salmon recipe) and it also works great in veggie recipes, like stir fry. In fact, I'm going to be uploading a teriyaki stir fry recipe tomorrow! It's also a great addition to soups – our udon noodle soup uses a few spoonfuls for added sweetness and flavour.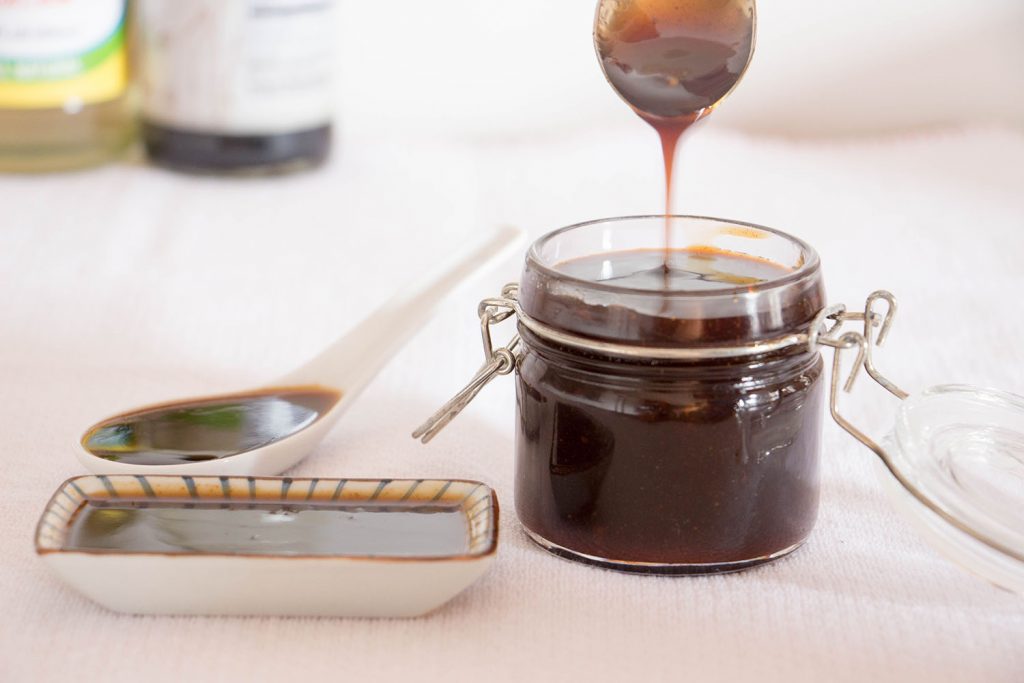 When you make your own teriyaki sauce you're able to control how sweet and salty the sauce is. I often find that when I buy teriyaki sauce it contains far too much sugar – making any recipe I make with it super unhealthy. I choose to use a little less brown sugar and just a half teaspoon of honey for sweetness.
The quantities I've used below are enough to make around 3-4 recipes for 2 people but you can always double up on quantities if you're cooking for a big family!
Ingredients
2 cups / 500ml water
1/2 / 125ml soy sauce
100g brown sugar
2 cloves of garlic, minced
1 tsp ground ginger
2 tbsp rice vinegar
1 tsp cornstarch
Method
Begin by placing a large saucepan on a medium-high heat and add in all of the ingredients but the cornstarch. Give them a good stir and bring to the boil.
Turn down the heat and leave to simmer for around 5 minutes. This will give you the consistency you need for the sauce, so if you're making only the sauce and not the glaze, you can remove the sauce from the heat, place in an airtight jar and place in the fridge.
To make the glaze, put the teaspoon of cornstarch in a jar and add a little cold water until the mixture is smooth.
Add the cornstarch mixture to the teriyaki sauce a little at a time, stirring regularly until the sauce has thickened into a glaze.
https://pescetarian.kitchen/teriyaki-sauce-glaze/
Copyright Pescetarian.Kitchen