This delicious carrot cake is very moist and fresh, and goes perfectly with the light, creamy buttercream. I made this for my family over the weekend and it disappeared very quickly!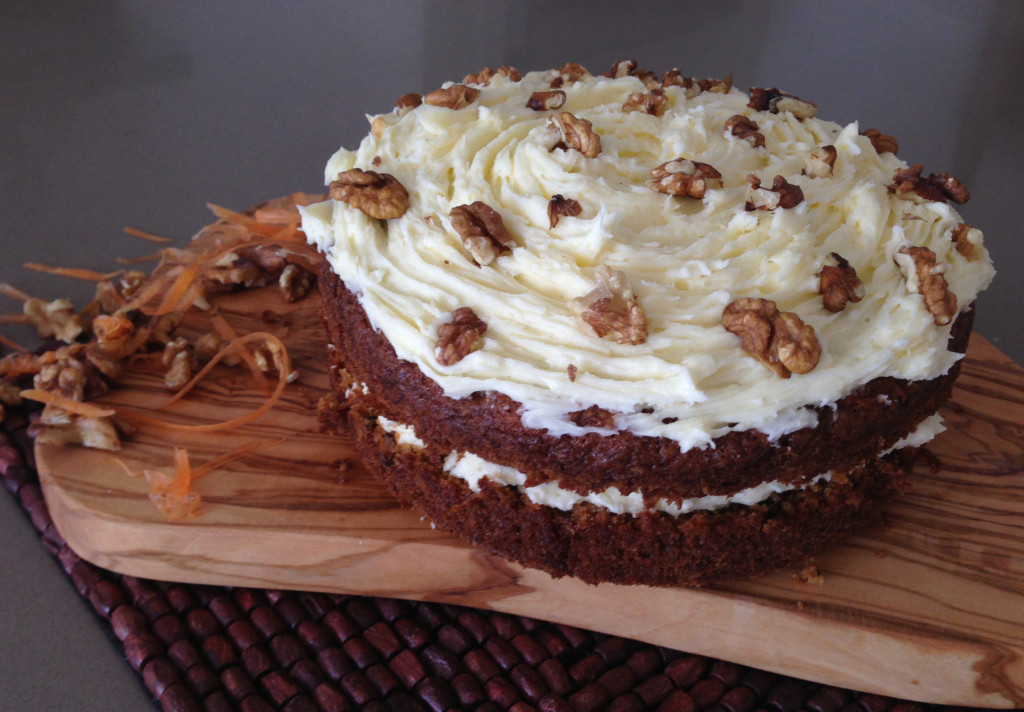 Carrot & Walnut Cake with Buttercream Frosting
Ingredients
200g carrots – finely grated
175g soft brown sugar
200g self-raising flour
150 ml sunflower oil
2 large free range eggs
50g walnuts – 30g for the cake, 20g for the topping
1 tsp baking powder
½ tsp cinnamon
¼ tsp nutmeg
2cm cubed of fresh ginger – grated
210g butter - softened
400g icing sugar
1 tsp vanilla
Method
Firstly, preheat your oven to 180 degrees Celsius / 350 degrees Fahrenheit / Gas mark 4.
Add the sunflower oil, eggs and sugar into a large mixing bowl and whisk until the mixture has combined. Then gently fold in the carrots. It's important that your carrot has been really finely grated, as the cake can become quite dense when the carrot is too thick.
Once your carrot has been folded in, sieve in the flour, baking powder, ginger, nutmeg and cinnamon, and fold until the mixture is well combined. Then bash up 30g of your walnuts in a pestle and mortar and fold into your mixture.
Carefully and evenly spoon your mixture into a spring-form cake tin. Then put in the oven and leave for 25-30 minutes, or until the cake has turned a lovely golden brown and there is only a very slight wobble in the middle of the cake when you give it a shake.
Meanwhile, add your butter to a large mixing bowl and slowly beat in your icing sugar. Then add in 2 tablespoons of milk and a teaspoon of vanilla extract and give it one last mix.
When your cake has cooled completely, remove the spring-form tin and cut the cake in half. Add half of your buttercream to the bottom half of the cake and replace the top half.
Add the second half of you buttercream to the top of your cake - I like to do this with a fork to add some texture, then crush up your remaining walnuts and sprinkle over the top of the cake.
https://pescetarian.kitchen/carrot-walnut-cake/
Copyright Pescetarian.Kitchen