Whether you like small, crunchy cookies or large, chewy ones, this recipes is so easy and versatile that you can work it into whatever you're in the mood for.  The ingredients below make enough for around 15 large cookies or 25 small ones, but you can always adjust the amount to make more or less.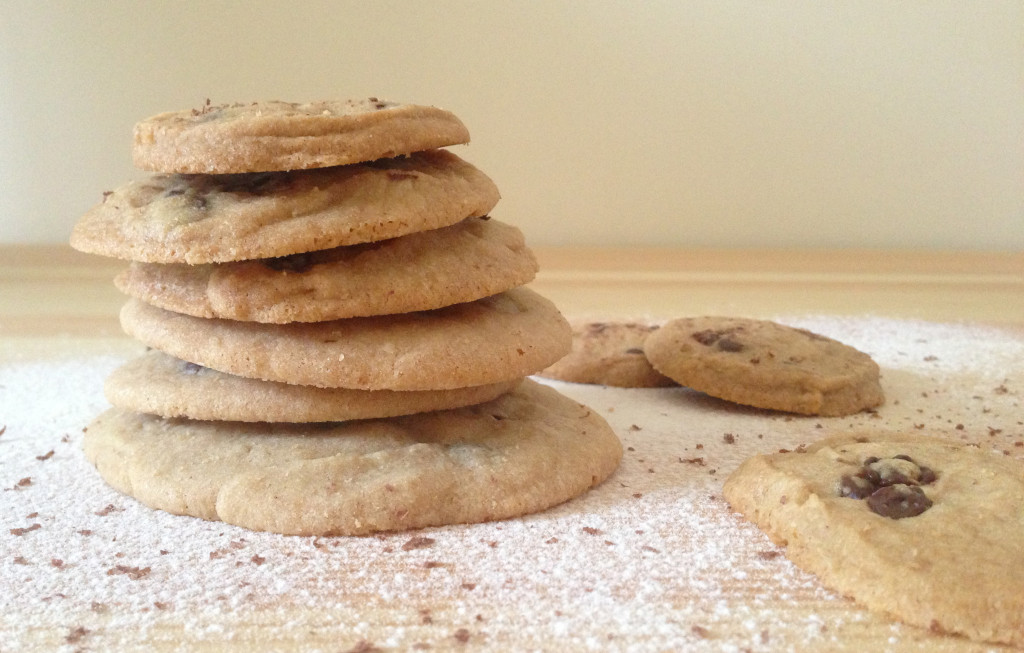 Soft & Chewy Chocolate Chip Cookies
Ingredients
230g butter
175g caster Sugar
175g soft brown sugar
1 tsp vanilla extract
2 eggs
350g plain flour
1 tsp bicarbonate soda
1 pack of chocolate chips
Method
Preheat your oven to 170 degrees Celsius / 338 degrees Fahrenheit / Gas mark 3.
In a large mixing bowl, mix together the butter, sugar and vanilla extract, until soft and creamy. In a separate bowl, beat your two eggs together and add to your cookie mixture, one tablespoon at a time, beating as you go.
Pour your flour and bicarbonate of soda to a separate bowl and fold into you cookie mixture until incorporated. Then stir in your chocolate chips.
Sprinkle a little flour to a clean surface and roll half your cookie dough into a sausage shape. This is when you need decide how big you want your cookies. For large cookies, you want to roll it roughly 5-6cm in diameter. For small cookies, you want it to be roughly 3-4 cm in diameter.
Wrap your cookie roll in Cling-film and put it in the fridge for at least half an hour. Repeat the same process with the second half of your cookie mixture.
When you're ready to bake your cookies, grease up a couple of baking trays with butter and pull your cookie dough rolls out the fridge. With a sharp knife, cut your dough into disks and place well apart on the baking tray.
Put your trays in the oven and leave for around 9 minutes for chewy cookies or 12 minutes for crunchier cookies. The pull the trays out of the oven and leave cookies to cool before serving.
https://pescetarian.kitchen/chocolate-chip-cookies/
Copyright Pescetarian.Kitchen