This very easy to make carrot cake is light and moist – with a fiery kick, courtesy of the ginger. The rich and soft cream cheese frosting is a perfect finishing touch and the walnut adds a truly satisfying crunchy texture.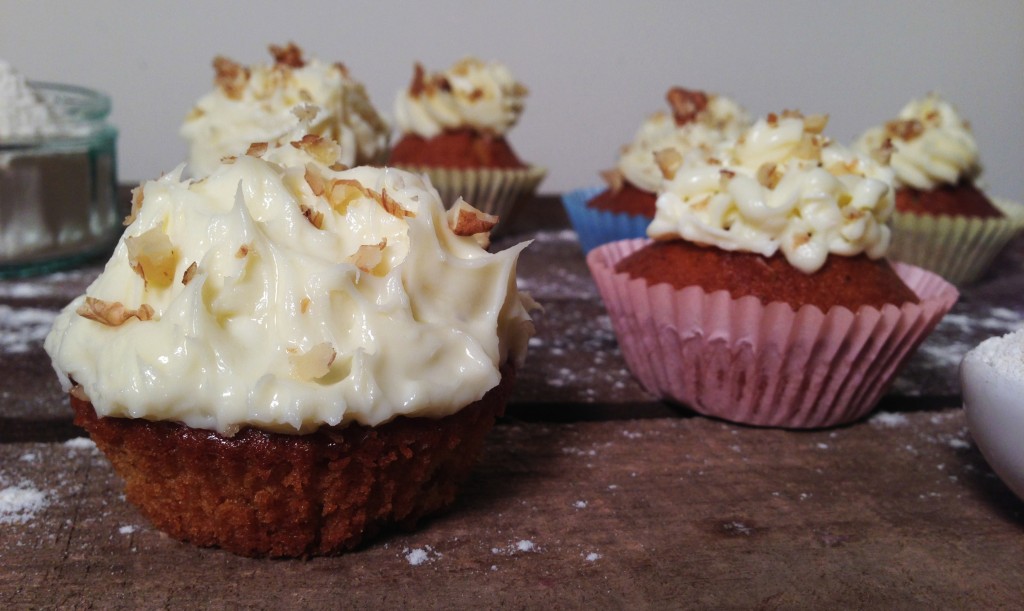 Carrot and Walnut Cupcakes
Ingredients
200g carrots – finely grated
175g soft brown sugar
200g self-raising flour
150 ml sunflower oil
2 large free range eggs
50g walnuts – 30g for the cake, 20g for the topping
1 tsp baking powder
½ tsp cinnamon
¼ tsp nutmeg
¼ tsp dried ginger
100g butter - softened
300g soft cheese
150g icing sugar
1 tsp vanilla
Method
Firstly, preheat the oven to 180oc.
Add the sunflower oil, eggs and sugar into a large mixing bowl and whisk until the mixture has combined. Then gently fold in the carrots. It's important that your carrot has been really finely grated, as the cake can become quite dense when the carrot is too thick.
Once your carrot has been folded in, sieve in the flour, baking powder, ginger, nutmeg and cinnamon, and fold until the mixture is well combined. Then bash up 30g of your walnuts in a pestle and mortar and fold into your mixture.
Add 12 cupcake holders to a cake tray and evenly spoon your mixture between them. Put in the oven and leave for 20-25 minutes, or until the cupcakes turn a lovely golden brown.
Meanwhile, add your butter and cream cheese to a large mixing bowl and beat them together. Slowly add in the icing sugar and finally, the vanilla. Once you're done, give it a taste (because who doesn't love cream cheese frosting?)
When your cupcakes have cooled completely, put your cream cheese frosting into a piping bag and decorate the cupcakes in whatever fashion you want. Don't worry if you're not a master of perfect piping, the leftover 20g of walnuts will save you; break the walnuts down into small chunks and sprinkle over your cupcakes!
https://pescetarian.kitchen/carrot-walnut-cupcakes/
Copyright Pescetarian.Kitchen