Both Laura and I are big on pasta. In particular, I really enjoy large pasta. The big shells of conchiglioni are really filling, have an amazing texture and look beautiful when you plate them up. What's more, they're readily available in most supermarkets.
Another thing that I love is using smoked salmon within pasta dishes. A lot of people get put off by the strong flavour of smoked salmon, but if you add some white wine within the dish it will often take the flavour down a notch and add a nice bit of acidity to the dish. It's just important that you don't overcook the salmon. It only needs a couple of minutes in the pan.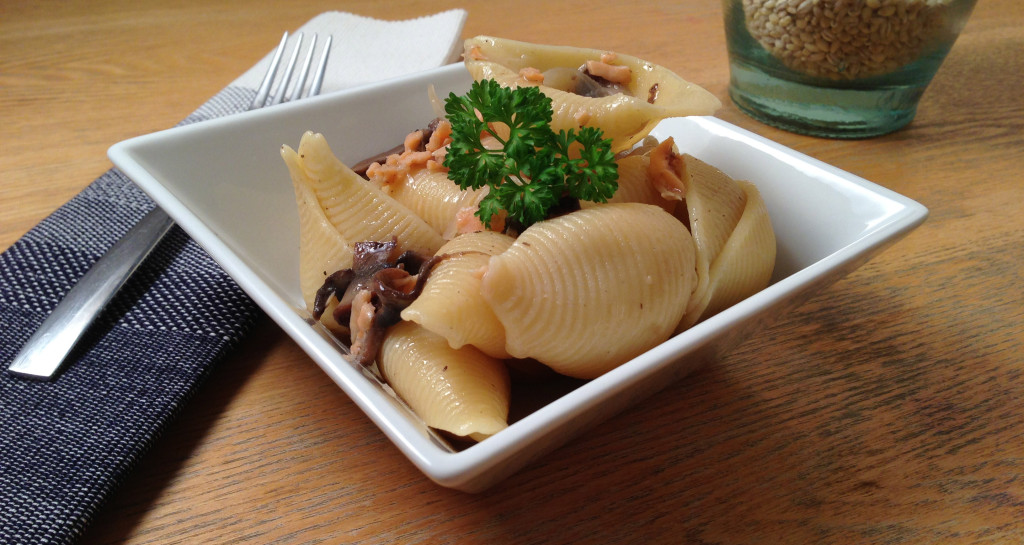 Smoked Salmon Conchiglioni
Ingredients
Half a white onion (finely chopped)
1 clove of garlic (finely sliced)
60g smoked salmon
50g forestiere mushrooms (sliced)
Glug of olive oil
100ml white wine
120g dried conchiglioni pasta
Pinch of salt and pepper
Method
Fill a large saucepan with boiling water and add a pinch of salt. Add the conchiglioni pasta and leave on a rolling boil for around 8-10 minutes (or follow the directions on the pack).
Heat a frying pan on a medium heat and fry down the onion in a generous glug of olive oil for around 3-4 minutes.
Add the sliced garlic and the forestiere mushrooms and turn the heat down to a low heat in the pan. Stir the content regularly for another 2-3 minutes.
Remove the pasta from the pan and rinse them with cold water. Season the pasta with salt and pepper then splash over a glug of olive oil.
Add the pasta to the frying pan along with the white wine and smoked salmon (make sure you tear the smoked salmon into smaller strips). Turn up the heat on the pan and leave to simmer for 2-3 minutes.
Take the pan off the heat and leave to sit for a minute before plating it up.
https://pescetarian.kitchen/smoked-salmon-conchiglioni/
Copyright Pescetarian.Kitchen