This lovely warming soup is perfect for a light lunch or as a starter when you're cooking for a fair few. Even better, it's unbelievably easy to make and is perfect for when you're watching your pennies. Matt and I often make a big batch of this soup on a Sunday and store it in the fridge, taking it to work with a slice of fresh bread for lunch.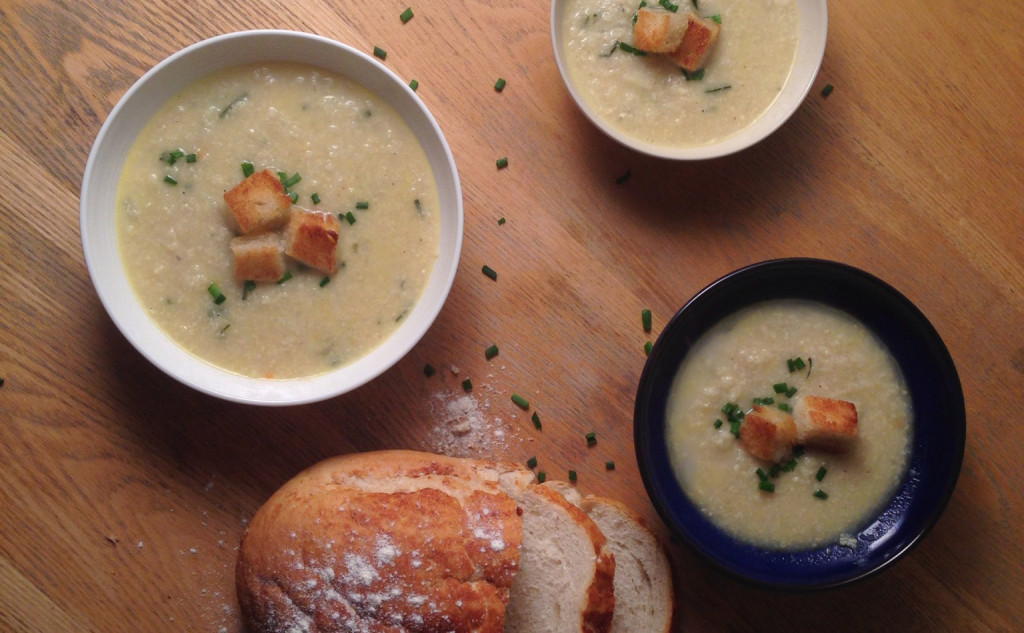 Homemade Cauliflower Cheese Soup with Croutons
Ingredients
1 large cauliflower – cut into small florets
1 onion – chopped
700ml vegetable stock
300ml milk
120g mature cheddar - grated
1 tsp salt
1 tsp pepper
½ tsp nutmeg
Handful of fresh chives – roughly chopped
2 slices white bread
Glug of olive oil
Method
Firstly, fry the onions for 5 minutes, until soft. Then add the cauliflower, milk and stock and bring to the boil.
Simmer for 30 minutes until the cauliflower has softened. Whilst your soup is simmering you can make your croutons; cut your slices of bread into small, crouton-sized squares and lay out on a baking tray. Cover in a glug of olive oil and sprinkle with salt and pepper, then put under the grill at medium heat for 2 minutes, turn over and grill for another 2 minutes. Once golden brown, take the croutons out and leave to cool on the side.
Once it has softened, you can either blend you soup, or, as I prefer to do, mash it using a potato masher. I go for the latter options because it gives a thicker soup with more body. Then add in your cheese, a small amount at a time, stirring as you go, until all of the cheese is melted into your soup.
Season your soup with salt and pepper and add in the nutmeg. This is a great time to taste your soup and make any last seasoning adjustments. Once you're happy, serve the soup into individual bowls and add 2 or 3 croutons to each bowl.
https://pescetarian.kitchen/cauliflower-cheese-soup-recipe/
Copyright Pescetarian.Kitchen