I absolutely love stew and always have, however since becoming pescetarian, I have to admit, I have found vegetable stews a bit too light and watery. So to combat this, I aimed to make the stew that was rich and deep in flavour, with a full body. The port really helped add to the depth to this dish and the pearl barley gave a lovely chewy texture that is difficult to achieve when you're not cooking with meat.
Even better, many of these vegetables can be substituted for whatever you've got lying around in your kitchen, making it great recipe for when you've forgotten to plan anything!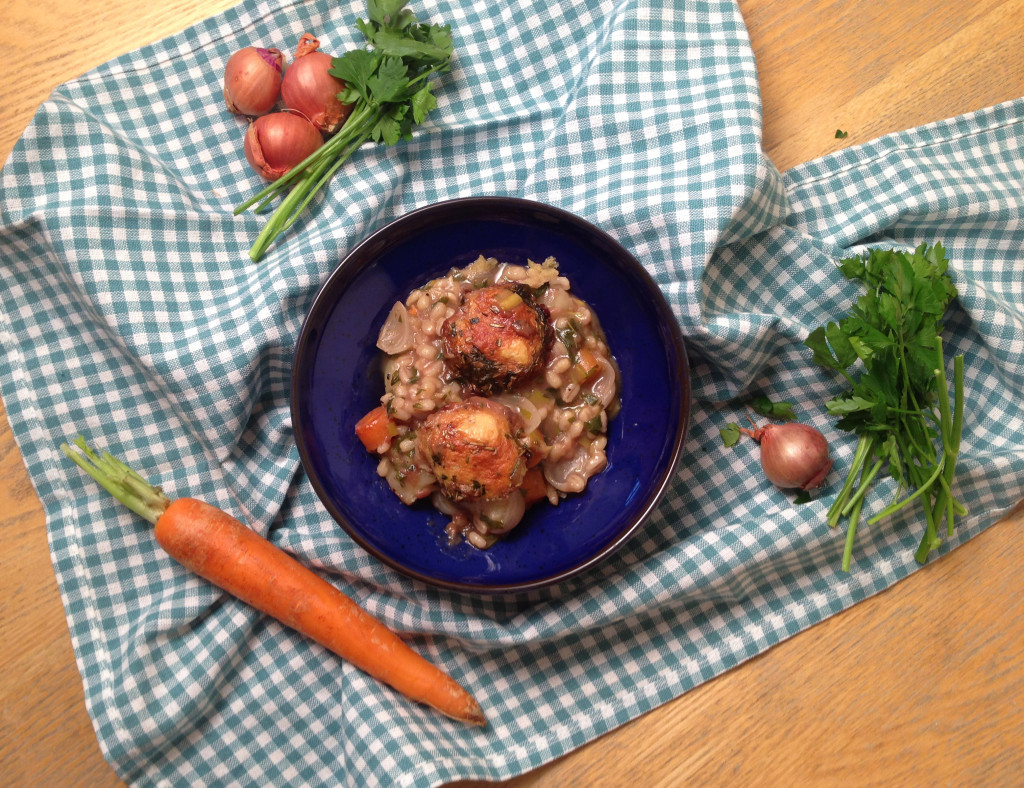 Vegetable & Pearl Barley Stew with Dumplings
Ingredients
Stew

6 baby shallots – roughly chopped
2 cloves of garlic – finely chopped
¼ leek – roughly sliced
600ml vegetable stock
4 potatoes – peeled and quartered
3 carrots – roughly chopped
2 heaped tbsp plain flour
A very generous glug of port
500ml boiling water
70g pearl barley
Handful of dried rosemary

Dumplings

60g cold butter – grated
70g self-raising flour
Pinch of salt
Pinch of pepper
Pinch of rosemary
Method
Firstly, preheat your oven to 180 degrees Celsius / 350 degrees Fahrenheit / Gas mark 4.
In a large casserole dish, fry your shallots, garlic and leek on a medium heat for around 5 minutes, until softened. Then add in your plain flour and stir into the vegetables.
Slowly pour in your vegetable stock and port, stirring as you go and bring to the boil. At this stage your stew will take on a lovely deep, reddish-brown colour.
Once your stew is boiling away, add in the rest of your vegetables, herbs and seasoning and leave to thicken for 5 minutes.
Then add in the boiling water and pearl barley, place the lid on your casserole dish and leave in the oven for approximately 40 minutes.
Whilst your stew is in the oven, you need to make your dumplings. Add you butter, flour, salt, pepper and rosemary to a cold mixing bowl and rub together using your fingertips, until the mixture resembles a light breadcrumb. Then add in a few drops of cold water to bind the mixture and roll into 8 little balls.
When your stew has only 20 minutes left in the oven, lift the lid and add in the dumplings, leaving them to cook for another 20 minutes with the stew. If, like me, you like you dumplings golden and crispy on top, simply take the lid off the casserole dish for the final 10 minutes.
https://pescetarian.kitchen/vegetable-stew-with-dumplings/
Copyright Pescetarian.Kitchen