These rich and velvety chocolate orange cupcakes are made with dark orange chocolate and topped with a soft, Peruvian milk chocolate and orange buttercream.  Yum!
This beautiful recipe will make 12 perfectly sized cupcakes and enough buttercream to pipe onto them (with a little extra, just in case you like to lick the bowl).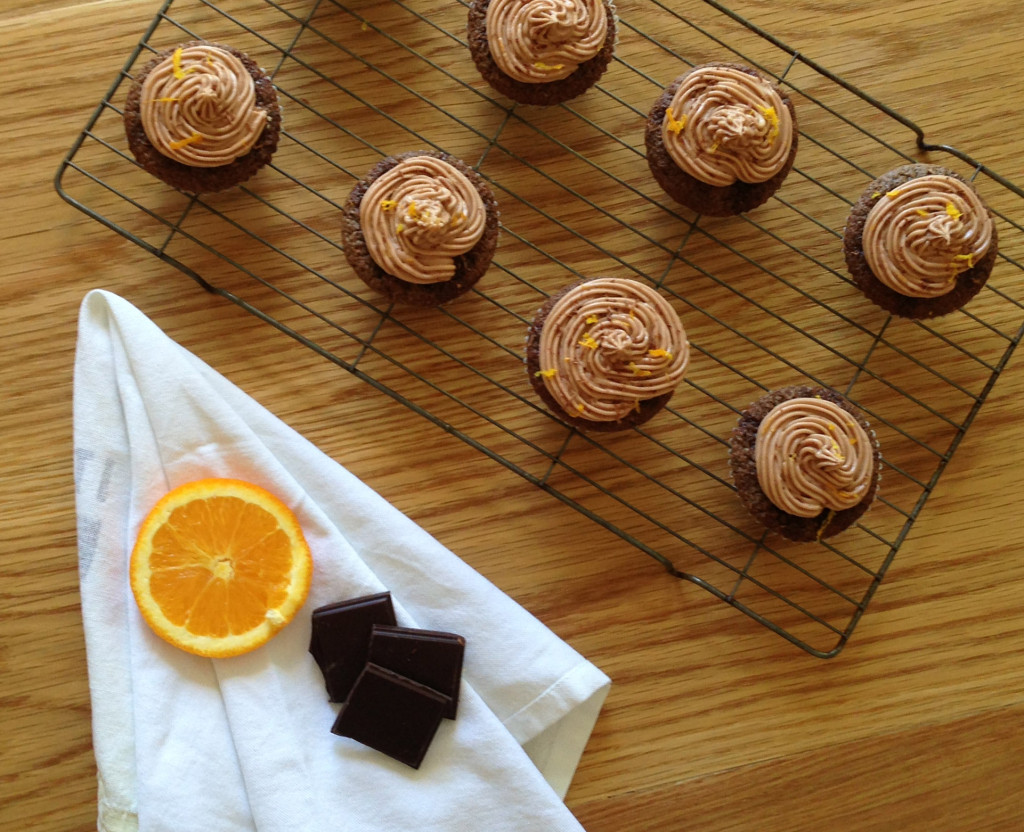 Dark Chocolate Orange Cupcakes
Ingredients
Cupcakes

120g plain flour
140g caster sugar
1tsp baking powder
40g softened butter
50g dark orange chocolate
1 free range egg
125ml whole milk
1 large orange – juice
3 tbsp granulated sugar

Buttercream

80g softened butter
200g icing sugar
3 tbsp whole milk
100g Peruvian milk chocolate (or any other high quality chocolate)
Method
Firstly, preheat your oven to 170 degrees Celsius / 325 degrees Fahrenheit / Gas mark 3 and line a cupcake tin with 12 paper cupcake cases.
In a large mixing bowl, mix together the flour, sugar and baking powder. Then add the butter and beat until combined. This can be done using an electric mixture, or by hand if you're in the mood for a serious work out.
Melt almost all of the dark chocolate (save yourself 1 square) over boiling water and whisk in the egg and milk. Then slowly pour the mixture into your large mixing bowl and stir in.
Now your cupcake batter is ready to go, pour it evenly into your cupcake cases and slide the tray into the oven. Keep the cupcakes in the oven for around 20 minutes, or until a skewer inserted into the middle of a cupcake comes out clean.
Whilst the cupcakes are in the oven, mix your granulated sugar and orange juice in a small bowl. When the cupcakes come out, pour the sugary-orange mix over them evenly and leave to cool.
To make the buttercream, whip up the butter and icing sugar. Add the 3 tablespoons of milk and melted milk chocolate and keep whipping, until your buttercream is soft, creamy and delicious. Then add in most of the grated orange zest. Add the buttercream to a piping bag and pipe over the cooled cupcakes. Grate the last square of your dark chocolate and sprinkle over the cupcakes, with the remaining orange zest.
https://pescetarian.kitchen/dark-chocolate-orange-cupcakes/
Copyright Pescetarian.Kitchen