Swordfish is a particularly meaty fish and it can be cooked in a number of ways. The flavour and texture is fairly similar to tuna steak, but swordfish steak definitely wins in my opinion.
I tried out this recipe after cooking swordfish the same way for a long time. It's really easy to just get in your comfort zone with fish and just simply pan fry it with some sale and pepper seasoning. If you really want to do something different then this recipe is a perfect starting point.
If you've never made pesto before, don't worry, it's SO easy. I made it all the time when I was at university because it was really simple, kept well during the week and is a lot tastier and cheaper than the stuff you buy at the supermarket – trust me.
You don't even need to have a food processor to make pesto, you can just throw in the basil, pine nuts, garlic and oil into a pestle (or a bowl) and mash it all together with a mortar (or the end of a rolling pin). Simple.
To accompany the meal, some sticky jasmine rice goes particularly well, or you could do a side salad of rocket and watercress with a lemon dressing.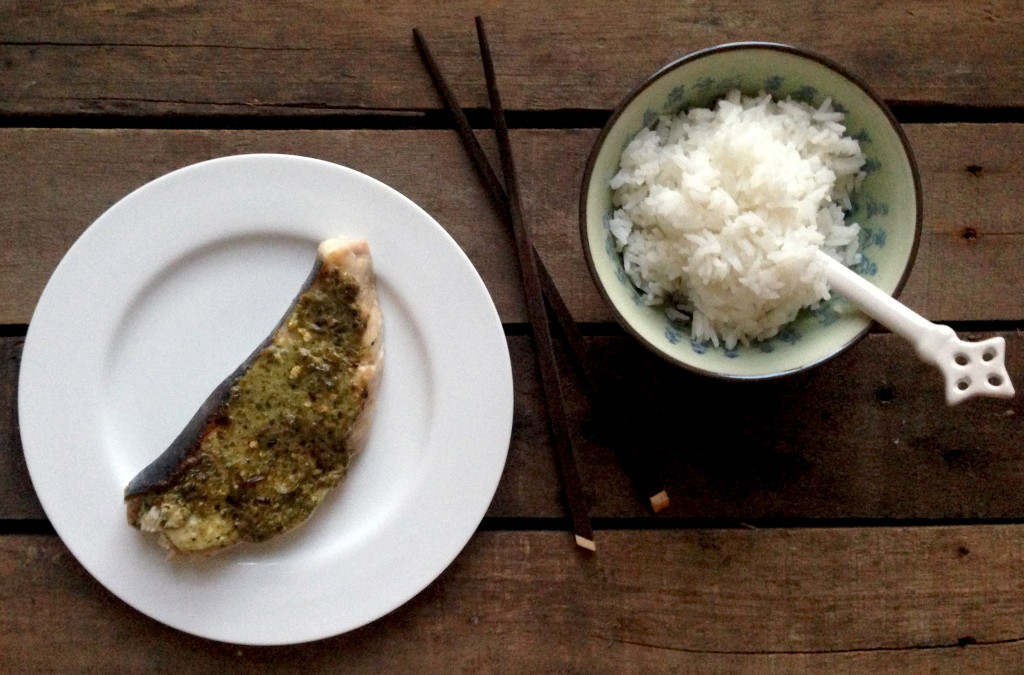 Grilled Swordfish Steak with a Pesto, Chili and Lemon Crust
Ingredients
300g swordfish steaks
1/2 green chilli
60g fresh basil
25g pine nuts
2 cloves garlic
1 lemon
100ml virgin olive oil
Method
Pesto

Add the basil leaves, garlic and pine nuts to a food processor or mini chopped and blitz them together for a few seconds. Add half of the olive oil and blitz together again. Finally, add the remainder of the olive oil, mix together with a spoon and season to taste. If you don't have a food processor then you can mash everything by hand with a pestle and mortar.

Swordfish

Lightly coat one side of the swordfish steaks in pesto and sprinkle over some finely chopped green chili.
Squeeze over half of the juice of a lemon and then place the steaks under the grill on a high heat for 5-6 minutes. You don't need to flip the steaks as they should cook through nice and evenly in a good heat.
Serve up the swordfish steaks with some rice or a peppery rocket salad.
https://pescetarian.kitchen/grilled-swordfish-steak-recipe/
Copyright Pescetarian.Kitchen