This was one of the first times that I had cooked with Monkfish tail and I wasn't disappointed. It's a really meaty fish so although it can be a little expensive at the supermarket, it's really filling so you don't need a huge portion.
Personally, I like to grill monkfish, especially when you're adding a sauce afterwards. It's much healthier and it gives a great texture to the outside of the fish. The sauce itself is full of flavour and packed with goodness. If you'd prefer, you could add in peppers and courgette to almost make it like a ratatouille.
The mash potato is one of our favourite side-dishes to eat. Both Laura and I love mustard, but you'll just need to make sure you don't go too overboard with the amount you add in. If you do, you can salvage it by adding in an extra knob of butter to soften the flavour but my best advice is to add a small amount and taste as you go.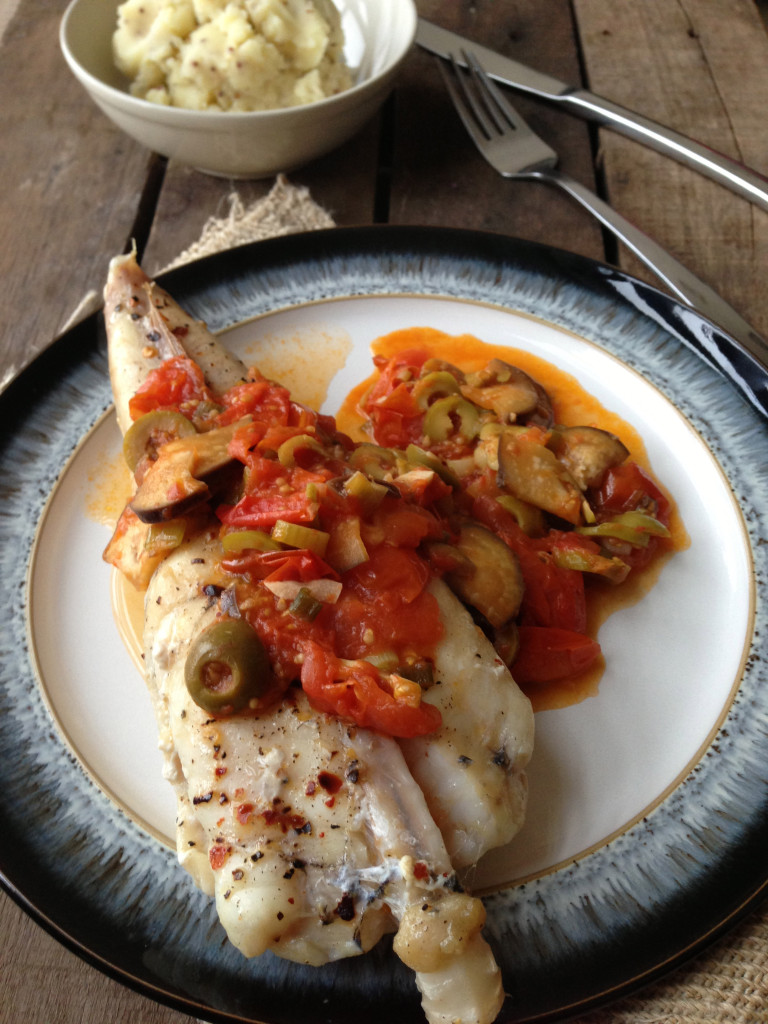 Grilled Monkfish Tail in a Tomato & Aubergine Sauce with Mustard Mash Potato
Ingredients
300g monkfish tail
4 spring onions
200g maris piper potatoes
1/2 aubergine
1 clove of garlic
80g green pitted olives
150g vine cherry tomatoes
15g salted butter
10ml olive oil
1 tbsp wholegrain mustard
1 tsp salt
1 tsp pepper
Method
Peel the potatoes and place them in a saucepan full of salted boiling water for 15-20 minutes. You'll know that they're done by poking them with a blunt knife - if the knife pierces through the potato easily then they're done.
Heat a separate frying pan over a high heat and add the olive oil. After around 30 seconds, add the tomatoes and cover the pan (if you don't have a lid just use tin foil). Leave them for 10 minutes on a medium heat.
Place the monkfish tail on a griddle pan or a grilling tray and put it under the grill (on a high heat). Grill the fish for 5-6 minutes on each side.
Meanwhile, once the tomatoes have softened in your frying pan, add the spring onions (finely chopped), aubergine (chopped into small chunks), garlic (finely chopped) and olives (quartered). Leave them to fry in the covered pan for another 10 minutes, stirring regularly.
Don't forget about your potatoes at this point - drain them and rinse lightly in cold water. Now mash the potato, using either a potato ricer or a masher (I prefer to rice my potatoes for a smoother texture). Once this is done, add the butter, a pinch of salt/pepper and the mustard and mix well. If you feel that the mash is slightly too dry, add a drop of olive oil.
Remove the fish from the grill, plate it up and cover in the sauce from your frying pan. Add a side of mash potato and dig in!
https://pescetarian.kitchen/grilled-monkfish-tail-recipe/
Copyright Pescetarian.Kitchen