Rigatoni is very similar to penne pasta, the only difference is that it's about twice the size. This makes it perfect for going into crunchy pasta bakes.
When you've come in from work after a tough day, this recipe can be the ideal bit of comfort food that you needed – this seems to be quite often the case with Laura and I!
I've used tinned tomatoes within this recipe, but if you're not a fan of tinned, you can always use fresh tomatoes. The reason I use tinned is just because it's a lot quicker and the juices will keep the pasta cooking whilst in the oven.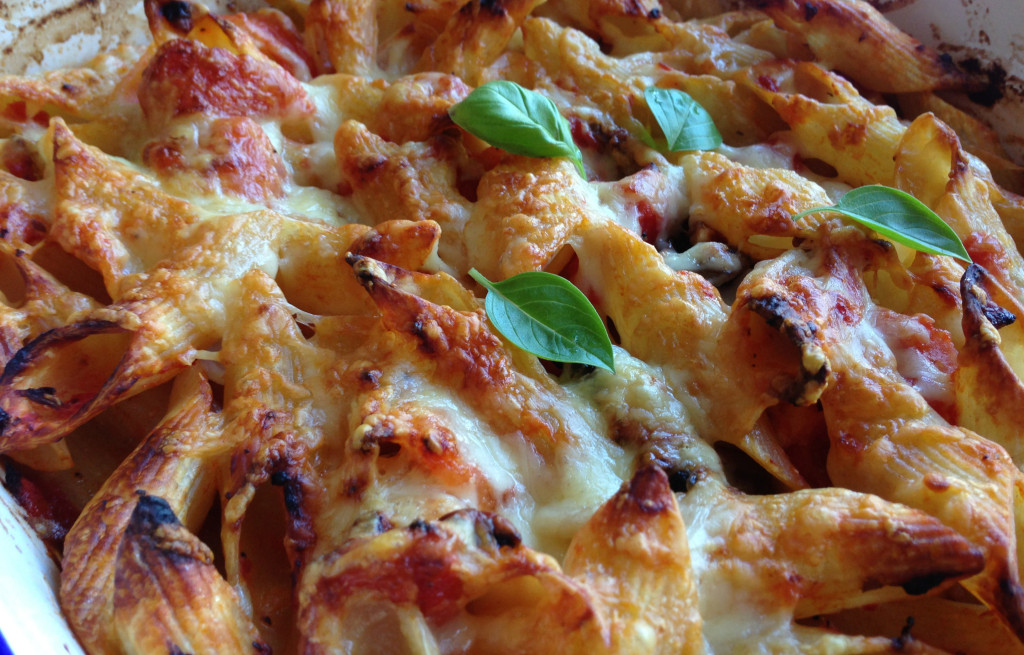 Ingredients
250g dried rigatoni pasta
1 white onion (diced)
1 clove of garlic (finely chopped or grated)
80g forestiere mushrooms (sliced)
1 tin of chopped tomatoes
100g vegetarian mature cheddar (grated)
50g vegetarian mozzarella
20g crushed walnuts
100ml water
Method
Preheat the oven at 200 degrees Celsius / 392 degrees Fahrenheit / Gas mark 5.
Boil some water into a medium sized saucepan, add a pinch of salt and then throw in the rigatoni pasta. Boil the pasta until it's half-done (usually around 6-8 minutes), drain it and rinse in cold water. The pasta will finish cooking in the oven.
Meanwhile, add a splash of vegetable oil to a deep oven-proof dish (a lasagne dish works perfect) and place it in the oven for a minute until the oil heats up. Once the oil has heated up, add the onion and garlic, then leave it to brown for 2 minutes.
Once the onion has browned, add the pasta, mushrooms, the tin of tomatoes, crushed walnuts and water to the oven proof dish and mix everything around. Make sure the pasta is lightly coated in all of the tomatoes. Now scatter over the cheddar and tear chunks of the mozzarella and place on the pasta. Put the dish in the oven for around 20 minutes. It should have a crispy top on it once it's ready.
Serve it up with some garlic bread on the side and you're onto a winner!
https://pescetarian.kitchen/rigatoni-pasta-bake/
Copyright Pescetarian.Kitchen