The loin of cod is by far my favourite cut of the fish. This is the middle section of the fillets and it's really flaky and juicy – perfect for baking or grilling.
Within this recipe, I've went with the healthiest way to cook the fish; baking. I don't use any oil when baking as the cod loin has enough natural oils to keep it nice and moist.
Combining this with some fresh, vegetable-rich quinoa will add a nice nutty flavour and if you make a little extra, it makes for a perfect lunch snack the following day.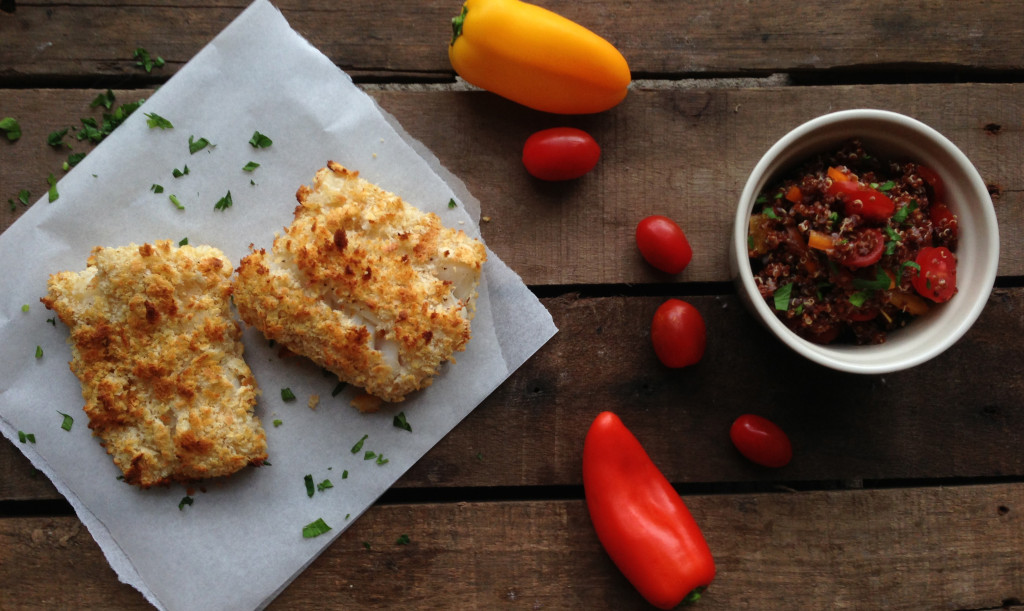 Super Healthy Breaded Cod Loin with Red Quinoa
Ingredients
Fish

250g cod loin
2 slices of white bread
1 free range egg

Quinoa

100g red quinoa (we love Quinola's range)
300ml water
80g baby plum tomatoes (sliced into small chunks)
1/4 yellow pepper (chopped into small chunks)
1/4 orange pepper (chopped into small chunks)
1/2 lemon
Handful fresh parsley (roughly chopped)
Method
Preheat the oven to 200 degrees Celsius / gas mark 6 / 400 degrees Fahrenheit.
Add the red quinoa and the water to a saucepan with a pinch or salt and heat over a low heat, ensuring the pan remains covered throughout. Leave the quinoa to simmer for between 16 and 19 minutes (all the water should be absorbed by the point).
Meanwhile, tear up your bread and add it to your food processor (Laura and I have just got a fancy new food processor) and blitz it into breadcrumbs. This should make around 60g worth which is more than enough to coat the cod.
Get a bowl, crack your egg into it and beat it lightly with a whisk. Now lay out the cod loin, add a generous pinch of salt and pepper to each side then dip it into the egg, making sure to coat both sides and the end of the loin. Once you've coated the cod in egg, dip each side into the bowl of breadcrumbs, ensuring that it is covered. Once you've done this, place the breaded cod onto a baking tray and then into the oven. They should take no longer than 15 minutes but just keep an eye on them in case they start burning.
Your quinoa will be finished before your cod so remove it from the heat and leave the lid on. I prefer to eat quinoa when it's cooled down slightly, so once the cod has finished cooking, remove the lid of the saucepan full of quinoa and throw in the tomatoes, chopped parsley, peppers and the juice of half a lemon. Give this a good mix around and serve it up with a small garnish of parsley.
https://pescetarian.kitchen/breaded-cod-with-red-quinoa/
Copyright Pescetarian.Kitchen