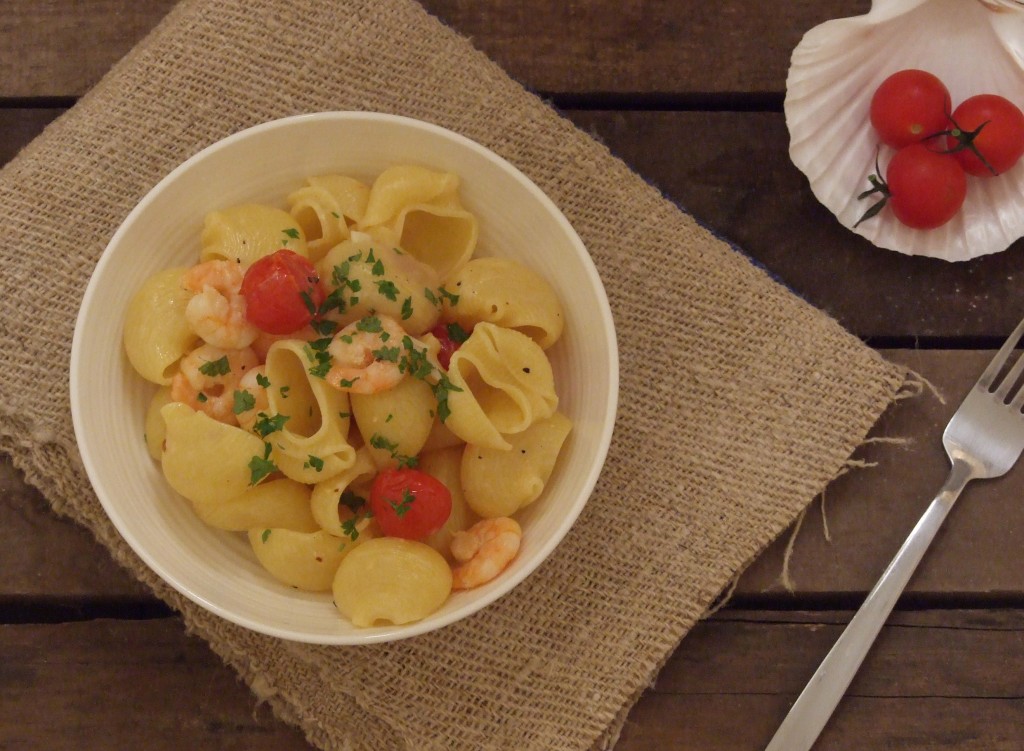 Conchiglie has to be one of my favourite forms of pasta. You can pick it up at most supermarkets and it comes in lots of different sizes – the bigger the better for me. If you come across the really large conchiglie shells then you can even fill them and serve them like an open tortellini.
Either way, they're delicious and have a great texture to them.
This recipe is a particularly easy one to pull off. It's ideal for those nights you get back late from work and don't feel like doing a whole lot. Also, it's really comforting.
If you're not a huge fan of shrimp then you could replace them with some other seafood. Squid or mussels would work equally well here, and if you're feeling particularly hungry then you can add them to the shrimp!
Ingredients
250g raw tiger shrimp
300g fresh conchiglie pasta
50g chestnut mushrooms (roughly sliced)
50g vine cherry tomatoes
20g fresh parsley (finely chopped)
50g creme fraiche
1 clove of garlic (finely chopped)
Pinch of sea salt
Pinch of cracked black pepper
1 tbsp rapeseed oil
Method
Place a frying pan over a high heat and pour in the rapeseed oil. If you don't have rapeseed oil then you can use vegetable or sunflower oil. Once the oil has heated up, add the tomatoes, cover the pan and leave to simmer for 5 minutes.
Meanwhile, place the fresh pasta in a pan of salted boiling water for 2-3 minutes. If you're using dried pasta then you'll need to boil it for slightly longer (check the instructions on the back of the pack). Once the pasta is cooked, drain it and rinse it with cold water.
Place the pasta to one side and add in the mushrooms and garlic to the frying pan with the tomatoes. Uncover the pan and also add in the creme fraiche and parsley. Turn down the heat and stir the pan frequently for 1-2 minutes.
Add in the shrimp and the drained pasta along with the salt and pepper. Mix everything together well and cover the pan again. Cook for another 3-4 minutes, until the shrimp have turned pink through. Try not to overcook them though - you'll know if you've done this because they'll have curled up tightly.
Remove the pan from the heat and mix everything together again before serving.
https://pescetarian.kitchen/conchiglie-prawn-pasta/
Copyright Pescetarian.Kitchen