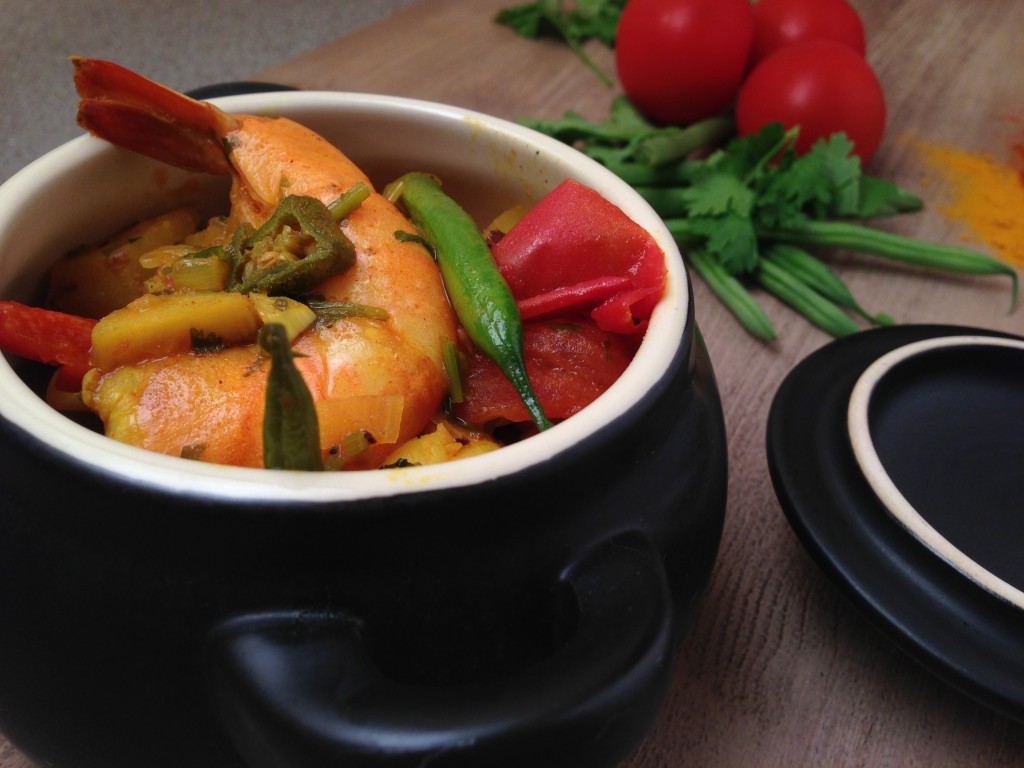 This meal was a staple part of my diet when Laura and I were travelling across Thailand. This means that for me, it's not only a great tasty meal but it's also filled with nostalgia.
As we're moving closer to winter now, this is a great warming dish and you can add more chilli if you'd like it to have more of a kick – it's already got a fair kick so be careful!
Ingredients
200ml coconut milk
100g vine tomatoes
1 large potato
1 lime (juice)
Pinch of saffron
1 tsp cayenne pepper
2 kaffir lime leaves
100g fine beans
200g raw tiger shrimp
4 spring onions (finely chopped)
1 red pepper (sliced)
30g fresh coriander (chopped)
2 tbsp cashew nuts
1 okra (chopped)
1 tbsp rapeseed oil
1 tsp fresh ginger (finely chopped)
1 clove garlic (finely chopped)
Method
In a large wok, heat 1 tablespoon of rapeseed oil over a high heat. Once the oil is hot, add the spring onion, vine tomatoes (quartered), garlic and cayenne pepper. Fry them for 2-3 minutes, stirring regularly.
Add the potato (peeled and quartered) to the wok - don't worry about boiling it before. Along with the potato, add the red pepper, cashew nuts, okra (if you can't get hold of okra, you can use a green chilli), turmeric, ginger and fine beans. Fry everything in the wok for another 5 minutes, keeping the contents of the pan moving regularly.
You should now start to smell some of the great flavours coming from the pan and there should be a good colour to the dish. Squeeze over the juice of your lime and mix everything together. Now add the saffron, coriander, lime leaves and the coconut milk. Bring the milk to the boil and then turn down the heat. Let the wok simmer for 15-20 minutes, stirring occasionally.
Take the pan off the heat and leave to sit for 2 minutes before serving. Garnish with a few coriander leaves and some crushed cashew nuts.
https://pescetarian.kitchen/coconut-prawn-curry/
Copyright Pescetarian.Kitchen