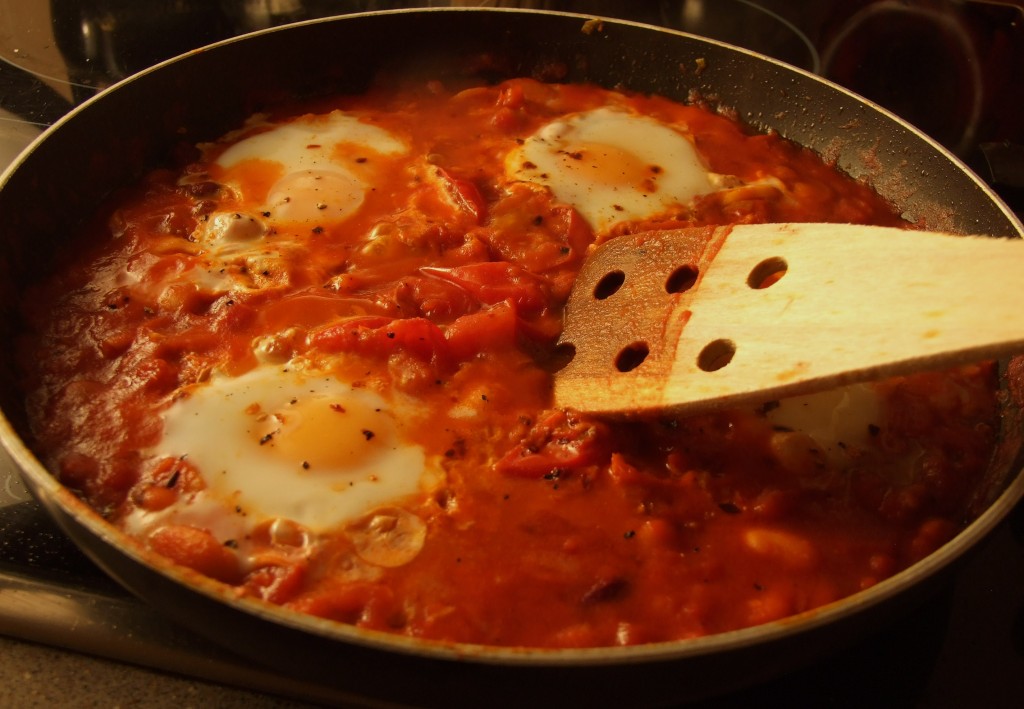 Huevos rancheros is an awesome Mexican breakfast meal that's packed full of energy to kick your day off. There's lots of ways to do cook huevos rancheros but this is my take on the popular recipe.
I love a mixture of beans within the dish as it adds lot of different textures and gives the whole meal a little more substance. It's also worth noting that this makes a great lunchtime snack as well as a breakfast dish, plus it keeps well for a few days in the fridge so you can just reheat any leftovers in the morning for breakfast.
If you want, you can serve the huevos rancheros up with some rice but I prefer to just have some flatbread or tortillas to eat it with, otherwise it can get a little too heavy. If you'd like it a little more spicy, add in some fresh chilli to the pan and you can take it as hot as you'd like it to go.
Ingredients
1/2 red pepper (sliced into strips)
1/2 orange pepper (sliced into strips)
4 vine tomatoes (quartered)
1 clove of garlic (finely chopped)
1 onion (diced)
1 tsp smoked paprika
4 free range eggs
50g pinto beans
50g kidney beans
1 tin of chopped tomaotes
1 tbsp rapeseed oil
Method
Place a deep frying pan over a high heat and pour in the rapeseed oil. If you don't have rapeseed oil then you can use vegetable oil, it's just that rapeseed oil is a little healthier.
Add the onion, vine tomatoes and garlic to the pan and fry for 5 minutes, stirring regularly.
Once the onion has softened, add the peppers, pinto beans, butter beans and kidney beans. Pour over the tin of tomatoes and add a pinch of sugar to take the tartness out of them. Finally, mix in the smoked paprika and season with salt and pepper. Turn the hob down to a medium heat and leave to simmer for 15 minutes, stirring occasionally.
Using the back of a large serving spoon, make four small wells in the mixture and crack an egg into each one. Turn the heat right down now and cook for an extra 3-4 minutes or until the egg whites turn white. Once this has happened, take the pan off of the heat and leave it to stand for a couple of minutes.
Server up the meal with some flatbread and enjoy as an energising breakfast or brunch meal.
https://pescetarian.kitchen/huevos-rancheros/
Copyright Pescetarian.Kitchen